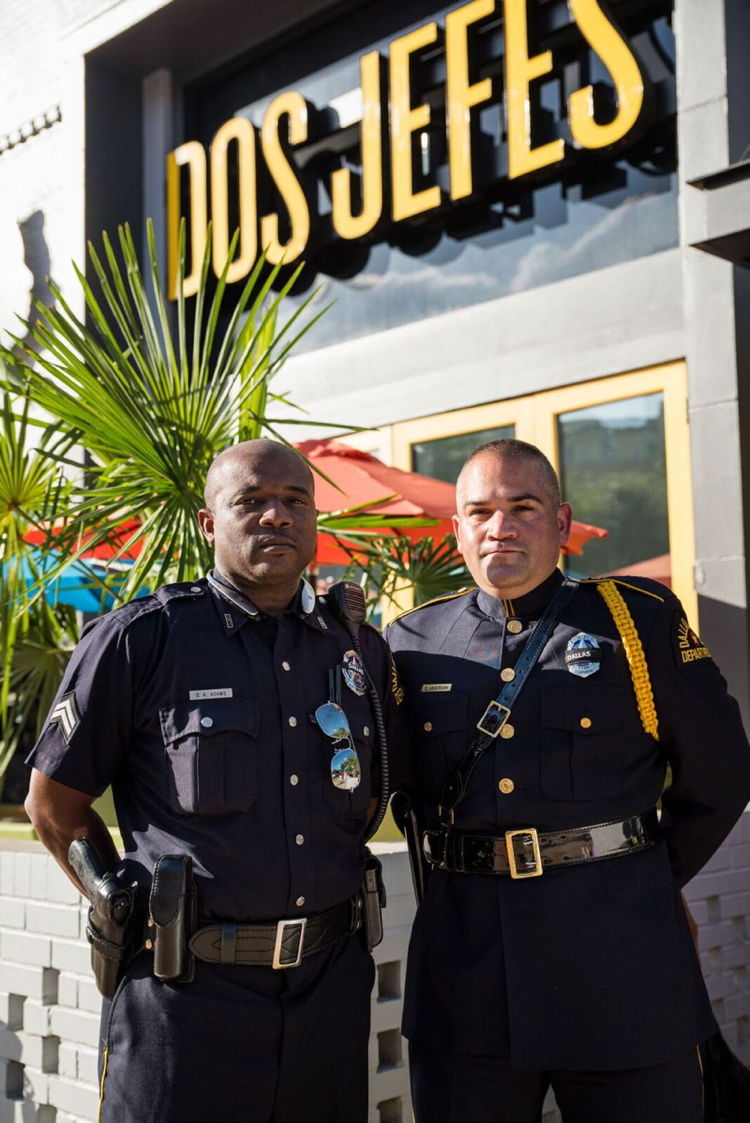 On July 14, 2016 legendary restauranteur, Joe Palladino hosted the "Dine for Dallas Blue" fundraiser at his newest Uptown concept, Dos Jefes. The evening honored men and women that dedicate their lives to public service by giving 100% of the evening's proceeds donated to the Guns & Hoses Foundation of North Texas.
 In light of the horrific events that occurred in Dallas when police officers were ambushed during peaceful protests, guests poured through the doors to show their support for the families of the fallen officers and those that were injured in one of the darkest days in the city's history.
The tragedy left many shocked and wondering how this could happen in their beloved city, but for Palladino, a former police officer, it inspired him to act and a week later he was hosting this amazing event. 
"What happened here in Dallas last Thursday night broke my heart, it made me angry, and it reminded me that our city is blessed with some of the bravest men and women in uniform anywhere," said Palladino. "Police offers put their lives on the line every day and they're asked to do so much, so often, for so little. There's only so much any of us can do to show our sincere gratitude, and what I can do is open the doors at Dos Jefes and ask people who share our gratitude to join us and add their support however they can."   Joe Palladino
In addition to donating every dollar from the night's dinner and drink sales, Palladino organized a silent auction featuring high-value items and experiences donated by local celebrities and friends. Some of the items included:
Autographed items donated by Tony Romo and other Dallas Cowboys
Dallas Mavericks signed memorabilia
A round of golf for four at Dallas National Country Club
Dinner for 10 at Nick & Sam's Steakhouse in Uptown
Dinner for 10 at Nick & Sam's Grill in the Park Cities
Two private dinners in the comfort of your own home prepared by Nick & Sam's Executive Chef, Samir Dhurandhar
Complimentary stay at Dream Hotels
Pair of premium tickets to LSU/Alabama football game in Baton Rouge, including a meet and greet with Coach Les Miles.
Sit with Mark Cuban at a Mavs game!
Dinner for 6 at Nick & Sam's Steakhouse with Tony Romo and Jason Witten
Hire Rangers skipper Jeff Banister to guest-coach a practice for your youth baseball team – at Globe Life Park!
Attend a Rangers game in the incredible Aero Components Suite behind home plate with the Cowboys' offensive line! Travis Frederick and Zack Martin will join you and     11 friends for an awesome time in an amazing suite, fully stocked with ballpark food and soft drinks.
Texas Rangers Amazing Seat Experience! 4 field-level seats to a game, passes to watch batting practice from the field, 4 hats and autographed balls from Adrian Beltre and Ian Desmond.
Golf for 2 with Mavericks point guard Deron Williams at Cowboys Golf Course
 As guests mingled and bid on auction items, they enjoyed bites from the upscale tequila and tapas bar menu that features a fusion of Asian and Latin inspired dishes. With a strong presence of support from the community, the event's success was just as much about the outpouring of love, as it was about the funds raised by the many donations.