What could be one of the most anticipated restaurant openings this year, Chef Stephan Pyles opens his newest concept, Flora Street Café amongst an outpouring of excitement from Dallas' most scrupulous culinary enthusiasts. Strategically situated in the Dallas Arts District across from the Meyerson Symphony and Winspear Opera House, the elegant restaurant will feature an "Elevated Texas Cuisine" inspired by his extensive travels.
Well known as a pioneer of Southwestern Cuisine and the first recipient in the southwest to be awarded the prestigious James Beard Award for Best Chef, Pyles artistically delivers his vision of creating refined dishes combining Texas ingredients and modern techniques. Flora Street Café will be the chef's 21st restaurant to open over the past 32 years. Joining the team are Peter Barlow, as chef de cuisine and Ricardo Sanchez as pastry chef.
Meticulous with every detail, Chef Pyles' love of the arts is a focal influence in the design of the dining room with a concept of "Food as Theater" being a prevalent theme throughout. Designed by Jim Rimelspach of Wilson Associates with lighting by Craig Roberts Associates the main room has a breathtaking installation of deconstructed, blown glass and ghost chandeliers suspended at varying levels.
The welcoming warm tones of the lounge finished in metallic and wood accents create a sexy, sleek atmosphere where guests can mingle while waiting for a table or enjoying a drink.
At the focal point of the 5,000 square-foot restaurant is a 25″ x 10″ abstract, jewel-toned, silk, three dimensional tapestry designed by contemporary artist Tim Harding to depict dramatic theatrical curtains.
One of the most powerful works in the restaurant is a mixed medium of art and music from Studio Drift in Amsterdam and is the first and only one of its kind in the United States. Enclosed above the bar and lounge, it is a kinetic sculpture made of silk that rhythmically pulsates light as it descends and retracts during 10 minute cycles.
Perhaps an ode to Routh Street Café just as much as a look towards the future, one thing that remains consistent is Pyles' intense love and passion for what he does.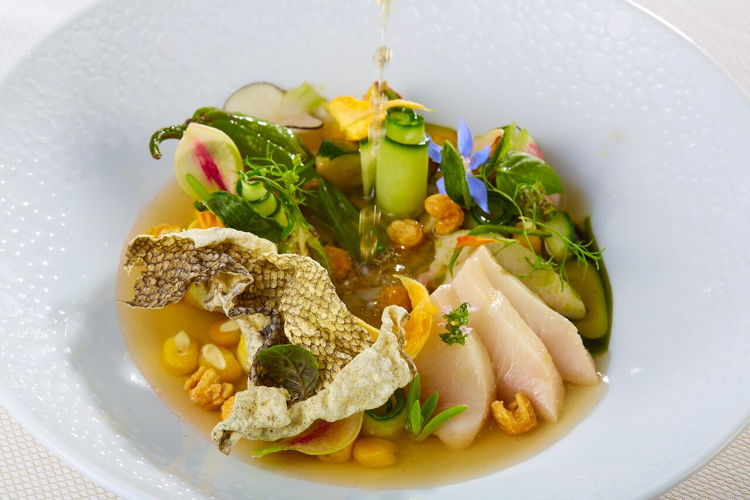 Summer Posole, Smoked Shishito Broth, Rockfish Escabeche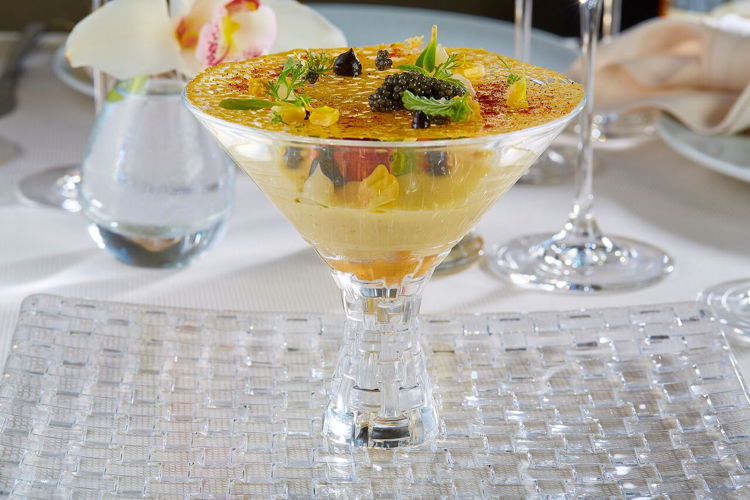 Lobster Tamale Pie-Wild Paddlefish Caviar, Ancho Glass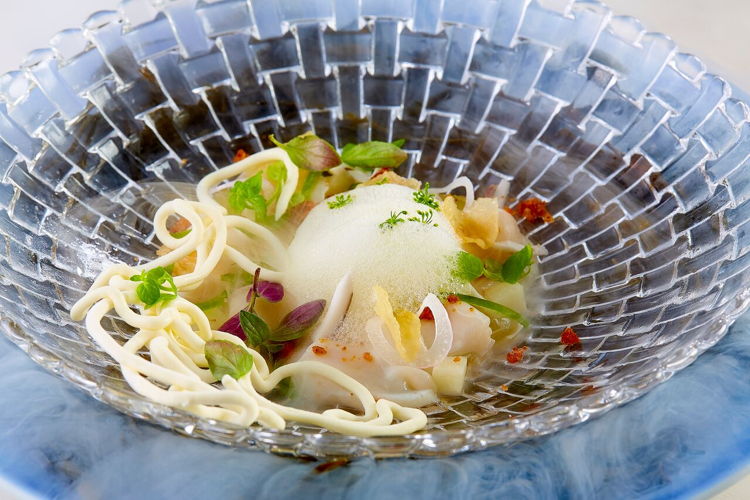 Sea Scallops, Coconut Gelee, Pineapple Textures, Chipotle Buckwheat Groats, Jasmine-Sea Essence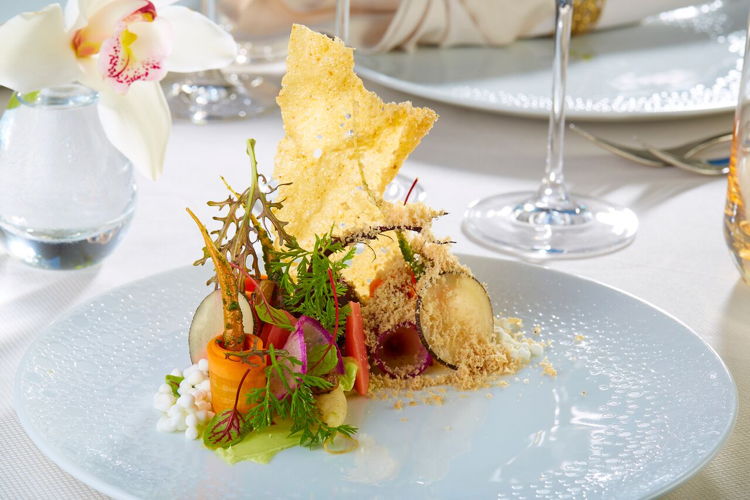 Local Garden Roots, Poblano-Lime Butter, Aged Goat's Cheese Chicharron, Shaved Foie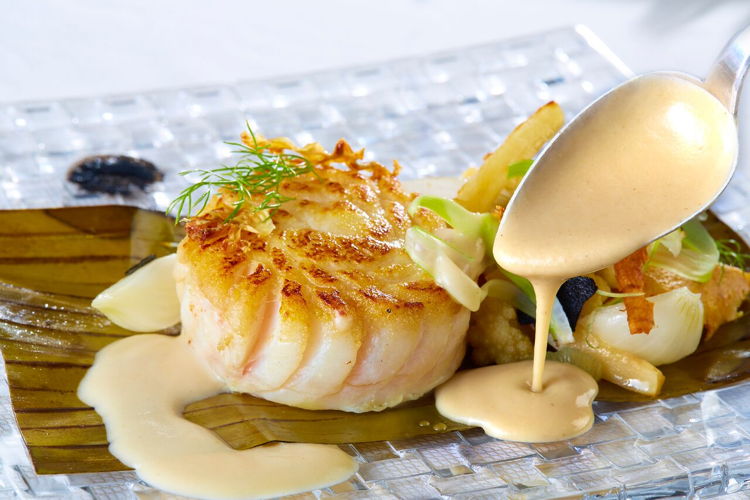 Seared Halibut, Smoked Fish Chorizo Tamal, White Mole, Cauliflower, Onion Ash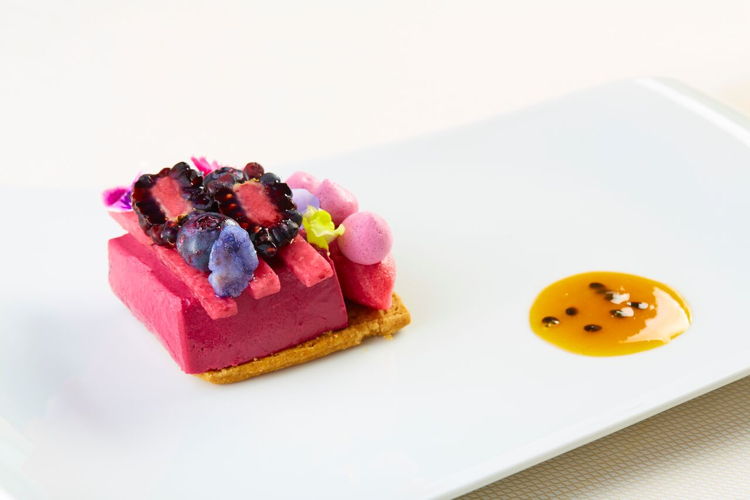 Classic Parfait, Hibiscus Sorbet, Brown Flour Sable, Berry Glazed Jicama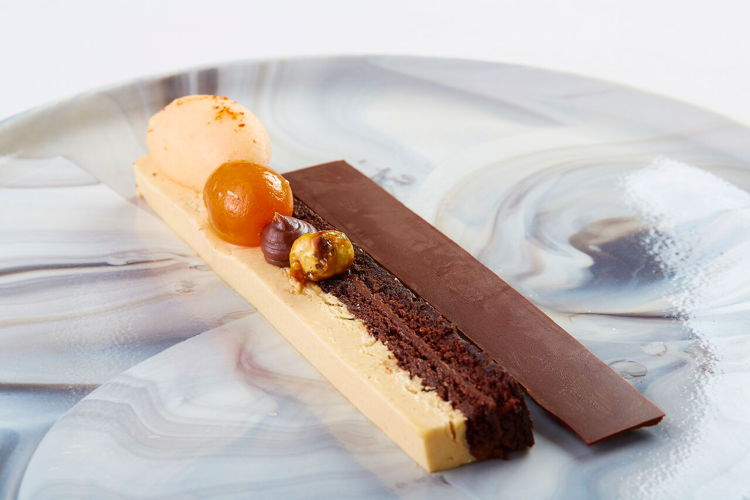 Chocolate Sponge, Hazelnut Cremeaux, Ruby Red Grapefruit Sorbet
Dinner Menu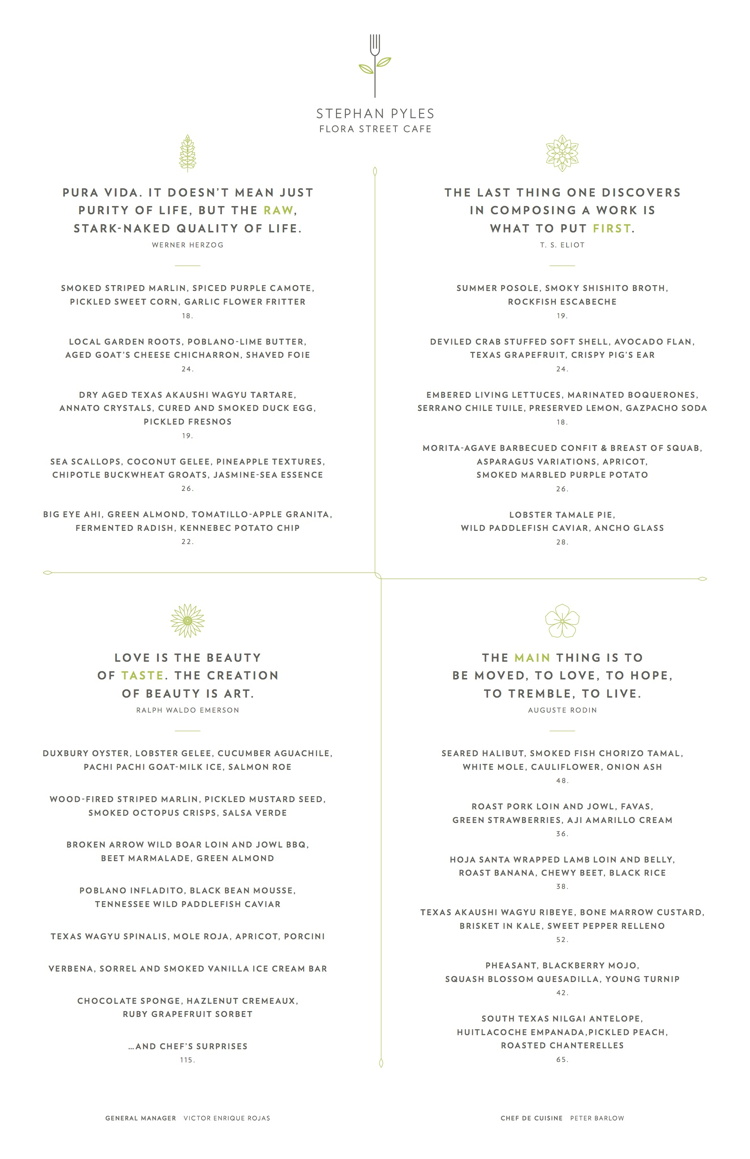 Flora Street Café is on 2330 Flora Street, Suite 150 (ground floor of KPMG Plaza at Halls Arts)
For reservations call: 214-580-7000
Follow Chef Stephan Pyles On:
Facebook: www.facebook.com/StephanPylesFloraStreetCafe
Twitter: http://twitter.com/SPFloraStCafe and http://twitter.com/ChefPyles
Instagram: #stephanpylesflorastcafe
Subscribe to discover the best kept secrets in your city