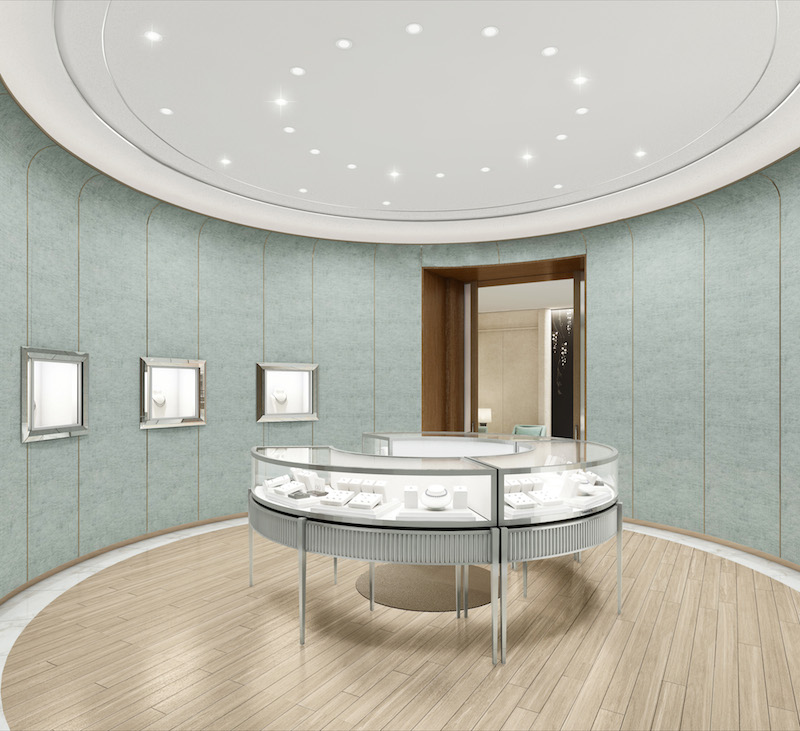 Tiffany. When you hear the name of the luxury jewelry brand you're likely to think of exquisite necklaces, diamond rings, the iconic Audrey Hepburn movie, and the color robin's egg blue. The Union Square store, which is the San Francisco Tiffany flagship, may also come to mind. If you're a fan of the jeweler and a frequent shopper at the Post Street store, you'll be surprised and delighted by the following news. The boutique is undergoing a major remodel and the resulting Tiffany is going to be one of the best and brightest stores in the nation.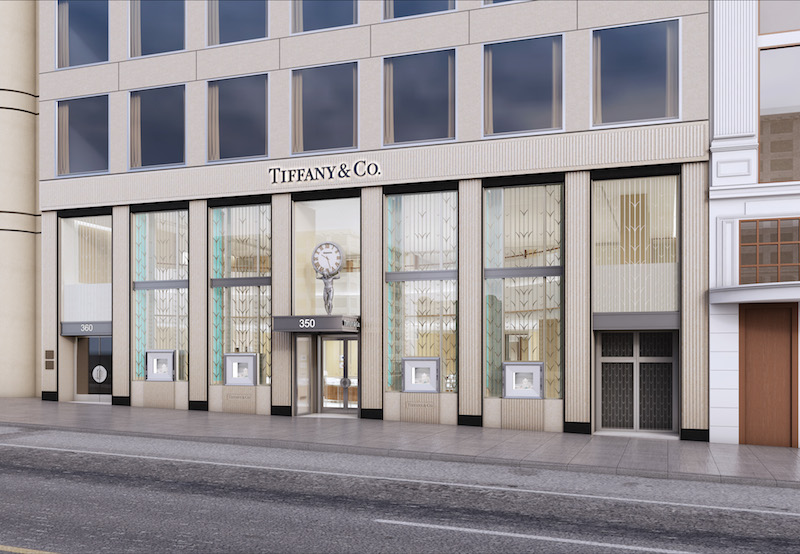 The renovation is to honor the 25th anniversary of the Tiffany's location and to illustrate that the brand is ever evolving with a more modern and contemporary look—that is better than ever. The main highlight of the new Tiffany, which will open this Fall with a lavish celebration, is the impressive outdoor façade. Inspired by the 5th Avenue flagship, the luxury high-rises of the 30s and 40s, and American deco skyscrapers, the new storefront will have large glass panels that offer clear visibility into the store's grand entry and second floor mezzanine. The mezzanine now overlooks the entry foyer to the shop.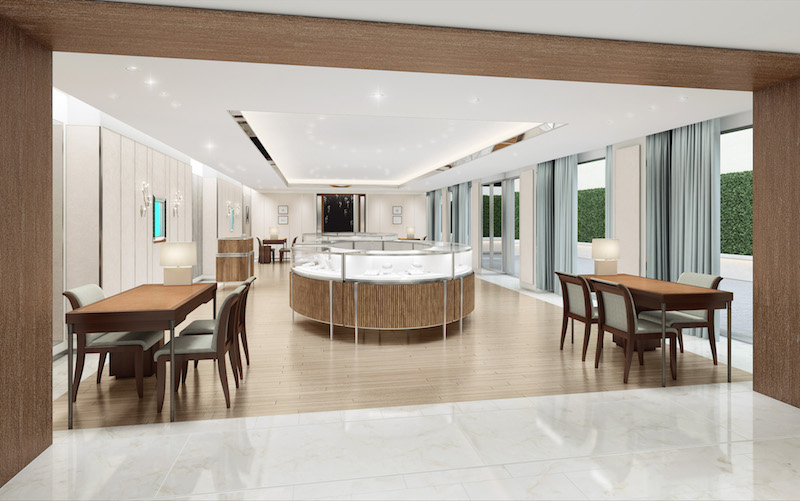 The new shop is divided into a series of salons with differing decor themes. The fine jewelry salon is made of white stone floors with Tiffany blue contrasting Amazonite floor boarders. The jewelry displays are illuminated by a sophisticated crystal rod chandelier and white gold Magnolia sconces designed by New York-based artist Michele Oka Doner. The watch salon is inspired by luxury ocean liners and Art Deco. Walls are covered in perforated camel suede with a contemporary sundial design that suggests the notion of time. Tufted back chairs bring to mind vintage automobiles.
The high jewelry salon is circular in shape—a design that has never before been done at a Tiffany boutique—with Tiffany blue fabric walls and a domed ceiling. The private sales salon offers a comfortably intimate place for shopping in private. The space has a residential feel with cream velvet walls and a series of archival sketches and soft seating in peacock blues. Up the marble staircase is the fashion salon that has a wheat leaf motif, oak flooring, and panels of ivory leather on the walls. The bridal salon is the final room, upstairs, that has wood floors, cream fabric walls, and white gold sconces. The serene and sophisticated setting has an exclusive entrance to a terrace, which has seating and green shrubbery. This outdoor space is the first of its kind for a Tiffany & Co. store. The renovation will increase the square footage of the store from 10,767 square-feet to 13,820 square-feet with 3,053 square-feet being devoted solely to jewelry show cases. Tiffany lovers hoping to shop now need not worry: the Post Street store remains open during the remodeling period.