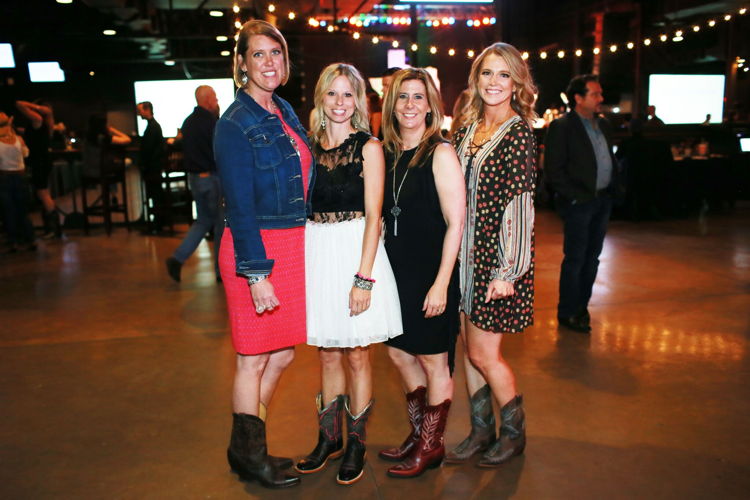 On April 30, 2016, Ally's Wish hosted its Second Annual Boots & Blessings Gala at Gilley's Dallas. The country-themed affair is the nonprofit's largest event of the year helping them to raise the necessary funds to grant the wishes of young terminally ill mothers in North Texas and across the country. The combined efforts of honorary chair Tricia Sims and gala chair Laura Downing made it a night to remember as guests were seamlessly engaged into taking part in fulfilling the night's lofty vision of making dreams come true.
Only in its second year, the noteworthy event is already drawing press nationwide. 30 minutes before it began, a NBC5 news truck was anxiously awaiting the arrival of special guest and current Ally's Wish mom, Tanya Norris. The young mother from Keller, Texas is battling against Glioblastoma Multiforme, a form of brain cancer. Her story made headlines just days before the gala so NBC5's reporter, Chris Jose reported live from the event, capturing Tanya's night out on the town and sharing her experience with local viewers. The timing couldn't have been more perfect in sharing this special moment with Norris as the month of May is Brain Tumor Awareness and helped to shine a light on her very rare and highly aggressive cancer.
Gilley's Dallas offered the perfect venue for an unforgettable evening full of fun. Founded in 1971 as a bar and honky tonk by country singer, Mickey Gilley in Pasenda, the bar became the backdrop for the famous movie, Urban Cowboy. As over 300 guests made their way through the doors in their best country chic attire; the atmosphere of the room came alive as Breckenridge Band, whose notoriety includes performances for five U.S. presidents and superstars like Martina McBride, Willie Nelson and Charlie Pride, sang country hits from George Strait to Blake Shelton. While guests mingled and had the opportunity to bid on more than 150 items at the silent auction, they sipped on signature cocktails courtesy of Candy's Signature Cocktails and Community Beer Company. The pinnacle of southern hospitality was the grand Texas BBQ buffet that was complete with apple cobbler and vanilla ice cream. After indulging in the lavish meal, ladies had the opportunity to get pampered and freshen their make- up at the Blushington touch-up station before photographer Bob Manzano snapped some shots on his camera.
Ally's Wish founders Missy Phipps, Melissa Cary, Holly Reed and Heather Bryan took the floor in sharing history and mission of their 2-year-old organization which has now raised more than $150,000 and granted 17 wishes. The tears flowed as Pat and Larry Conner, the parents of the late Allyson Hendrickson for whom the nonprofit is named, shared the intimate details of their daughter's seven year battle with ovarian cancer. Speaking about her powerful faith and devotion to her family, her mother, Pat said,  "Her battle was for one thing and one thing only, and that was to spend as much time as possible with her three sons." Allyson's wish was the first granted by Ally's Wish and it is the blog named "My Three Sons," which has now been published into a book entitled "Three Little Cowboys."  The book has become the inspiration behind the name of Ally's Wish largest fundraiser, Boots & Blessings.
At 7:45 p.m. the charismatic, LeeAnne Locken, Bravo's Real Housewife of Dallas star and emcee of the evening kicked off the bidding and in a matter of minutes, more than $30,000 had been raised to ensure that five of the current wish requests from mothers in New York, Chicago, Colorado and Texas would be granted. Among the many amazing items up for bid were unforgettable experiences such as Charla Goodin Janecka's, The Best of Dallas Restaurants including Uchi, Mercat Bistro and Gemma and a night out with NFL Hall of Famer Tony Dorsett and his wife Janet at Chamberlain's Steak and Chop House.
Special guests included Russell Spencer, husband of the late Terran Spencer, an Ally's Wish recipient. He along with Tanya Norris shared their gratitude for the founders and thanked all who make these wishes a reality. Russell thanked the nonprofit for fulfilling his wife's dream inspired by her love of dolphins to someday visit Hawaii with her family. Thanks to the donors and Ally's Wish her dream became a reality in 2014. Tanya shared in her excitement and gratitude about being able to finally make her wish come true this summer of visiting Nashville, Tennessee and one of Music City's most iconic landmarks, The Grand Ole Opry.
As the evening drew to a close, country singer/songwriter Britnee Kellogg had the crowd on its feet to hits by Carrie Underwood, Little Big Town and Miranda Lambert. While guests left the memorable event, they were gifted with fun party favors provided by Sugaire TM Organic Cotton Candy, which made the night end on a very sweet note!
For more information visit on Ally's Wish please visit:  www.AllysWish.org
Follow Ally's Wish On:
PHOTO CREDIT

: BOB MANZANO
Subscribe to discover the best kept secrets in your city