Photo Credit: Drew Altizer
All heads turned when a young lady walked into the room. She was a combination of beauty and confidence, but it was her DRESS, which was a perfection. There was something quite fabulous about that dress – classic yet provocative. The layers of white lace and embroidery combined with sheer sleeves, instantly made everyone curious. Having made a dramatic entrance and having ALL eyes on her, she raised her hand with the cell phone and took a selfie. The picture was a fantastic portrayal of grace and satisfaction. It was a self-portrait design.
Photo Credit: Drew Altizer
"When you are a woman, you want an attention. Woman wants to be noticed and feel very confident at the same time," said Han Chong, the designer of the fast-growing women's wear label Self-Portrait. Malaysia-born, based in London, designer Han Chong came to visit San Francisco and made his personal appearance at Neiman Marcus to meet his fashionable fans. The part of Contemporary floor of Neiman Marcus was made into mini Self-Portrait boutique with the extensive display of spring/ summer collection and the latest addition, Self-Portrait's collaboration with Le Specs, sunglasses.
Photo Credit: Drew Altizer
"In my spring/summer 2016 collection I wanted to have a little fun. With the sun out, I made the silhouette more loose, you can move and you can have fun. I always think what my customer needs for the summer. Is she going to a festival or to an event? How does she feel when she walks in?"
Photo Credit: Drew Altizer
Han Chong definitely designs for a woman who loves to be the center of attention, and at the price she can afford. His woman is modern and she is a busy girl, she needs pieces what are easy to put on and they are comfortable, but she also wants to have a good time and be noticed.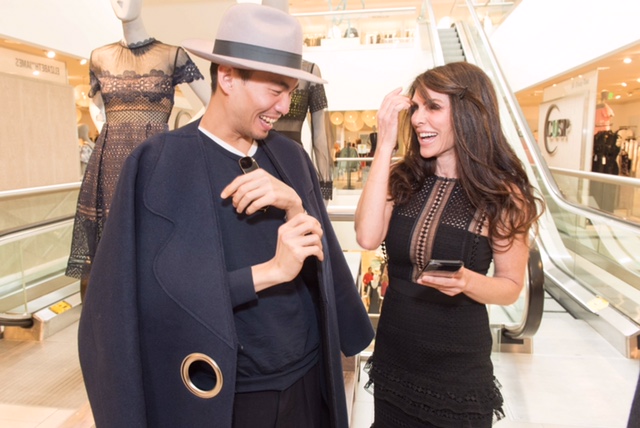 Han Chong was born in Malaysia. His father was a butcher, and his mother helped him at the shop. His aunt was an artist and a great inspiration to an young designer as he was growing up. He moved to London about 15 years ago to study and lives there ever since. "Fashion is a natural thing for me. I wanted women to feel in power and that was my starting point," said Chong about the beginning of his career as a designer. His collections are designed in London's studio and manufactured in China to keep the price accessible. Brand is being successfully sold in Europe, UK and Asia, and now widely expending in United States.
Photo Credit: Drew Altizer
As my interview came to the end, I asked my favorite question, If you could describe yourself in one word with the hashtag #Iam? "#IamMrSelfPortrait,"the young designer said with the widest smile.
Photo Credit: Drew Altizer
The romantic and feminine Self-Portrait spring/summer 2016 collection, which makes any woman shine after the sun sets down, is waiting to be discovered at San Francisco Neiman Marcus, Contemporary floor.
Neiman Marcus
150 Stockton street,
San Francisco, CA 94108
Subscribe to discover the best kept secrets in your city