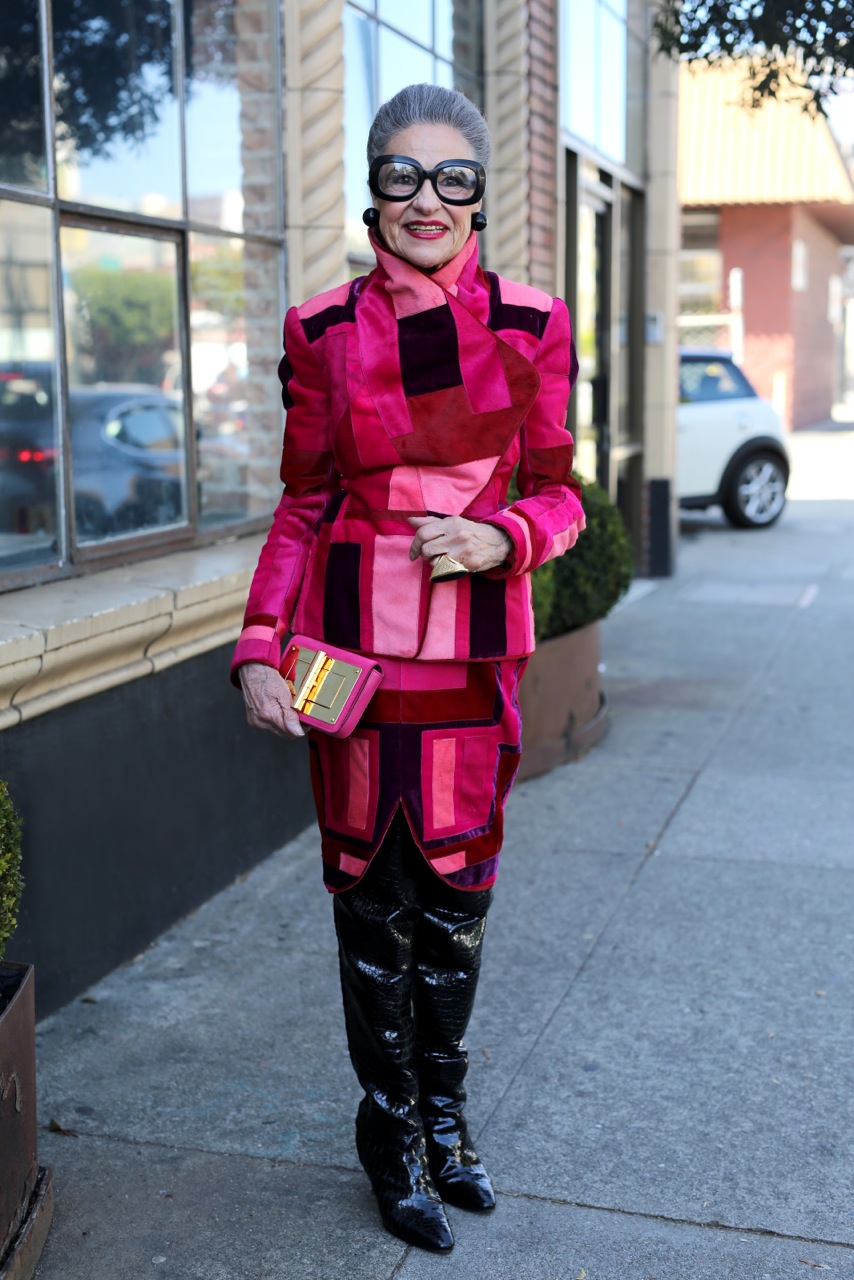 Photo Credit: Ari Seth Cohen
Joy Venturini Bianchi is one of San Francisco's most recognizable fashion icons. In fact, with her signature black Gucci glasses, chic silver chignon, and flashy fashion choices, she may actually be the city's only recognizable fashion icon. And rightly so. A lifelong philanthropist and fashion lover, Venturini Bianchi is the founder of Helpers, a charity that provides aid to the developmentally disabled. She oversees Helpers House of Couture, a vintage clothing store filled with designer pieces donated from socialites, international royalty, and celebrities. All of the proceeds from the boutique are used to fund Helpers. While she's not acting as a fashionable fairy godmother to the mentally challenged, Venturini Bianchi is a girl about town. Store openings, galas, fundraisers — it's all in a night's work for Venturini Bianchi, who floats from one event to the next in animal print, sequins, and thigh-high boots. With such enviable head-turning fashion sense, we couldn't help but wonder: where else does this lovely lady hang out? Here are Venturini Bianchi's haute secrets, her guide to San Francisco, in her very own words.
Where were you born:  Marina District, San Francisco
How long in San Francisco:  77 years
Neighborhood: Richmond District
Occupation:  Director, Helpers Community, Inc.
Favorite Restaurant:  Gary Danko
Best Sushi:  Roka Akor
Best Italian:  Original Joe's
Best dessert:  Jonathan Waxman
Best place for a romantic date:  Coit Tower
Best Sunday brunch:  Ritz Carlton
Best place for a power business meeting: Helpers. 2626 Fulton Street.
If you have out of town guests, which hotel would you recommend? Campton Place
Favorite shopping venue/boutique: Helpers House of Couture and Helpers and the Helpers Bazaar, Ghirardelli Square
Favorite place to buy jewelry/watches: Cartier
Best Spa: Never been a client of one…even though that is hard to believe!
Favorite Charity Event: Helpers Annual Gala
Favorite Cultural Event: San Francisco Ballet, San Francisco Symphony, and the San Francisco Opera.
Favorite Cultural Institution: San Francisco Ballet, San Francisco Symphony, and San Francisco Opera
Best Steakhouse:  Harris'
Best Pizza:  Tony's Pizza
Best Lunch:  Mel's Diner
Best Gym/Athletic Facility:  A stroll through Union Square
Best Massage:  Bernard Osher Center
Best Limousine/Driving Service:  MDM Limousine
Best Museum/Exhibit: de Young/Balenciaga
Describe your city in three words: Welcoming. Accepting. Alive.
Favorite historic/legendary place to see or explore: Nob Hill
All-around favorite spot in San Francisco:  Ghirardelli Square
Best Aspect of San Francisco: Children. People. Menagerie of animals.
Subscribe to discover the best kept secrets in your city