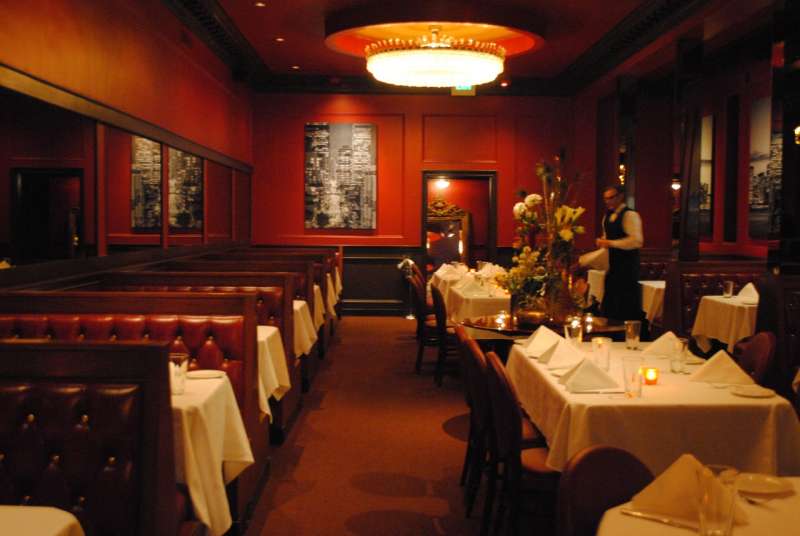 Everything old is new again at San Francisco's revamped Alfred's steakhouse. After the Daniel Patterson Group (DPG) recently purchased the decades old eatery, they went to work sprucing up the interior, exterior, and the menu. But guests might not necessarily notice the aesthetic changes – and that's quite all right. If the red leather banquettes and crystal chandeliers modeled after those in the Vienna State Opera House were good enough for former regulars Sinatra, Crosby, DiMaggio and Monroe, then why replace them? DPG buffed, shined, reconfigured and refurbished, but the heart and soul of Alfred's endures.
One change that is more easily detectable is the food quality. Traditional choices remain, but guests will notice a contemporary shift. DPG and Executive Chef Charlie Parker focused on local farms to resource many of the menu items, particularly the vegetables. The generous steaks remain, and as always, can be viewed from the front-of-house meat locker. And those classic, tableside-shaken martinis and Manhattans of which happy hour dreams are made? They survived, and they taste better than ever in this updated hideout that oozes Hollywood glamour. Here are a few more reasons to explore, or re-explore Alfred's:
An old-soul: For nearly 90 years, Alfred's has served generations of San Franciscans, and the tourists and visitors who venture inside seeking a true San Francisco experience. During these nine decades, the restaurant has changed hands only twice. DPG bought it from second owner, the Petri Family, who has maintained the eatery since 1973, and who was willing to sell to DPG based on Daniel Patterson's esteemed culinary status, and his desire to retain the original name.
Shaken or Stirred? Alfred's has always been known for its tableside mixology, and guests will be pleased that this practice remains. Your waiter will pour your perfect martini from a crystal shaker that is set before you in order that every last drop is properly drained at your leisure. A few new cocktails appear on the menu, such as the barrel-aged Manhattan, Negroni and Boulevardier, and wines by the glass are served with a healthy pour.
It's all about the steak: Oysters, a seafood platter, and King Salmon shine at Alfred's, but ultimately, Alfred's is a steakhouse and it's all about the California grass-fed beef, dry-aged and mesquite grilled to order. Choose from 5 or 10 oz. Filet Mignon, a 14 oz. Ribeye, a 32 oz. Porterhouse, a 14 or 20 oz. New York, or The Alfred's Cut, a 28 oz. bone-in ribeye. Side sauces include whipped horseradish, brown butter Béarnaise, oxtail and bay leaf Bordelaise, giardiniere salsa verde, or olive oil & Meyer lemon.
Clubby ambiance: The low-lighting, the sultry red decor, and those red leather banquettes are old-school, and so cool. Circular Hollywood-style booths near the bar are a new addition, and add to the chic atmosphere. The enormous Viennese chandeliers overhead were commissioned by original owner Alfredo Bacchini who fashioned himself an opera singer. Alfred's is a spot to lose yourself at lunch, to take a first date, to celebrate an anniversary, or to post at the bar – a cozy spot with original shelving and etched glass. The only giveaway (second to the stellar food) that Alfred's is now operating in the 21st century is the modern wall art, and triptych panoramic photo of the SF skyline. The present day image would likely perplex Sinatra and pals, but re-vamped Alfred's would undoubtedly win their stamp of approval.
Alfred's SF
659 Merchant St.
San Francisco, CA 94111.
Bar open daily at 4 p.m.
Dinner, Sunday – Thursday 5:30 – 10 p.m.
Friday, Saturday 5:30 – 11 p.m.