Haute 100 lister Michael Mina has been exploring a number of cultures through his culinary expertise. First it was the flavors of the Middle East and Mediterranean, then it was the classic Italian-American dishes of Little Italy, and now Mina will dive into Indian fare with the debut of The Company.
As stated on Mina's site, The Company is a collaboration between James Beard Award-winning Sommelier Rajat Parr, Chef Vikrant Bhasin and MINA Group. It is a casual, high-energy restaurant where traditional Indian meets San Francisco.  The pop-up dinner series will serve up an array of delicious Indian small plates. The cuisine is complemented by creative, East Indies-inspired cocktails as well as a focused wine list highlighting Syrahs and Riesling. The Company is a revival of a past project Mina and wine director Rajat Parr had hoped to open on Steuart Street in SoMa.
Restaurant-goers will have the opportunity to choose from a plethora of options. The dinner menu features seven ($49 + $29 pairing), nine ($59 + $35 pairing) or eleven ($69 + $39 pairing) courses.
The Company debuts today (Tuesday, March 1) at The MINA Test Kitchen, which is located at 2120 Greenwich Street in the Cow Hollow/Marina neighborhood of San Francisco.
Most recently, Mina has revealed he will be stepping down as CEO of his own company, the Mina Group. The renowned chef has tapped Bill Freeman to fill his shoes. What will Mina do now with his free time? Head back to the kitchen of course. According to the San Francisco Business Times, stepping down from the CEO position will allow Mina to return to his first love—the kitchen. Freeman will take over the day-to-day operations including helping to provide opportunities and support for the 1,800 employees that work in the Mina Group.
"As we're growing, things become important like what type of future your employees will have. People have to understand there's a bigger vision to a business," Mina said to the San Francisco Business Times. "I found myself working on that so much … and it's not the best use of my time and skills."
For reservations, click here. Check out the menu below.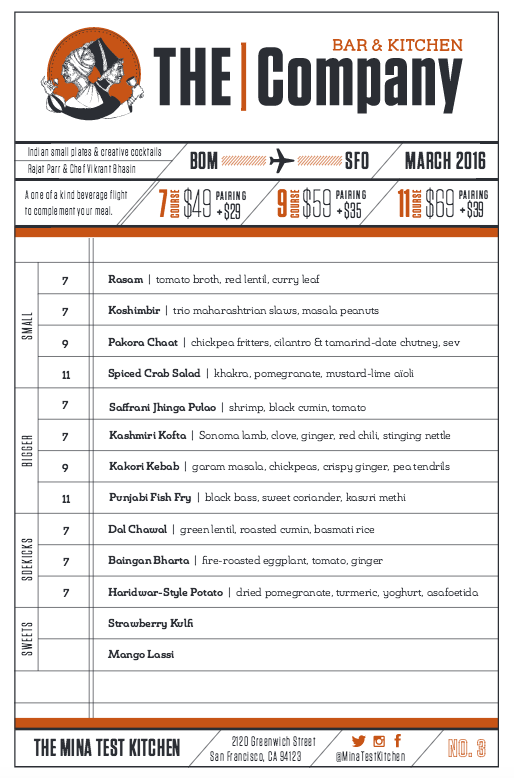 Subscribe to discover the best kept secrets in your city