La Pairie is celebrating February's premier of its new Cellular Radiance Perfecting Fluide Pure Gold with a special counter-side offering at Neiman Marcus in Merrick Park. Ladies (and gents) will be able to stop by on Saturday, February 13, to get a personalized portrait and a little special attention from their crack team of La Prairie experts.
All day, from 11am – 7pm, La Prairie will be offering up 7 minute services that includes the removal of other products, the application of a Cellular Radience Pefecting Fluide with Pure Gold as well as skin matching and the application of La Pairie's exclusive make up.
They might start by explaining that 5,000 years ago, the Egyptians ingested gold for mental, physical and spiritual purification. They might also talk about the gold salves that were used in ancient Rome, or the gold mask Cleopatra may have slept in nightly to improve her complexion. But it's not really about the past. For La Prairie, its about the future of skincare and the photo-reflecting properties that gives the affect of "golden hour" all day long as Haute Living reported earlier this year.
Customers will get something that lasts a little longer too—portraits of themselves by illustrator Dallas Shaw in golden hues to celebrate the release.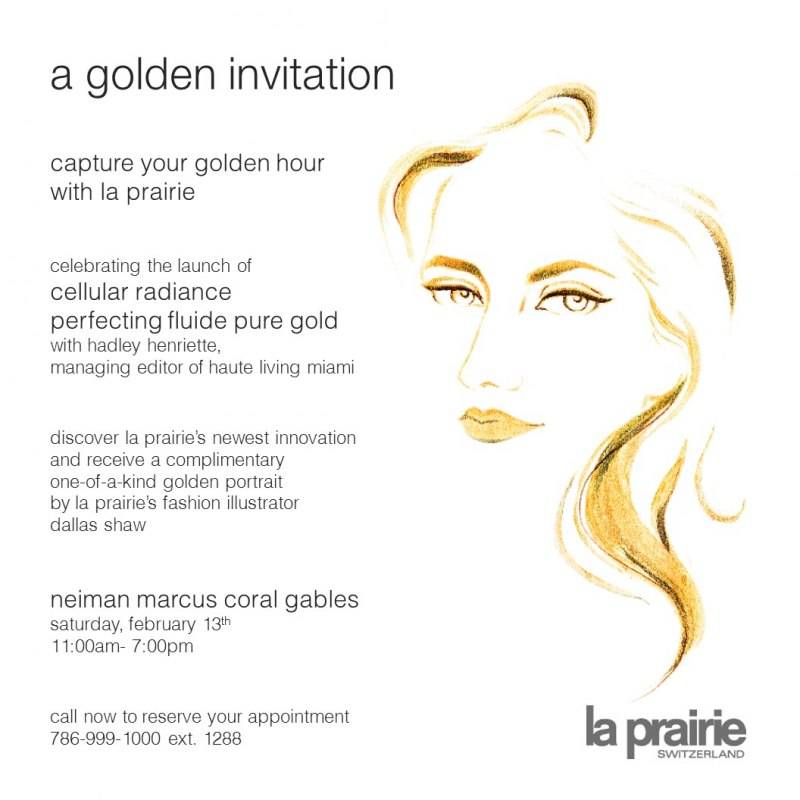 La Prairie's Cellular Radiance Perfecting Fluide Pure Gold contains an exclusive combination of pure gold, golden reflecting agents and a unique, collagen-boosting golden peptide – as well as the line's exclusive golden lotus blend made with lotus japonicas, a flowers much revered in Asia for it's healing properties.
The radiance collection contains a collagen-boosting golden peptide helps improve skin quality below the surface, which is where that special glow comes from. Hey, they always said "beauty is from within" and they were right.