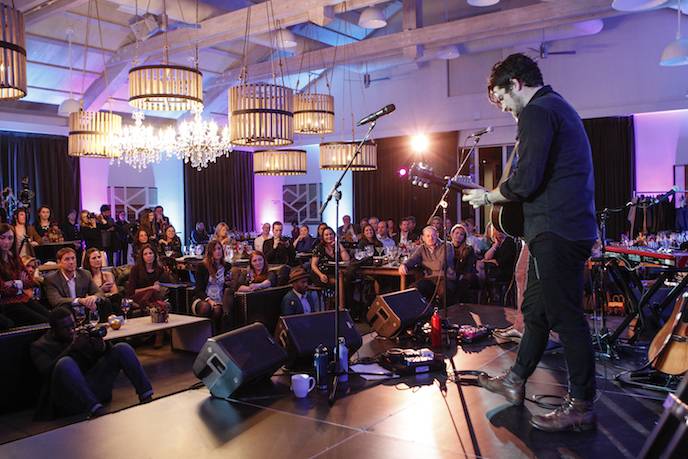 Photo Credit: Kimberly White for VH1 Save The Music
Amid the sparkle of modern and traditional chandeliers, driftwood and orchid centerpieces, dramatic floral arrangements anchored by mini guitar necks and cuisine inspired by a rock star's song repertoire, VH1 launched the first of its nationwide Save The Music events for 2016 on Jan. 28 at Solage Calistoga in Napa Valley. Aimed at restoring music education in the schools, the fundraisers, titled Musically Mastered Menu, pair a well-known contemporary music artist with an equally notable chef. Case in point: Multi-platinum-selling rock singer-songwriter and SF local Matt Nathanson, best known for his album "Some Mad Hope" and his breakthrough single "Come On Get Higher," with Michelin-starred Chef Brandon Sharp of Solage's celebrated restaurant, Solbar.
"Rock stars want to be chefs. Chefs want to be rock stars," quipped Nathanson from the lavender and teal lit stage before he performed for the intimate audience of 109 people in Solage's Soltice room. "Chefs are artists too."
To that end of marrying Nathanson's music and the evening's dinner, Sharp created a menu of Lake Pontchartrain blue crab with saffron aioli as the appetizer, a loin and shoulder emigh farms lamb entrée with medjool dates, pistachio and chermoula, and a decadent deconstructed sugar pie pumpkin cheesecake for dessert, with bourbon apples.
"Brandon's food is honest and emotional. He was incredibly insightful about my music. The menu was like a journey," said Nathanson.
The music, the menu and the gala itself, which included a silent auction and sponsors such as Avnet, Charbay Distillery & Winery, Beringer, Lindsey Rion Designs, Heineken, Fords Gin, Cana Brava and Lyric by Etude, coalesced around the issue of raising money for music education in the schools and awareness around its importance.
"Keeping music and arts education alive in schools is important for a student's complete education – that's why we're all here tonight," said Trell Thomas, VH1 Save The Music Foundation communications and talent relations manager.
Over its 20 years, VH1 Save the Music has donated more than $500,000 worth of new musical instruments to 23 Napa Valley schools. Thursday's event raised more than $15,000.
"School is about learning but it is also about giving people the tools to become who they are," said Nathanson. "To that end, you can't neglect any one art that allows kids to express themselves. I feel that a lot of times we are pointed in the wrong direction, that career is the paramount goal when it is really about being a fulfilled human being. If that happens, then all the rest shows up."
More of VH1's Musically Mastered Menu events will take place across the U.S. throughout the year.
Matt Nathanson's 5 SF Faves
Café Jacqueline in North Beach (Chef Jacqueline Margulis' cozy restaurant specializing in savory and sweet soufflés). "It's just a fantastic experience."
Hiking around Baker Beach
Bernal Hill. "I'm a big fan of Bernal Heights, where I live. So I suggest taking the walk from Bernal Hill into the Mission."
Dynamo Donut in the Mission. "I don't know what they do but I'm a sucker for that place."
SFMOMA, the de Young, the Asian Art Museum and the Contemporary Jewish Museum. "Our museums are incredible."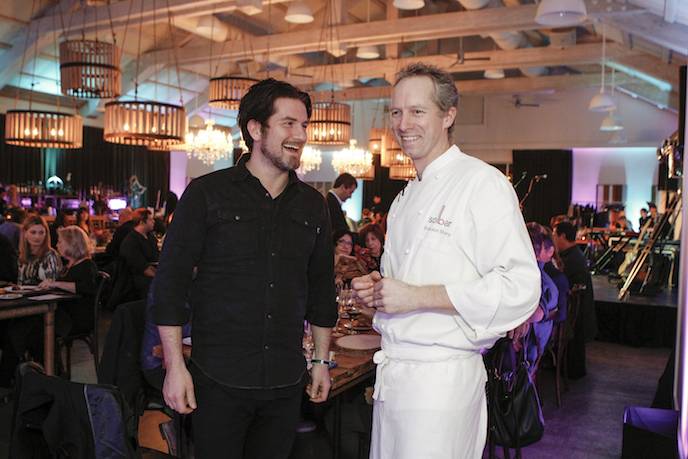 Photo Credit: Kimberly White for VH1 Save The Music
Photo credit: Kimberly White for VH1 Save The Music
Subscribe to discover the best kept secrets in your city