Richard Von Saal is so darn versatile that we're never quite sure whether to call this talented Napan an artist, designer or builder. He does it all with his Napa-based firm, Vonsaal design build, which he started 18 years ago. Oodles of wineries—from Screaming Eagle to Alpha Omega to CADE to The Hess Collection—have hired the man who also created custom art pieces for the Andaz Hotel Napa and counts BottleRock Napa Valley, the Napa Valley Film Festival and Live in the Vineyard among his numerous clients. Currently working on a 22-room private residence in Oakville, The Corner and JaM tasting room in downtown Napa, Covert Estate wine cave in Coombsville AND Cultivar wine tasting bar in downtown San Francisco keeps him busy but he slowed down long enough to share his haute guide to the Napa Valley with us.
Where were you born: Vallejo, California. "V-Town" back in the 70's was a flourishing city and a ton of fun. Now it has a bad wrap but I believe in her revival!
How long in Napa: My stepfather gave me a one way ticket back to Napa in 1984, let just say we didn't see eye to eye… ;)
Neighborhood: Currently I'm living in Alta Heights, the east hills of Napa. However I'm looking to settle in Carneros once I find the right spread.
Occupation: Artist and Principal of Vonsaal design build.
Favorite Restaurant: Too biased! So many have my favorite dishes but overall I have to give it up to Angele in Napa.
Best Sushi: Jake at Eiko's kills it, however Blowfish in SF is a close second.
Best Italian: Heart breaking question… Tra Vigne in St. Helena closed after 28 years of deliciousness so I have to flip it to Bistro Don Giovanni's!
Best dessert: Key lime pie at Rutherford Grill…hands down a mouth tingler.
Best place for a romantic date: Radishes and butter at the table by the fireplace at Bistro Jeanty, then wisk off to Schramsberg for a little toast in the caves, or if lucky a kiss, then a swirl through cheese and inky reds on the deck at Auberge du Soleil …then…
Best Sunday brunch: Meadowood. Chef Victoria Acosta is taking food to new levels and the ambiance is smashing.
Best place for a power business meeting: Vonsaal design build studios of course!
If you have out of town guests, which hotel would you recommend? The Andaz is where I house my peeps. I am the resident artist of the hotel so I'm a bit biased!
Favorite shopping venue/boutique: Stuff in SF. They have two stories of incredible antiques that cover every genre and era, like walking through time.
Favorite place to buy jewelry/watches: I'm a Nixon watch nut so the Nixon store in Berkeley suits that fix. All my other needs are met by Jerovi at Villa Iris Imports in Napa. His collection of antique pieces is astounding.
Best Spa: Indian Springs in Calistoga, and the temptation to skinny dip is overwhelming.
Photo Credit: Kelly E. Carter
Favorite Charity Event: Auction Napa Valley. The energy throughout the valley is intoxicating (literally), and it raises an astounding amount of funds for multiple grantees.
Favorite Cultural Event: It's a tie between Bottlerock and Napa Valley Film Festival. Love them both and I have a new "Best time of my life" every year.
Favorite Cultural Institution: Di Rosa Preserve. I get lost in the artwork and then lead back by the echoing sounds of peacocks throughout the grounds.
Best Steakhouse: Coles in Napa. Greg Cole sears his aged collection to greatness.
Best Pizza: The Verde pizza with spinach, garlic, chilies and ricotta at Pizza Azzurro rules!
Best Lunch: My go-to is Norman Rose Tavern. I'm there at least 3-4 times a week.
Best Gym/Athletic Facility: Just signed my team up at In Shape Gym. It's a brand new gym in Napa… hope it turns out to be the best!
Best Massage: Sierra at Pure Skin Spa. She has a magical way of unraveling my tension.
Best Limousine/Driving Service: Verve Napa Valley is a first class ticket. T Beller, the owner, is vastly connected in the Valley and will treat you like a rockstar.
Best Museum/Exhibit: Di Rosa, jaw dropping
Describe your city in three words: majestic, hospitable, home
Favorite historic/legendary place to see or explore: It may be numb to some but I love Mare Island Naval Shipyard. The historic relevance is astounding and even the couple that runs the museum are pure American history!
All-around favorite spot in the Napa Valley: The Carneros appellation. Something about the scent of the bay air, rolling knolls and easy highway access does it for me.
Best Aspect of the Napa Valley: Everything really. If I had to narrow it down I would have to say the food, the wine…and artists of course!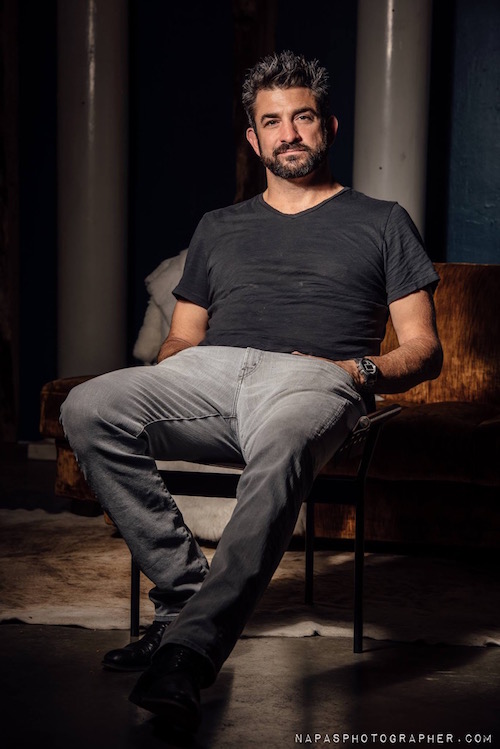 Photo Credit: NapasPhotographer.com