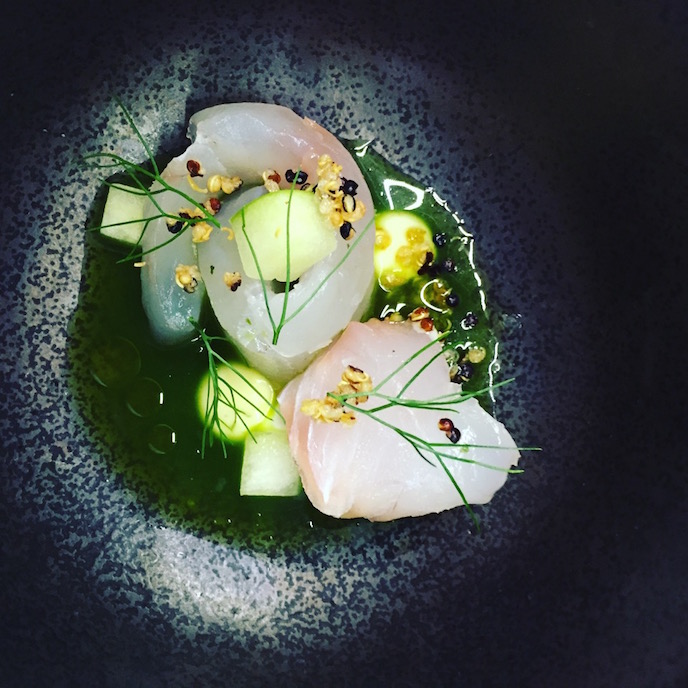 Photo Credit: Steven Krause.
Oakland's Jack London Square (JLS) has long held the promise of destination-worthy greatness. Perched at the edge of the Bay, with beautiful harbor views, the expanse is as picturesque and inviting as other cities' visitor-friendly, waterfront locales such as Seattle's Pike Place Market or Vancouver B.C.'s Granville Island. But not until now – with its current batch of haute restaurants and retail – has JLS realized its full potential. Now a must-see Bay Area destination, JLS is the hip place to be, and Haven is the epicenter. Here are seven reasons why:
Location, location, location
Amidst JLS's vibrant restaurant row, Haven sits at the eastern end, and offers inside or outside dining. Either affords views of the harbor and the Oakland/Alameda estuary. It's an energetic, salty-aired setting; there is something about proximity to water that always proves to be life-affirming.
Matt Brimer
After 13 years in San Francisco restaurants, such as Ame at the St. Regis, Haven's executive Chef Matt Brimer made the move to Oakland to become a prime player in 'Brooklyn by the Bay's' hopping restaurant scene. He carries on what former executive Chef Charlie Parker started at Haven – elevated, family-style prix fixe menus featuring modern American food. Brimer adds his own creative techniques utilizing fresh, local ingredients and bright flavors while continuing to drive the restaurant's house-made charcuterie program, in-house pickling, curing, fermenting and whole-animal butchery.
They can't count, but it's to your benefit
At Haven, the numbers three and four (as in three- and four-course prix fixe) are merely generalizations. The first 'breaking bread' course alone included four dish deliveries – each artfully arranged on a canvas of Heath ceramics. The variety of texture, color and flavor is amazing and sublime: a basket of homemade breads and crackers, olive-oil drenched burrata, chicken liver mousse, charred scallion hummus, Monterey squid, Oregon Dungeness crab fritter, gem lettuce salad with pomegranate and sunflower. This is what Haven calls a first course.
Prix fixe, with a choice
While the rest of the daily changing menu is set, Haven always offers a choice of two entrees, usually a beef and a fish dish. Highlights from Brimer's menu include: Wagyu beef with smoked potato pave, Scarlett turnips, new onions and Yuzu Kosho. Monterey squid on the plancha with Meyer lemon, celery hearts and fermented chili. Smoked Mt. Lassen trout rillette with horseradish, pickled beets, crème fraîche and dill. Brassicas with smoked egg yolk, bagna cauda and new onion soubise. (Vegetarian choices are always available.)
Celery sorbet
With so many other delicious flavors competing for diners' attentions, the simple celery sorbet palate cleanser, made and served by pastry chef Hope Waggoner, was revelatory. A bit sweet, and very much tasting like the essence of celery, the small scoop made us swoon. If sorbet is the true gauge by which dessert chefs are ultimately appraised, Waggoner is a wizard. Her olive oil cake with crème fraiche ice cream and cocoa powder wasn't too bad either.
A classic and cozy bar
Haven's bar offers barrel-aged craft cocktails with house made bitters, local beer, and wines that pair well with the a la carte bar menu of pastas, the delicious Haven burger, and the not-to-be-missed charcuterie board featuring their yummy house made pastrami.
Inviting atmosphere
Like the dishes on its menu, Haven's interior décor is homemade and handcrafted. On display are shelves of homemade vinegars, jams, and giardiniera – all available for purchase. Featuring an abundance of warm wood, the industrial space is accented with tree limbs and greenery hung from the rafters, creating a feeling of safe shelter – a true haute haven.
Haven: 44 Webster Street in Jack London Square. (510) 663-4440. Sunday – Thursday, three-course prix fixe: $49. Friday/Saturday, four-course prix fixe: $65. 5:30 – 10:00 p.m. daily.
Subscribe to discover the best kept secrets in your city