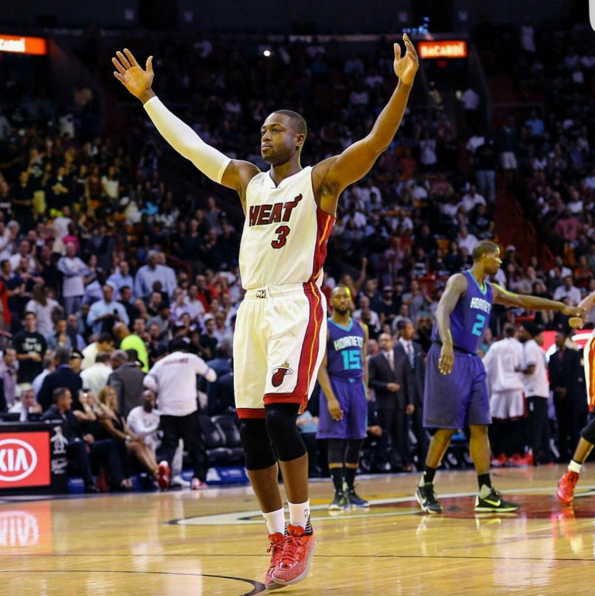 Gatorade has tapped a number of athletes including Miami Heats shooting guard and Haute 100 lister Dwyane Wade to appear in a new ad. The commercial titled "Moving the Game Forward" is an ode to athletes who don't rest on their past success.
The ad, which is a little more than a minute long, showcase a number of athletes encouraging fans they can be the best athlete possible. The ad starts with two teens playing football. Following making a shot, one teen says, "You can be the best in your house." Another teen, who is seeing playing soccer, continues, "And then you're blocked."
After appearances from teen sport players, the video continues with celeb athletes. Viewers are encouraged by 2015 WNBA MVP Elena Delle Donne, three-time Stanley Cup champion Duncan Keith, former Duke University Blue Devil and current Milwaukee Bucks forward Jabari Parker, the fastest man alive Usain Bolt, New York Giants two-time Super Bowl Champion Eli Manning and more.
Wade, whose son takes center stage in this ad, is seen at home with his son who takes a playful jab at his father.
In addition to appearing in the Gatorade ad, Wade celebrated a milestone during Tuesday night's basketball game against the Atlanta Hawks. During the second quarter of the game, the 33-year-old followed up Goran Dragic's missed layup and went on to scoring his 1,000 dunk.
Wade has been quite busy this year as he debuted a new sock line, red wine collection as well as his Wade 4 (WOW4) sneaker collection. The sock line, which he dedicated to Miami, is "comprised of three classic striped cotton athletic socks, while the remaining eight are premium styles made with combed cotton and 200 needle count stitching. The eight premium styles are a play on Miami's famed art-deco architecture in hues that evoke the essence of one of America's most vibrant cities." The sneaker collection will feature three new original styles: Liberty, Lucky 13, and the 25th-anniversary sneaker which will launch on October 23, 2015. Between Oct. 2015 to July 2016, the four-year collaboration plans to release an additional 15 styles to the line. As for his red label line, it is not yet available in the states.
See the commercial below.

Also, see Wade Score his 1,000 dunk.
MILESTONE ALERT! Check out @DwyaneWade's 1,000th career dunk – all in a @MiamiHEAT uniform! #HEATLifer pic.twitter.com/HNaqNVPUpA

— Miami HEAT (@MiamiHEAT) November 4, 2015
Photo via Instagram
Subscribe to discover the best kept secrets in your city