Even if South Florida doesn't get much of a change of season, the cooler, fall months still call for comfort food. This month, celebrate fall and "National Pasta Month" with the best comfort food Miami has to offer – like the six mouthwatering must-try's listed below:
"Lobster Ravioli" at Café Prima Pasta:
If you're in North Bay Village (or if you're not, and just want really great Italian food), head to Café Prima Pasta and order the "Lobster Ravioli." It's homemade pasta, stuffed with lobster meat, and drowned in a creamy, savory saffron sauce. Café Prima Pasta is located at 414 71st Street. 
"Papardelle de Ragu Ossobuco" at Fornaro Restaurant and Gourmet Pizza: 
For an intimate Italian experience, this Coconut Grove locale has everything you need. Head there before the end of this month and celebrate pasta with Fornaro's best dish: ragu made from the restaurant's house made ossobuco, cooked to perfection in its authentic wood-burning oven. Papardelle de Ragu Ossobuco is priced at $25. Fornaro Restaurant and Gourmet Pizza is located at 2750 SW 26th Avenue, Unit C.
"Trio de Venere" or "Trio de Cesare" at Ni.Do. Caffe: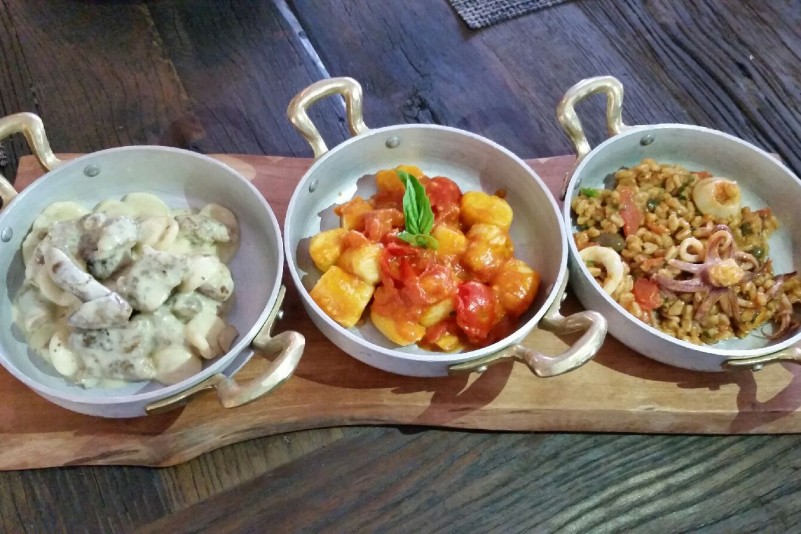 Head to one of two Ni.Do. Caffe locations, in either MiMo or Miami Shores, and choose from two pre-fixe pasta "trios." A modern-day pasta flight, "Trio de Venere" includes portions of three pasta dishes: Gnocchi alla Sorrentina (homemade potato dumplings, fresh tomato sauce and fresh mozzarella), Fagottini di Pera con Gamberi (pasta filled with pear-cheese, shrimp and a light cream sauce), and Ravioli di Ossobuco (veal shank ravioli with a tomato-butter sauce). "Trio de Cesare" includes helpings of Penne al Pesto Genovese (penne pasta and homemade pesto sauce), Spaghetti alla Bolognese (spaghetti pasta with homemade Bolognese sauce), and Orecchiette con Porcini e Salsiccia (ear-shaped pasta, porcini mushrooms, sausage and mascarpone cream sauce). Ni.Do. Caffe has two locations, one in MiMo (7295 Biscayne Boulevard) and another in Miami Shores (11052 Biscayne Boulevard). Choose one of trio for $18, and add paired glasses of wine for just $9 more.
"Sweet Pea Tortellini" at Dolce Italian:
Whipped up by Executive Chef Paolo, this creative dish fuses Dorigato Gulf Shrimp, cherry tomatoes and lemon for a helping of pasta like guests have never tasted before. Sweet Pea Tortellini is priced at $23. Dolce Italian is located inside the Gale South Beach, at 1690 Collins Avenue.
"Bolognese" at Bianca at Delano:
Prepared by the restaurant's new Chef de Cuisine, Jason Bamford, this dish perfectly combines veal and pancetta ragout, pappardelle, and just the right amount of Parmigiano Reggiano. Bolognese is priced at $29. Bianca at Delano is located inside the Delano, at 1685 Collins Avenue.
"Bucatini Pasta" at Big City Tavern:
For a taste of Chicago's best Italian, head to this Fort Lauderdale haunt for Executive Chef Steven Zobel's Bucatini Pasta – it has jumbo shrimp, bacon, mustard greens, and Fresno peppers, all topped with a San Marzano Sauce. Bucatini Pasta is priced at $24. Big City Tavern is located at 609 E. Las Olas Boulevard.
Subscribe to discover the best kept secrets in your city