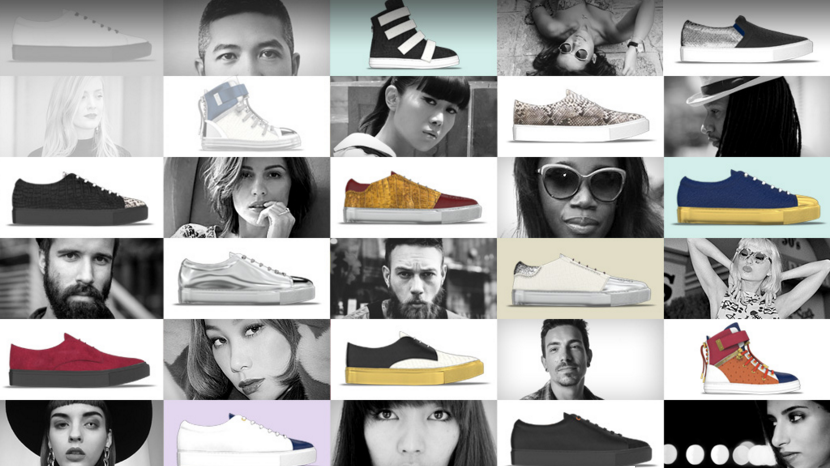 Sneaker aficionados we have amazing news for you. Farfetch, a San Francisco-based fashion e-commerce company, has teamed up with Swear, London-based footwear label, to launch a new customization platform.The two fashion companies are giving sneaker buffs the chance to customize their sneakers. Launched on Wednesday, Oct. 14th, the platform titled Myswear allows you to completely build your own sneaker from a choice of 16 different silhouettes and more than 80 combinations of luxe materials and color.
The site reads, "Have you ever spotted your near-dream shoe, but wished it had a luxurious metal toecap, a shimmering gold rubber sole or a panel of black python skin? Well, thanks to our exclusive MYSWEAR shoe service, this autumn you can turn creator and design your ultimate shoe, whether it's a slip-on in black suede or a nappa leather plimsoll with burnt orange laces. If you're feeling uninspired, fear not, because a host of stylish fashion insiders have created their own Myswear designs, from Sky Ferreira's pointed flat in sumptuous white python skin, to Nick Wooster's downtown-cool navy suede slip ons. You can even complete your one-off design with an embossed monogram." We're pretty sure every sneaker connoisseur can relate to the aforementioned message.
So how does one create his or her uber-cool and unique kicks? Well, according to Farfetch, using state of the art 3D modeling technology, customers can choose everything from the shape to the shoelaces. Expert Portuguese artisans will then craft your tailor-made creations by hand. All it takes is two easy steps.
First you choose your style from a number of ranges such as high top to slip-on sneakers. Second, pick your materials. Choose everything from the lining to the shoelace, the sole to the eyelets and explore colors and materials.
However, your bespoke creations will cost you a pretty penny. Prices start at $385 and can range well into the thousands, $10,000 to be exact. It takes roughly four to six weeks to complete the order; from the time your design is submitted.
Photo via Farfetch