Photo Credit: Drew Altizer Photography
The next generation of young Bay Area professionals and philanthropists gathered to support GLIDE's 51-year legacy of love, leadership and community at the 6th Annual GLIDE Legacy Gala, which also honored Kristi Yamaguchi, Chip Conley and Chinaka Hodge, on Aug. 22 at the Regency Ballroom in San Francisco. This formal affair is always one of the most energizing events of the year—with all proceeds from the gala benefitting GLIDE's programs—and this year was no exception. It was truly a night to remember, filled with music, dance and celebration honoring change agents who are dedicated to improving the lives of those less fortunate.
The evening's live entertainment included performances from the GLIDE Ensemble and Change Band along with the hip beats of DJ KingMost. A hosted bar and tasty bites from some of San Francisco's finest restaurants added to the festivities. During the Legacy Gala, the GLIDE Legacy Committee—a group of young social entrepreneurs—recognized the outstanding contributions of three architects of change who embody the passion and spirit of GLIDE's co-founders Cecil Williams and Janice Mirikitani, as well as the organization's mission. Yamaguchi, the Olympic and World Figure Skating Champion was honored with the Janice Mirikitani Legacy Award; Conley, a hotel guru, traveling philosopher, speaker and author of national bestseller "Emotional Equations," with the Cecil Williams Legacy Award; and, Hodge, an award-winning poet, educator, playwright and screenwriter with the GLIDE Legacy Award. Franco Finn, hype man for NBA World Champion Golden State Warriors, served as the evening's emcee.
"It's a wonderful thing to see this young group of philanthropists inspire those around them to get involved and make change happen," said Williams, the Minister of Liberation. "The enthusiasm, compassion and drive of these young philanthropists will go a long way in bringing hope and inspiration to those who need it most," added Mirikitani, GLIDE's founding president.
The GLIDE Legacy Gala raises funds for programs of the GLIDE Foundation so that GLIDE can continue to provide innovative and comprehensive services to the poor and marginalized in the San Francisco community.
6TH ANNUAL GLIDE LEGACY GALA
Faham Zakariaei, Colson Griffith, Earnest Sweat, Ben Rosenfield, Brenton Gieser
6TH ANNUAL GLIDE LEGACY GALA
Ben Rosenfield, Kristen Yamamoto, Laura Thomson, Amy Gardner, Rebecca Sanchez, Alyssa Kargbo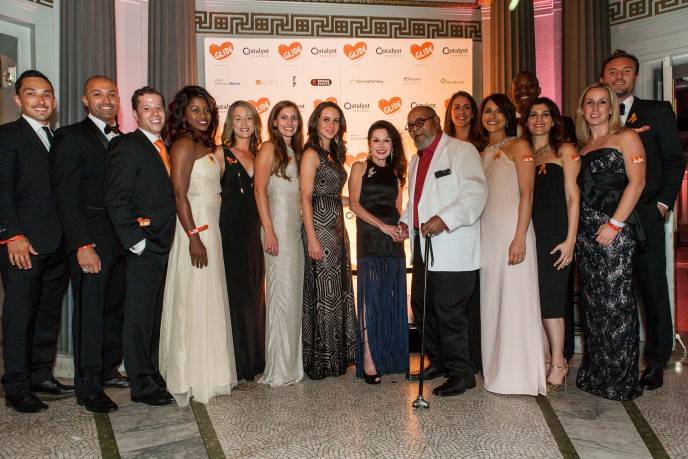 6TH ANNUAL GLIDE LEGACY GALA
Brent Giesler, Faham Zakariaei, Ben Rosenfield, Alyssa Kargbo, Emily Cohen, Amy Gardner, Laura Thompson, Janice Mirikitani, Cecil Williams, Mary Wyatt…
6TH ANNUAL GLIDE LEGACY GALA
Chinaka Hodge, Lealah Johnson, Nicole Tatum-Ramos
6TH ANNUAL GLIDE LEGACY GALA
Brooke Westling, Kelly Walsh, Nicoll Michelle, Emma Gibbens
6TH ANNUAL GLIDE LEGACY GALA
Kristen Growney Yamamoto, Kristi Yamaguchi, Bret Hedican
6TH ANNUAL GLIDE LEGACY GALA
Bret Hedican, Kristi Yamaguchi, Cecil Williams and Janice Mirikitani
Photo Credit: Drew Altizer Photography
6TH ANNUAL GLIDE LEGACY GALA
Janice Mirikitani, Dori Caminong, Mike Kim, Cecil Williams
6TH ANNUAL GLIDE LEGACY GALA
Assemblymember David Chiu, Felicia Horowitz, Dori Caminong
6TH ANNUAL GLIDE LEGACY GALA
Assemblymember David Chiu, Felicia Horowitz, Dori Caminong
6TH ANNUAL GLIDE LEGACY GALA
Angela Brown, Theon Johnson, Paula Farmer
6TH ANNUAL GLIDE LEGACY GALA
Supervisor Malia Cohen, Janice Mirikitani, Cecil Williams
6TH ANNUAL GLIDE LEGACY GALA
Charlie Crompton, Erica Galos Alioto, Meno Crompton, Joseph Alioto, Kristen Yamamoto
6TH ANNUAL GLIDE LEGACY GALA
GLIDE Ensemble and Change Band
6TH ANNUAL GLIDE LEGACY GALA
Felicia Horowitz, Jidenna, Janice Mirikitani, Dori Caminong, Cecil Williams
6TH ANNUAL GLIDE LEGACY GALA
Ross Millie, Crickette Brown Glad
6TH ANNUAL GLIDE LEGACY GALA
Ross Millie, Crickette Brown Glad
6TH ANNUAL GLIDE LEGACY GALA
Nicole Valco, Laura Thomson, Amy Gardner, Rebecca Sills, Rebecca Sanchez, Mary Wyatt, Alyssa Kargbo, Emily Cohen
Photo Credit: Drew Altizer Photography