Photo Credit: Kelly E. Carter
One our favorite places to go for a serene and relaxing vacation is the Post Ranch Inn, the spectacular hideaway in Big Sur. We recently took a trip down the coast in a haute 2015 Mercedes-Benz CLS63 AMG S-Model 4Matic Coupe, stopping in Carmel-by-the-Sea for a spell, before continuing on to our retreat. We suggest you do the same so you can enjoy some of these activities that we guarantee will soothe your soul.
Photo Credit: Mercedes-Benz USA
It didn't take us long to figure out what we love about this stylish Mercedes CLS63 AMG ($106,550 SRP). The handcrafted 5.5-liter AMG biturbo V-8 under the hood of the S63 AMG 4MATIC generates staggering output: 577 hp and 664 lb-ft of torque. You'll feel like the king of the road when you're zooming along the highway. Know that you can also get to 60 mph in an impressive 3.9 seconds. The beauty of driving down the California coast is the mesmerizing scenery, highlighted by the curving roads. Our car featured nifty Mercedes-Benz Active Multicontour Seats that have active side bolsters. The bolsters hug your waist as you hug the turns on Highway 1, giving us an added sense of security. We were also thrilled to find a new 8-inch high-resolution color display and enhanced central controller on the console that provides convenient control of entertainment, hands-free calling, navigation and numerous comfort functions. The new freestanding screen combines a substantially larger display with a sleeker profile that every driver will appreciate.
Photo Credit: Kelly E. Carter
Our first stop was at the charming L'Auberge Carmel. Located in the heart of enchanting Carmel-by-the-Sea, this Relais & Chateaux property is just blocks from the famed Carmel Beach. Originally built in 1929, the historic hotel is known for its graceful architecture, personalized guest services, European-style and elegance. The ambiance of the hotel and restaurant, which we'll get to next, blends romantic old-world charm with the luxury of modern amenities. Completely restored in 2004 then remodeled in 2012, L'Auberge Carmel is where you'll find decor that accents the quaintness of original coved plaster walls, French windows and antique doorknobs mixed with modern updates such as Bose® docking stations and flat-panel TVs.

Photo Credit: Mirabel Hotel & Restaurant Group
Each room at L'Auberge Carmel is uniquely designed and all feature the finest fabrics and linens, not to mention enlarged bath areas with radiant floor heating. Some have Japanese tubs and others have oversized free-standing baths that allow you stretch out and have a true Calgon hour.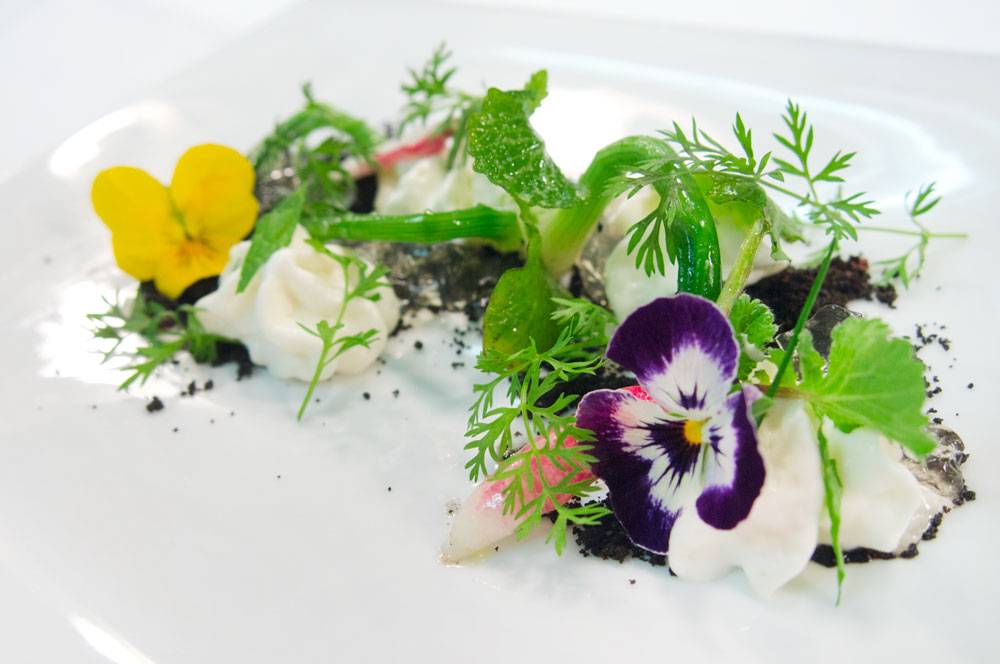 Photo Credit: Mirabel Hotel & Restaurant Group
The real treat, however, is dining at Aubergine, a must for any guest or visitor to Carmel-by-the-Sea. Helmed by 2013 Food & Wine Best New Chef winner Justin Cogley, whom you can read more about in our upcoming July/August issue, this 12-table restaurant offers a daily-changing tasting menu. From the clever printed menu with sketches of what you'll eat to the food itself. Cogley, a Relais & Chateaux Grand Chef, and executive pastry chef Ron Mendoza prepare skillful, ingredient-driven cuisine that celebrates the bounty of the region. Cogley's cuisine showcases the finest ingredients with a razor-sharp balance of deference and innovation. The menu served nightly highlights the best ingredients of the season, enhanced by skillful technique and an eye toward varied textures and flavors. We went gaga over the Japanese ayu, a sweet fish that Cogley has been fond of from his days of living in Japan. Desserts, masterfully prepared by Mendoza, are irresistible complements to Cogley's savory courses. In the mornings, we promise that you're going to love Mendoza's croissants. We haven't tasted any in the U.S. like this! It's as if they were baked in France that morning.
Photo Credit: Kelly E. Carter
After a couple of nights at L'Auberge Carmel, it was time to continue on our scenic route down Highway 1. High atop the cliffs of Big Sur, 1200 feet above the Pacific Ocean, sits Post Ranch Inn, a sanctuary for the soul. In addition to being recognized and awarded as one of the top luxury resorts in the country, it's the only hotel in Big Sur with an ocean view. This is truly the ultimate destination for romance, relaxation and rejuvenation.
Photo Credit: Kelly E. Carter
Post Ranch Inn boasts 41 architecturally-innovative guest rooms, suites and private homes placed along the ridge that parallels the blue Pacific. We checked into the cozy Pfeiffer guestroom, which offers some of the best views of any of the accommodations. Even as you luxuriate in the indoor spa tub, you can savor the coastline. High rollers, of course, may opt for the Cliff House, which has a deck suspended over the western edge of the ridge, allowing you to enjoy the vast ocean views, an outdoor spa tub and a secluded glass-walled bedroom. Two private houses, the Post House and the South Coast House, offer the utmost in privacy, allowing you to completely unwind and forget about the work you left behind.
Photo Credit: Kodiak Greenwood
There is no better fine dining spot in Big Sur than Sierra Mar Restaurant. This is where you can experience the talents of executive head chef John Cox AND enjoy the vast Pacific sunset. While the complimentary gourmet buffet breakfast is exclusive to overnight guests, outsiders are welcome for lunch and dinner by reservation. Hearty eaters will simply devour the nine-course Taste of Big Sur menu while those with lighter appetites may want to opt for the four-course prix fixe menu, where a la carte items can be ordered from as well. Either way, prepare for your tastebuds to be tantalized with Cox's fare. Dishes feature bold, primal flavors along with fresh, locally sourced ingredients. Wine enthusiasts will certainly appreciate that Sierra Mar features one of the largest wine selections in North America, with over 14,000 bottles.
Photo Credit: Kodiak Greenwood
After dinner, retreat to one of Post Ranch Inn's two cliff-top hot basking spas. The infinity Jade and Meditation Spas both eagerly await you 24/7 and offer expansive views that meld sea and sky. Kept at a constant 104 degrees, they provide a rejuvenating place where the panoramic natural beauty of Big Sur definitely warms your body and soul.
Photo Credit: Kodiak Greenwood
The next day, take a lovely hike around the property to work up your pampering appetite. That's right: it's spa time. You can enjoy your treatment in your sanctuary or at the full-service Post Ranch Spa, which offers two couple's spa suites, one with a fireplace the other with a walk-in shower. Among the wide range of nurturing treatments available at the spa, we're sure you'll love the very unique Shaman Journey session. In the sacred and safe space of the medicine wheel, a shaman engages the forces of nature and the ancient wisdom of the ancestors to help create lasting changes for physical, mental and emotional well being.
Photo Credit: Kelly E. Carter
No trip along California's Central Coast is complete without a jaunt on scenic 17-Mile Drive. In this Mercedes CLS63, we effortlessly maneuvered through the Del Monte Forest and along the dramatic coastline, stopping at Bird Rock and other points to soak up the views before it was time to head north. With heated seats and a heated steering wheel too, we were still able to enjoy the cool ocean air from the sunroof as we enjoyed the easy-listening tunes played on the harman/kardon LOGIC7 sound system with Dolby Digital 5.1 Specifically engineered for the CLS, this premium digital sound system fills the car with 610 watts of beautifully balanced audio. Before we knew it, we were back in San Francisco, feeling relaxed and rejuvenated.