Zenith CEO and President Aldo Magada visited Harrods yesterday morning to celebrate the exclusive partnership between the luxury Swiss watch brand and the iconic Knightbridge store.
Zenith will be taking over four windows of the famous Brompton Road department store, during the entire month of May. And the watch brand, which is undergoing a bit of a revival under its new CEO, has curated a brilliant exhibition in Harrods' world-famous Fine Watch Room.
If the Zenith Lancia Stratos that recently took part in in the Tour Auto 2000 last month and its companion El Primero Chronomaster 1969 Tour Auto, take up most of the space, there are many more exciting engines on display.
Harrods will be displaying models 1 though 10 of the newly launched El Primero Chronomaster 1969 (below, number 6) as a global exclusive, with further 2015 novelties joining the collection. The new Rolling Stones watch, including the exciting El Primero Chronomaster Tribute to the Rolling Stones, also goes exclusively on sale at Harrods until May 15th.
The Harrods exhibition is the latest of Zenith's 150th anniversary celebrations. Georges Favre-Jacot was only 22 years old when he founded Zenith in Le Locle, Switzerland, in 1865. But despite his young age, his impact on the industry continues to ripple today.
Favre-Jacot revolutionized the watchmaking process, preceding Ford in bringing specialized artisans under one roof, a true Manufacture, to create all parts in-house. In doing so, he also changed the local landscape and laid the foundations for the international fame of Le Locle. Powered by freshly laid train tracks connecting this small border-city to the Swiss capital, hundreds of watchmakers moved to Le Locle, some opening a watchmaking school only three years later. That school sill runs today.
Few watch brands, if any, have been able to call one place "home," for so long. After SIHH 2015, Haute Time visited the Zenith Manufacture, which today remains in the original offices opened by Favre-Jacot 150 years ago.
wpid-Zenith-Harrods-Limited-Edition-El-Primero-Chronomaster-1969-Watch-back-Exhibition-May-2015.jpg
wpid-Zenith-Harrods-Limited-Edition-El-Primero-Chronomaster-1969-Watch-close-up-Exhibition-May-2015.jpg
wpid-Aldo-Magada-CEO-Zenith-Harrods-Exhibition-May-2015-.jpg
wpid-Zenith-Watches-Harrods-2015.jpg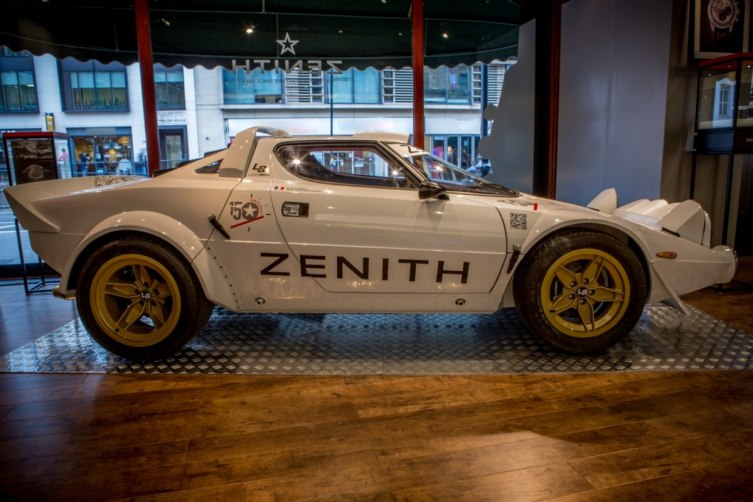 wpid-Zenith-Harrods-Exhibition-May-2015-Lancia-Stratos-Tour-2015.jpeg
Photo Credit: Haute Time. For more information, please visit the official Zenith website. Follow Haute Time on Instagram to catch all of the new releases as they happen.