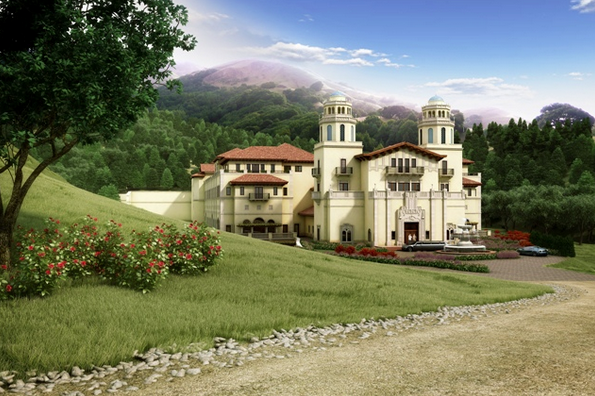 Star Wars creator and genius George Lucas uses his power and wealth for a good cause. The director and producer has proposed building 224 affordable home units on Grady Ranch, a sprawling piece of land stretched over Marin County in the Northern San Francisco area. Even more admirable, Lucas plans to build the entire property on his own dime.
The auteur originally planned to turn Grady Ranch into a state of the art film studio with indoor and outdoor sound stages, a daycare center, a restaurant, gym, a bevvy of screening rooms, nearly two dozen overnight guest suites, parking for over 200 cars, and a "wine cave" to store the wine cultivated in Lucas's vineyards. Despite Lucas getting the proper approval and promising that 95 percent of the land be saved for conservation. But members of the Lucas Valley Homeowners' Association opposed the projects on the grounds of concerns over increased traffic to the residential area as well as environmental concerns. "The level of bitterness and anger expressed by the homeowners in Lucas Valley has convinced us that, even if we were to spend more time and acquire the necessary approvals, we would not be able to maintain a constructive relationship with our neighbors," said Lucasfilm spokesperson Lynne Hale in a statement to The Huffington Post.
So, since the film studio is a no go, Lucas does not want to let the land go to waste, and has propsed the land be used for affordable housing. Lucas will fund the projects compeltely by himself; sans federal or state aid. "The unique thing about this is George is financing it 100 percent," said Gary Giacomini, former county supervisor and an attorney for Skywalker Properties.
Some of the environmental concerns from the Association remain, but Marin City supervisors Judy Arnold and Steve Kinsey are optimistic as afforsable housing in the county is highly limited. The proposal calls for 120 two- and three-bedroom workforce residences in one four-story cluster and two two-story clusters on the site, and 104 one- and two-bedroom residences for seniors in a four-story cluster, as well as four parking garages.
Robert W. Hayes of Sausilito will serve as the architect on the project and PEP Housing of Pentaluma will manage the project.
Who will qualify for the housing? Workforce renters making 80 percent of the median income and senior renters falling 30 to 60 percent short of the median income will be welcomed to the community. They will also be subject to a background check.
Instead of making movies that enrich our lives, Lucas looks to make a direct impact on the lives of those who need it most at Grady Ranch.
Subscribe to discover the best kept secrets in your city