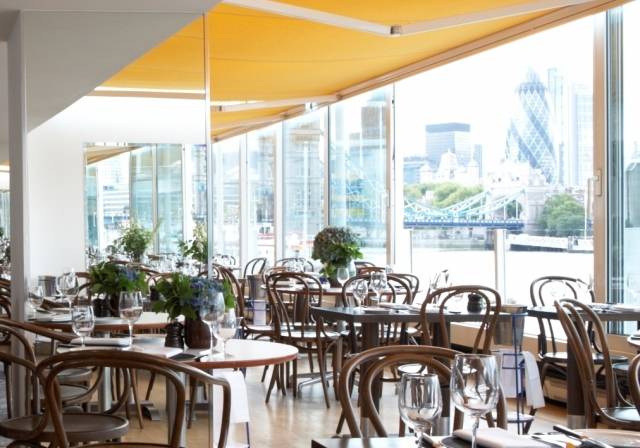 All this month Blueprint Café, situated on the first floor of the Design Museum overlooking the Tower Bridge and the River Thames, is celebrating authentic Aboriginal art as part of D&D's 'Wonderful wines of Aus' campaign.
The restaurant's head chef, Martyn Moody, has created a bespoke 'Australian inspired' menu with paired Australian wines. Standouts  include Cured longhorn beef with violet artichoke and wasabi emulsion, Blackened mackerel, with potato and cucumber and lemon mayonnaise and Vanilla marshmallow with poached Yorkshire rhubarb and yogurt sorbet. The Australian paired wines include 2013 Chardonnay Omrah Plantagenet and 2011 The Stump Jump Shiraz d'Arenberg, priced at £5.50/£33.00.
Blueprint Café is also showcasing a selection of original Aboriginal artwork in collaboration with the Bay Gallery London, individually chosen by Alexandra O'Brian, a highly respected Aboriginal art expert and director at Bay Gallery. All of the paintings on display are be available for purchase.
As part of the celebration, Blueprint Café and Alexandra O'Brien will be holding a masterclass brunch tomorrow (Sunday 19 April). Guests will be invited for brunch in the restaurant from 10am, followed by an Aboriginal art class with Alexandra at 11am, who will teach the methods of painting using sticks, leaves, feathers and paint.
Additionally, on Wednesday 29 April, Alexandra will  host a special wine dinner at Blueprint Café. The evening will begin at 6.30pm with a talk from Alexandra discussing the legacy of ancient rock art, tools, war artefacts and the incredible history of the tribes and Indigenous Australians. The talk will be followed by a three-course dinner created by Martyn Moody highlighting some of the Australian methods of cooking with incredible Australian wines to match.