Spring officially starts this Friday and that means it's time to start thinking about cleaning out your closet. If you're wondering what statement pieces you should be investing in this spring, we have 7 spring fashion musts that you need for your closet immediately. We asked Mary Gonsalves Kinney — fashion stylist to San Francisco's elite and founder of MGK Style, a full-blown styling company — what items are must haves for the upcoming season. Here, in her own words, are the top six articles of clothing that you can't live without this spring. Oh and if your wardrobe is need of an overhaul, we highly recommend you consult with Mary, so don't hesitate to contact her.
White Pumps
Sure, they're somewhat reminiscent of a 1980s Molly Ringwald romcom, but they have come back with a modern flair. Today's white pump is super chic and definitely worth the splurge. They can be worn with your favorite pair of jeans and a graphic t-shirt or a bouncy floral dress. They add a pop to an otherwise everyday look. Try Saint Laurent (pictured above) or Christian Louboutin for the win.
Moto Jacket
I've been known to tell my clients that their closets are not complete without a black moto jacket because, well, they're not. If you don't own one, run out and get one. This is a purchase you can make without hesitation regardless of price tag as you will wear it for the rest of your life. EVERY woman, I repeat EVERY woman can pull off a moto jacket. It is all in how you style it. If you have an edgier style, the more hardware the better ala Balenciaga (shown above). If you're looking for something sophisticated and sleek, try a softer, lighter leather like Saint Laurent.  If you already own a classic moto and you're in the market for something different, you're in luck! Trendier options line the racks at stores throughout San Francisco– think cutouts and daring, sometimes shiny applique (Faith Connexion and Nour Hammour available at Elizabeth Charles on Fillmore Street).
Silk Kimono Jacket
A play on the pajama trend, the silk kimono jacket is a key piece for Spring 2015. Wear it loosely over a pair of shorts or a form fitting dress or style it ala Opening Ceremony with an equally soft, loose fitting blouse and pair of silk pants. Not sure where to find this coveted piece? Never fear, local San Francisco designer Stevie Howell (pictured) is turning it up with her uber successful scarf and kimono line through partnerships with Anthropologie and Opening Ceremony. Find her colorful kimonos online and check out her bespoke options as well. (Stevie Howell http://www.steviehowell.com)
Crossover Mini Bag
Sick of tucking your clutch under your arm and not quite ready for a fanny pack? Me too. This is why the crossover mini bag is so on point this season. Perfect for a lunch date or a night out in the city. Just enough room for your card case, lipstick and a pack of breath mints. Try it in yellow, hot pink or a gilded fringe as we saw at Giorgio Armani. Chanel decided to go extra bold and somewhat political with their design this season by incorporating feminist sayings like "Feministe Mais Feminine." Enough said. Go get yours.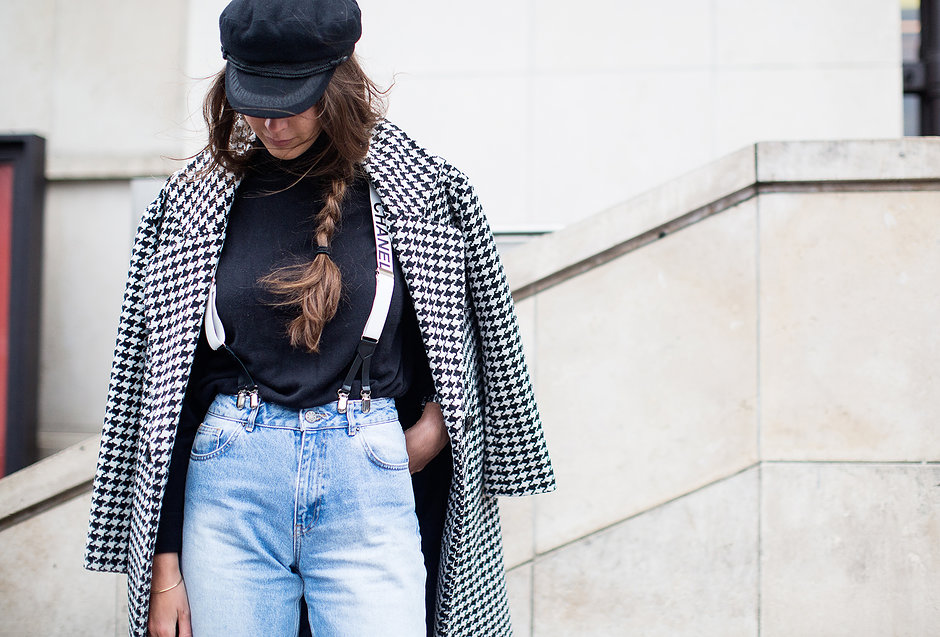 Suspenders
I love suspenders. A throwback to 1940s menswear, suspenders play into that androgynous look we all struggle to perfect. I found a Chanel runway pair on Tradesy a few months back and can't stop wearing them. They make a simple look turn into a styled look. Try them with a high waisted skirt or big flowy palazzo pants. I promise you, you will thank me.
Polka Dots
Stripes always seem to be the Spring winner, but I'm here to shake that up a bit. Polka dots are my newest obsession. I love the playfulness, the smell of youth that a polka dot print inspires. It's also a nod to that quintessential French girl – you know, the one that wears really big sunglasses and the perfect red lipstick. Treat it like a basic and layer with a printed blazer in varying colors or add a brightly colored silk scarf around your neck for the ultimate bang. Try Dolce & Gabbana, Wayne or Kenzo (shown) for a modern version of the trend.