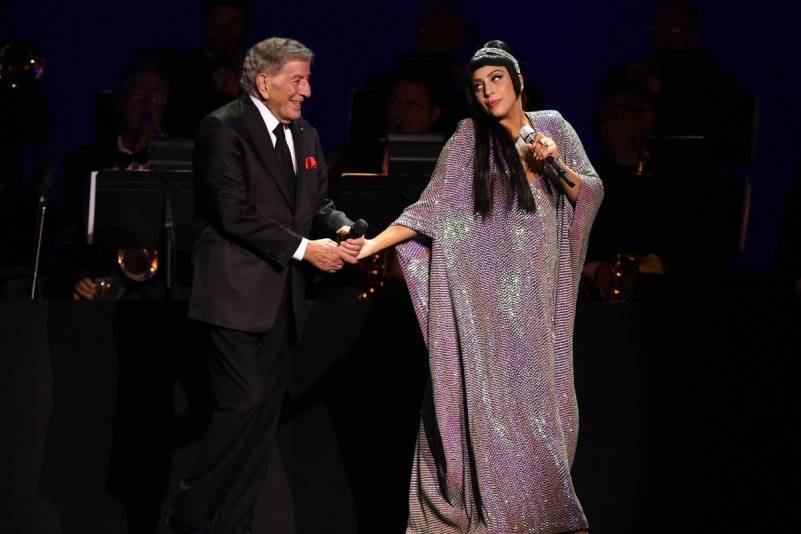 On New Year's Eve, The Cosmopolitan of Las Vegas celebrated another year as one of the world's premier luxury resorts with an evening of star-studded entertainment featuring performances by Tony Bennett and Lady Gaga at The Chelsea, Jennifer Keith Quintet at The Chandelier, Dessy Di Lauro at Rose. Rabbit. Lie. and more.
Before ushering in the New Year, Tony Bennett and Lady Gaga took to the mophie stage at The Chelsea for another sold-out performance, delivering an extraordinary set of classic jazz standards from their No. 1 album, Cheek to Cheek. The New Year's Eve crowd was in a celebratory mood, heightened by the presence of the two legendary musicians performing hits such as  "Anything Goes," "Cheek To Cheek," "They All Laughed" and "Let's Face The Music And Dance." The pair's on-stage chemistry was in full force as they danced, bantered and belted out tunes including "I Won't Dance" and "I Can't Give You Anything But Love." Both Bennett and Gaga performed solo, Bennett awing the crowd with songs such as "Smile," "Steppin' Out With My Baby," and "Sing You Sinners," and Gaga singing classics including "Bang Bang," "Bewitched" and "Firefly" dressed in an array of dazzling costumes by Brandon Maxwell.
As the clock neared midnight, Gaga and Bennett led the crowd into a countdown to 2015, which culminated in an unforgettable and festive moment with streamers and confetti raining over The Chelsea. As Gaga leaned down to give her beau, "Chicago Fire" actor Taylor Kinney – who was watching from the front row – a midnight kiss, Bennett went immediately into his signature hit "I Left My Heart in San Francisco" while revelers feted 2015. The evening came to a close with Bennett and Gaga bidding farewell to the crowd with a performance of "It Don't Mean a Thing (If It Ain't Got That Swing)."
Meanwhile, at the resort's vibrant LED ultra-lounge, BOND, DJ Sean Cee filled the room with electronic beats and seamless mixes, while at The Chandelier, Jennifer Keith Quintet took fans back in time to the age of Hollywood glam with classic American tunes.
Like Haute Living Las Vegas? Join our Facebook page or follow us on Twitter. Want Haute Living Las Vegas delivered to your in box once a week? Sign up for our newsletter.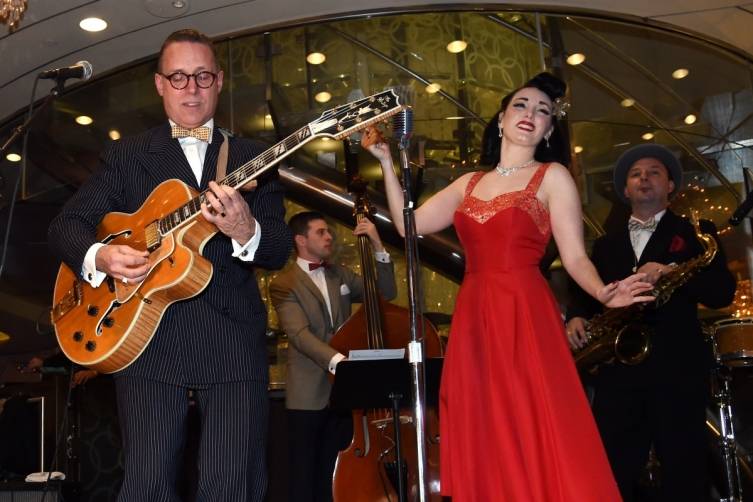 Jennifer Keith Quintet at The Chandelier at The Cosmopolitan of Las Vegas_NYE_Miller_1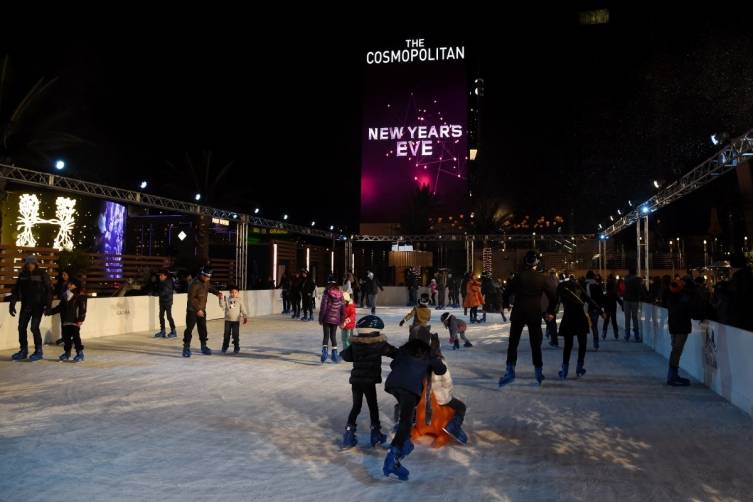 The Ice Rink at The Cosmopolitan of Las Vegas_NYE_Miller_1
Tony Bennett and Lady Gaga perform at The Cosmopolitan_NYE_Miller_1
Tony Bennett and Lady Gaga perform at The Cosmopolitan_NYE_Miller_2
Tony Bennett and Lady Gaga perform at The Cosmopolitan_NYE_Miller_3
Tony Bennett and Lady Gaga perform at The Cosmopolitan_NYE_Miller_4
Tony Bennett and Lady Gaga perform at The Cosmopolitan_NYE_Miller_5
Tony Bennett and Lady Gaga perform at The Cosmopolitan_NYE_Miller_6
Tony Bennett and Lady Gaga perform at The Cosmopolitan_NYE_Miller_7
Tony Bennett and Lady Gaga perform at The Cosmopolitan_NYE_Miller_8
Tony Bennett and Lady Gaga perform at The Cosmopolitan_NYE_Miller_9
Tony Bennett and Lady Gaga perform at The Cosmopolitan_NYE_Miller_10
Subscribe to discover the best kept secrets in your city