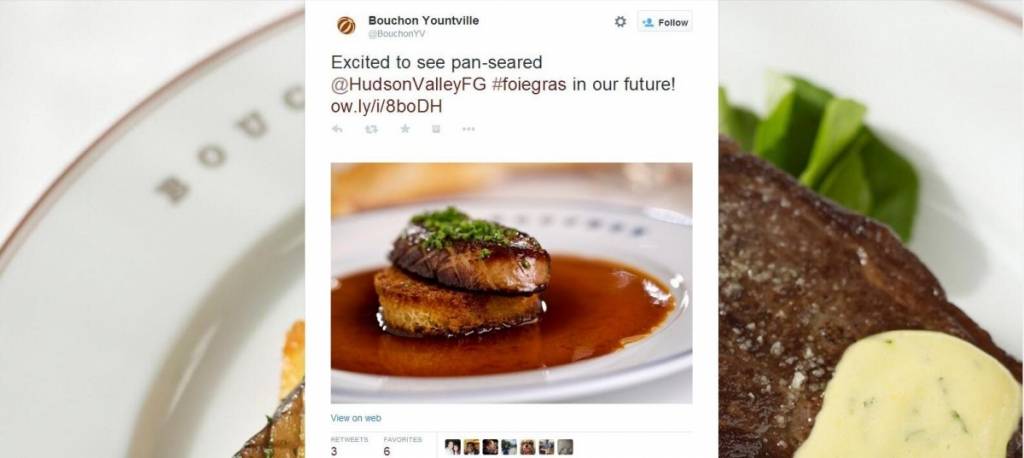 Photo Credit: Twitter
Welcome back foie gras! We've certainly missed you. When news broke on Jan. 8 that restaurants could once again offer foie gras on menus in California, you could hear chefs cheering from Napa Valley to Silicon Valley. A statewide ban on the the sale of the fatty duck and goose liver had been in effect since 2012. However, U.S. District Judge Stephen V. Wilson permanently blocked the ban. Here are seven haute restaurants in the San Francisco Bay Area where you can already find foie gras on the menu.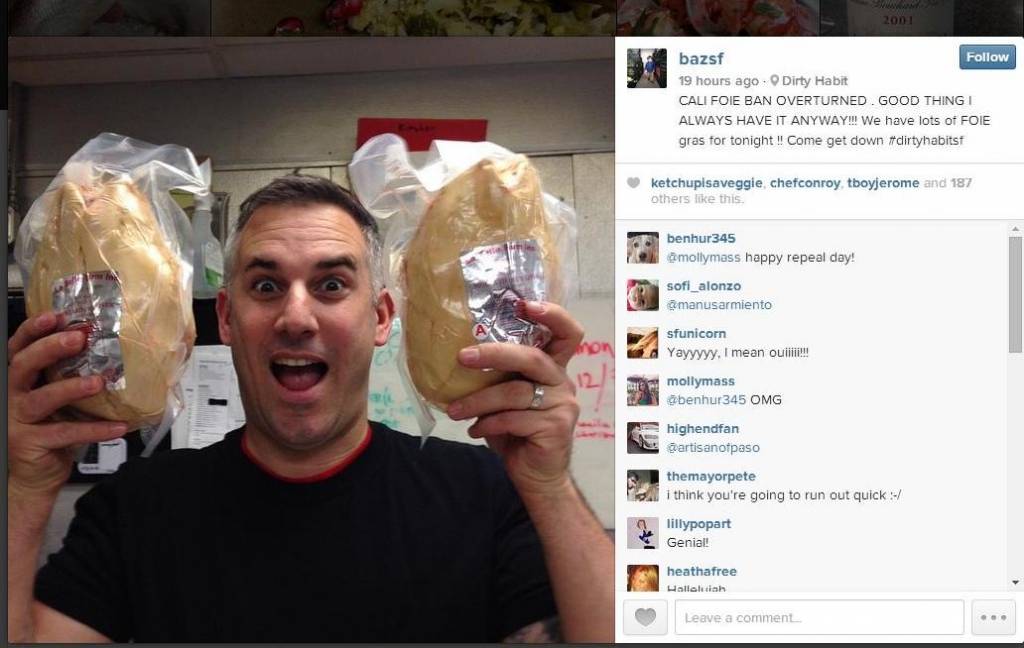 Photo Credit: InstagraDirty Habit: How excited was Dirty Habit chef David Bazirgan about the foie gras ban being blocked? He immediately took to his Instagram account and posted:
CALI FOIE BAN OVERTURNED . GOOD THING I ALWAYS HAVE IT ANYWAY!!! We have lots of FOIE gras for tonight !! Come get down #dirtyhabitsf
His haute restaurant and bar, on the top floor of San Francisco's Hotel Palomar on Fourth Street, offers a five-course foie gras tasting menu—there's even foie gras dessert!! for $85, or $140 with wine pairings. Dirty Habits now accepts reservations for parties of two to eight but always reserves some tables and seats for walk-in's. Here's the Celebration of Foie Gras tasting menu:
oysters poached in foie gras fat
sunchoke milk, fried leeks
JJ Prum Wehlener Sohnnenur Riesling Spatlese Mosel 2004
foie gras torchon
jerk spices, guava jelly
Ken Forrester "The FMC" Chenin Blanc Stellenbosch 2011
foie gras butter
tajarin , white truffle, parmesan
Eyrie Chardonnay Willamette Valley 1999
seared foie gras
aged ribeye, potato, black truffle
Luigi Baudana Ceretta Barolo 2001
Foie gras bavaroise
Passionfruit curd, cherimoya, walnut
Dagueneau Jardin de Babylon Jurancon 2009
La Toque: Chef Ken Frank wasted no time putting foie gras back on the menu at his Michelin-starred restaurant, La Toque, in the Westin Verasa Napa. You can feast on foie gras with persimmon and cherry vinegar oolong broth. Also, the duck burger has returned to the BANK cafe at the hotel as well. Frank has been a long-time supporter of foie gras. Last July, during the midst of the foie gras ban, Frank produced a complimentary all-foie multi-course lunch for 50 guests. Frank was joined in the kitchen by chefs Victor Scargle of Lucy Restaurant & Bar in Yountville, Douglas Keane of the Healdsburg Bar & Grill, David Bazirgan of Dirty Habit in San Francisco, Mark Dommen of One Market in San Francisco, and Patrick Mulvaney of Mulvaney's B&L in Sacramento.
Frank is also a member of C.H.E.F.S, the Coalition for Humane and Ethical Farming Standards who opposeCalifornia's ban on the production and sale of products from farmed ducks and geese and support standards for ethical treatment of animals and humane farming practices.
Spruce: Diners can enjoy Hudson Valley Foie Gras, Vadouvan Waffle, Poached Pear ($25) at this posh, neighborhood favorite in Presidio Heights.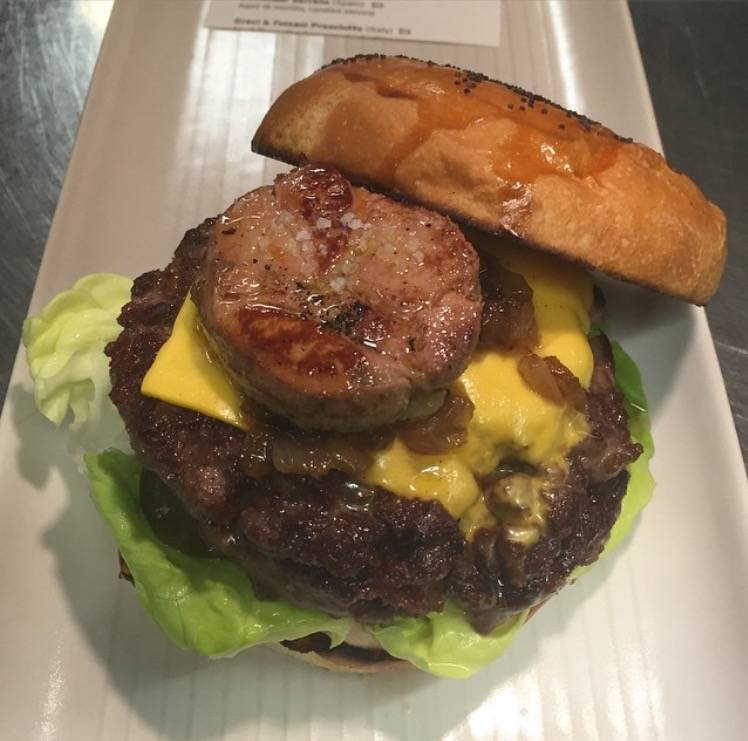 Photo Credit: Courtesy Hogs & Rocks
Hogs & Rocks: Chef Robin Song was ahead of the foie gras pack. For New Year's, he featured a luxury supplement which included caviar, black truffles and foie gras. To utilize the leftover product following the celebratory dinner, he added about 2 oz. to his already luxe burger (two house ground patties made from aged Wagyu and pork fat and house made American cheese). The word got out Monday and for service that evening the burgers sold out in 45 minutes. In the interim, he served his burger with a fried duck egg and shaved black truffles to maintain the luxury offering. Once the product is back in house, perhaps as early as this weekend, he'll continue to feature the burger on the menu.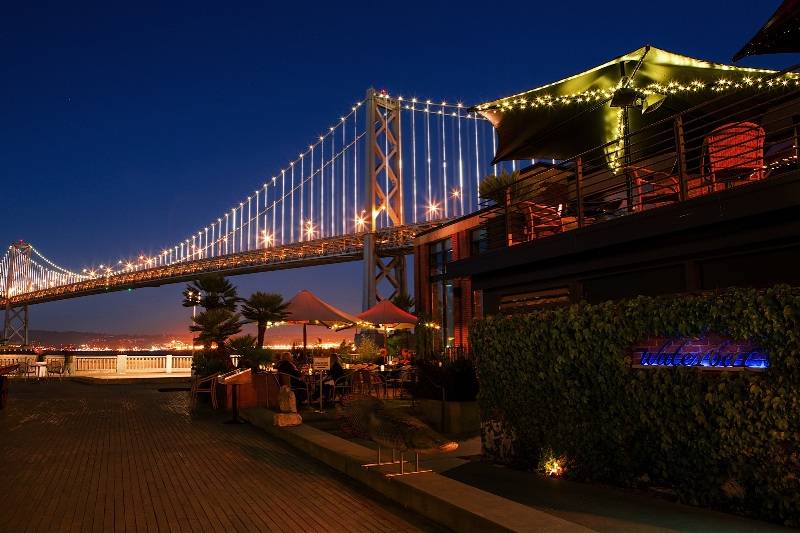 Photo Credit: Courtesy Waterbar
Waterbar: San Francisco's favorite seafood restaurant already added Torchon of Foie Gras with kumquat marmalade, warm baguette and Périgord black truffle to its menu.
PlumpJack Café & Bar at PlumpJack Squaw Valley Inn: Lake Tahoe's premier dining destination just received its shipment of foie gras today and plans to add it to the menu tonight. It's the perfect thing to warm your body from the snow!!
Campton Place: Beginning Friday, Jan. 9, chef Srijith Gopinathan will offer seared artisan foie gras with Tandoori pineapple, coco nib crust and verjus cubes as part of his three-course theater tasting menu.
Bluestem Brasserie: This Yerba Buena Lane restaurant has been waiting to feature foie gras on the menus since the ban. Inspired by the Clash version of the rebel classic, "I Fought the Law," executive chef Francis Hogan will be serving a Torchon De Foie Gras with winter citrus and paired with a new delicious brioche from pastry chef Curtis McDonald beginning Saturday. [The torchon is the sister to terrine and the only difference is the shape and cooking preparation.]
Subscribe to discover the best kept secrets in your city