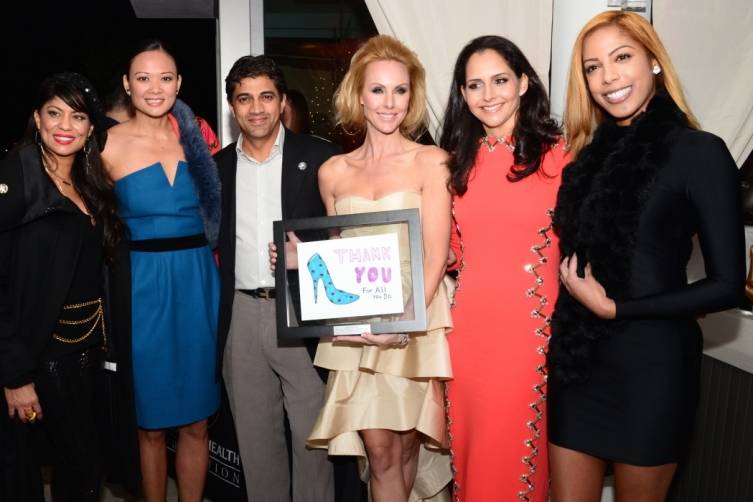 Every glamorous event needs a glamorous location and Wine, Women & Shoes found one for their Kick-off event at the home of Sofia Joelsson. The renowned interior designer played host for the evening on the rooftop of her swanky penthouse in South Beach, which featured displays of Sergio Rossi shoes, a Laurent Perrier Champagne and caviar station, a gentlemen's lounge complete with cigar roller and premium single malt whiskies, as well as a delicious truffle risotto station that had everyone buzzing.
Beautiful as it was, the event was only a warm up to the main event, which takes place on February 4 at the JW Marriott Marquis Miami. Wine, Women and Shoes clearly covers three of many people's favorite things, but the beneficiary of the funds is even more compelling: the Miami Children's Health Foundation. "We are making so much noise on a national level," said President Lucy Morillo of the organization which has already raised a whopping $75 million towards their goal of $150 million.
Co-chairs Carola Pimentel and Criselda Breene announced Sergio Rossi as this year's High Heel Presenting Sponsor. Funds raised will benefit the children and families at Miami Children's Hospital through Together For The Children, The Campaign For Miami Children's Hospital.  For more information on the event or to purchase tables, please visit mchf.org/winewomenshoes.
Sofia Joelsson, Danny Cardozo
Sergio Rossi diplay
Cricelda Breene, Lucy Morillo-Carola Pimentel
Tina & Dan Carlo
Morten Aagaard, Stephanie Sayfie Aagaard-Are Traasdahi
Maacha Le Blanc, Iran-Issa Khan
Lucy Morillo, Criselda Breene, Sofia Joelssen, Carola Pimentel, Casie Preston
John & Darling Lie, Nielsen
Dr Kini, Sofia Joelsson, Lucy Morillo
Casie Preston & Susanne Birbragher
Buckley, Wolman & Birbragher
Blair Sonville, Nydia Lacayo, & Carola Pimentel
Are & Siri Willoch Traasdahl
Alexa Wolman, Lauren Beall, Kristin Ducote
Alex & Lily Moskovitz
Subscribe to discover the best kept secrets in your city