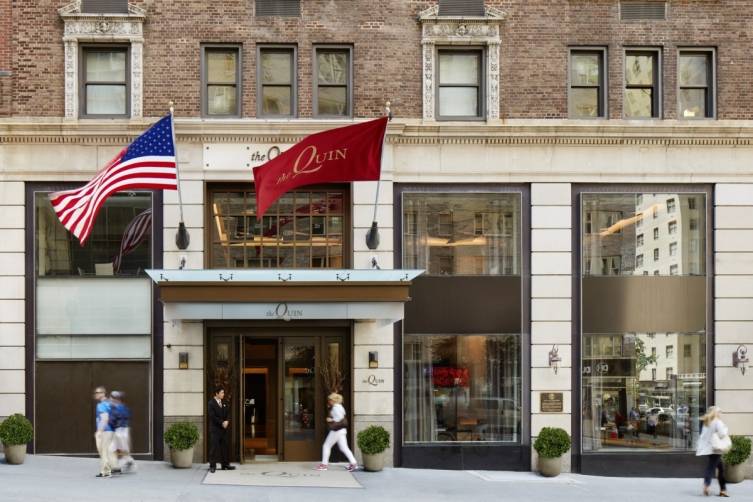 "The Penthouse Suite includes two separate private balconies. We feel it's the paragon of all Manhattan penthouses, and will be one of New York's most sought-after spaces when it opens in January of 2015," explained Holly Breuche, General Manager of the Quin Hotel New York. In an in-depth interview, we discussed the one-year anniversary of the hotel and its historic transformation, their unique relationship with world-renowned art and artists, their one-of-a-kind partnership with Bergdorf Goodman, and much more. 
When the Quin opened its doors just over a year ago, what was the original ambition and intent behind this new luxury, boutique hotel? 
We wanted to create an urban oasis in the heart of one of the city's most vibrant neighborhoods. We envisioned a hotel that was luxurious and serene in its design and amenities, yet energizing at the same time – by providing curated and unprecedented "insider-access" to the very best of our neighborhood, set at the intersection of art, music, and Fifth Avenue couture.
Moreover, we wanted to stay true to the heritage of the original hotel. We had an opportunity to transform the former Buckingham Hotel in to something truly remarkable, a property that would be the quintessential New York hotel. The Buckingham played host for many years to some of the most illustrious musicians and artists in the world, from Ignacy Jan Paderewski and Renata Tebaldi to Georgia O'Keeffe and Marc Chagall. We've built on that legacy and created the Quin Arts program, a program that offers a range of touch-points for guests to come away inspired from their trip.
I think, at the end of the day, that's what I envisioned most for the hotel – that guests would come away from their stay feeling inspired. Whenever I've experienced something wonderful—whether it's a superb dinner or a fine performance—I'm very moved by the dedication that those involved in crafting that meal or that performance have put forth. It's like receiving a tremendous gift. When excellence is shared like that, it is invigorating. 
Originally the Buckingham Hotel, what kind of renovations took place to transform the property into what we see today?
We had a great platform to work from, as the original 1929 building was designed by renowned architect Emery Roth. To give the hotel a new sense of presence on 57th Street and to ensure that the rooms and public spaces achieved our vision for the Quin, we engaged the architectural and interior design team of Perkins Eastman to transform the property. The lobby was expanded to a two-story "double height" lobby, making for a bright, bold arrival and gathering point for guests.
By taking advantage of the existing 25ft-high windows and by adorning the façade with a new glass and metal canopy, the exterior and lobby of the Quin became the focal point it should be.
Rich finishes play off one another, with faux bois paneling, couture curtains, chandeliers of hand-blown glass, and custom-painted walls (finished with as many as fourteen layers). The effect is sophisticated and dramatic. The Drawing Room is a contemplative space off the lobby, with paneled walls in cerused oak that recall the clubrooms of the neighborhood's past.
The gateway to the elegant 208 guest rooms and suites that fill the hotel's 17 stories is an elevator lobby lined with honeycombed cast plaster, a floor of Italian white marble flecked with caramel accents, and mirrored arches around the elevators that reflect flattering gold accents.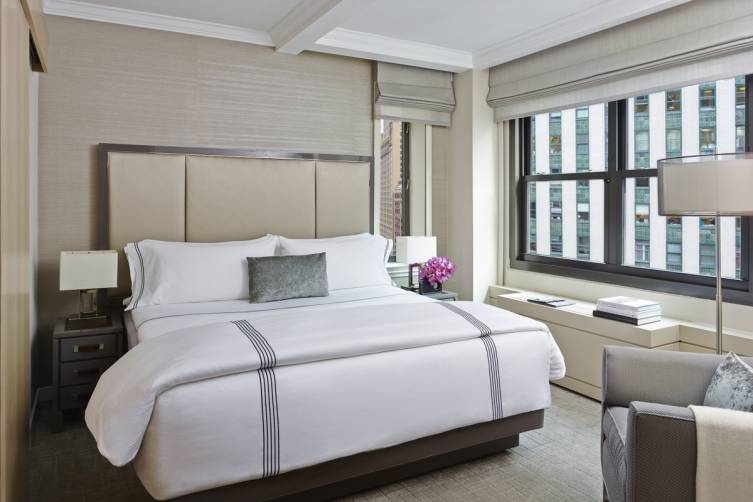 The Perkins Eastman team described the interior design approach this way: "The guest rooms are composed of a sophisticated urban palette, with uniquely personalized detailing – think of each room as a well-tailored suit or couture dress. Warm, rich- toned fabrics offset the clean lines of built-in furniture with felicitous details like leather drawer pulls and door handles.
Recently, you opened the newest addition to the hotel — the 17th floor — which houses the almost-complete triplex penthouse and a variety of terrace suites. What kinds of views do you have from these rooms and how would you describe the forthcoming penthouse?
Completion of the new 17th floor marks the final phase of the Quin's opening, so it's a very exciting time for us. We recently opened 5 terrace suites on the 17th floor. Each features it's own outdoor balcony, including either partial views of Central Park and Sixth Avenue, or views of 57th Street itself. The suites offer the finest signature Quin amenities including a King-size DUXIANA® bed fitted with SFERRA® linens, a separate living room, dry bar, marble shower and bath stocked with Fresh® products from the brand's best-selling skincare, body care, and hair care lines, and additional touches including a Nespresso® machine and an Evolve bedside controller allowing guests to control window treatments, thermostat and lighting.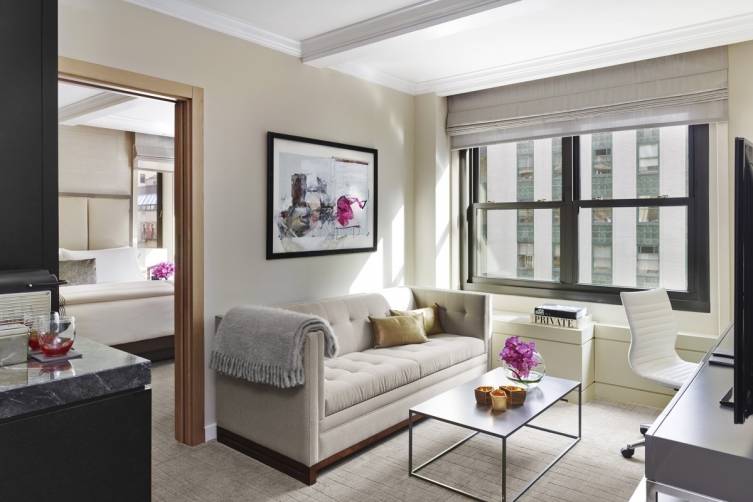 The Penthouse Suite includes two separate private balconies. We feel it's the paragon of all Manhattan penthouses, and will be one of New York's most sought-after spaces when it opens in January of 2015. Stretching across the top 3 floors of the hotel, the magnificent triplex Penthouse features three bedrooms, including a master bedroom with a separate private balcony featuring views of Central Park and Sixth Avenue, 2.5 marble bathrooms, a full-service professional-grade luxury kitchen, and an expansive dining room that seats 12.
The Penthouse can also accommodate events and receptions for up to 125 guests. Perched above Midtown Manhattan, its open-air 1,200 sq. ft. terrace serves as a dramatic and memorable setting for an occasion in any season with partial views of Central Park, 6th Avenue and 57th Street.
Art and artists seem to have a very special place at the hotel, in the grand lobby and beyond. How would you describe the arts program here at the hotel and what are some of the ways in which guests can have a one-of-a-kind experience with the artists? 
An innovative platform, Quin Arts enriches the hotel's creative programming by connecting guests with New York City's thriving cultural landscape. Curated by DK Johnston of The Arts Fund, Quin Arts offers an ongoing series of culturally significant events, exhibitions, salons, lectures, film premieres, book debuts, musical performances and artist receptions. This multi-media initiative extends to a substantial permanent collection, as well as visually arresting displays on the lobby's 15-foot video art wall.
Artists including street-artist Nick Walker, photo-realist painter Eric Zener, CORNO, and Blek le Rat, the "father of stencil graffiti" (and a major influence on Banksy and the worldwide street art movement), have served recently at the Quin as artists-in-residence. They have created original works at and for the Quin and hosted intimate artists salons that afforded guests the opportunity to meet world-renowned artists and learn more about their creative process and inspiration.
This city is influenced by every corner of the world and we've seen that travelers come here with a desire to be immersed in the truly global culture that's particular to New York. We consider ourselves to be the quintessential New York hotel because we embrace this cosmopolitan spirit in all our services. Art allows us to seamlessly and creatively provide that immersive experience to our guests.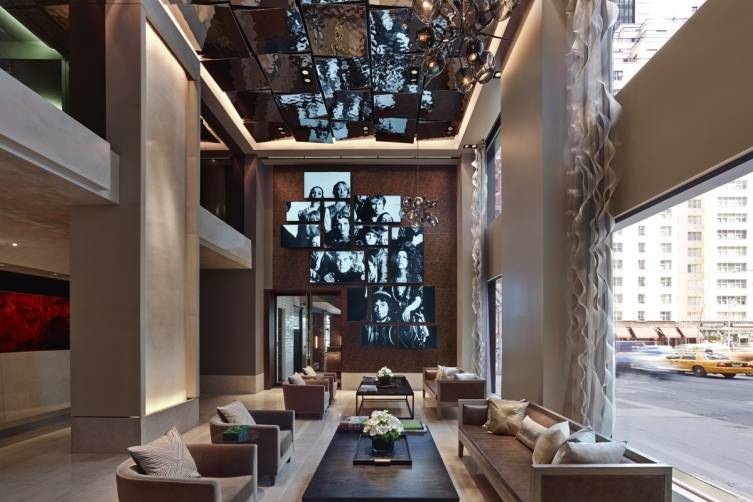 In the lobby of the hotel is a display case store dedicated to Bergdorf Goodman, and in the rooms, each phone has a direct line to the personal shopper service at the store. How did this relationship evolve and where is it headed?
I'm so pleased by our extraordinary partnership with Bergdorf Goodman. This relationship benefits our guests in myriad ways. For instance, each guestroom is equipped with a dedicated "direct-dial" button linking our guests directly to the personal shopping team at Bergdorf.
Guests will find inspiration from our lobby-level vitrine curated by Bergdorf Goodman, presenting a new selection of quintessential gifts and accessories updated seasonally.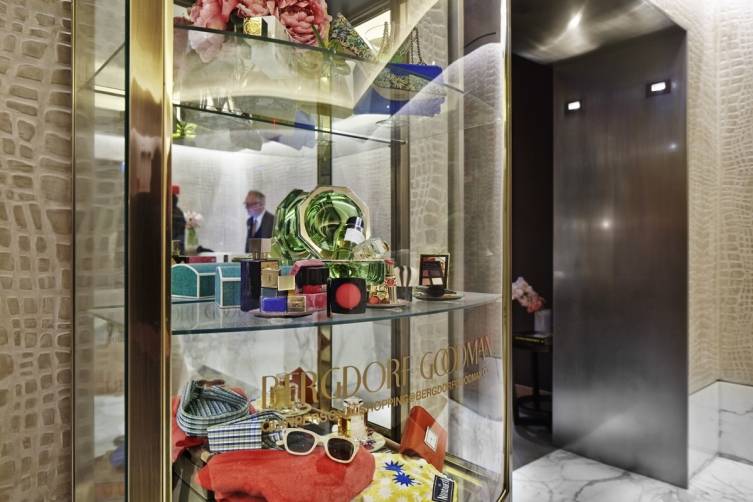 We have also designed a series of ongoing Bergdorf experiences, such as our "Style Package," that includes a signature haircut at the John Barrett Salon located at Bergdorf Goodman, our "Bergdorf Shopping Experience" package, and our "Q-rated Couture Experience" which includes a personal car and driver, a one hour appointment with a Personal Stylist at Bergdorf's and a Bergdorf Goodman gift card. And finally, we have some very special plans in store timed to coincide with the opening of our Penthouse Suite.
In terms of dining options, what kind of cuisine is offered at the Wayfarer restaurant next door, and what are some of the signature dishes?
True to its meaning of 'traveler,' The Wayfarer is a classic American grill that encompasses the experiential identity of a cultural and culinary explorer within the fabric of the restaurant. The menu caters to visitors from all over the world with an artisanal menu focused on locally sourced fresh fish and produce, shellfish, and high-end meats. Breakfast options range from a Mediterranean Scramble to Maple Roasted Granola and Challah French Toast; dishes such as Braised Octopus, Maine Diver Sea Scallops, Belgian Dover Sole and San Francisco Style Cioppino are offered for both lunch and dinner, as well as a selection of steaks and chops including Rack of Colorado Lamb and a 36 oz. Porterhouse Steak for two. Brunch (served on the weekends) gives the best of both worlds with selections including Avocado Toast, Eggs Benedict, Seafood Cobb Salad and Croque Monsieur.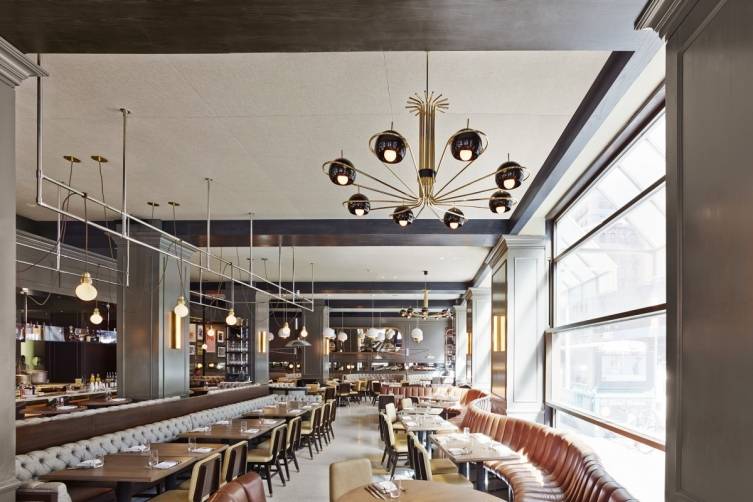 Finally, what are some of your top recommendations for guests of the hotel on how best to experience the property but also the surrounding area?
My first piece of advice for guests in this regard is to make sure to take advantage of our extraordinary attaché team. The Attaché are the hotel's dedicated luxury lifestyle curators tasked with creating distinctive itineraries for each guest based upon individual needs. They consistently deliver meaningful, authentic experiences.
Each Attaché is an expert in particular fields ranging from fashion to culture and they have access to the exclusive privileges of Manhattan's elite. Prior to arrival, a personally assigned Attaché will gather information regarding travel plans to curate an itinerary tailored to meet the guest's needs. The Attaché can do anything from arranging a behind-the-scenes visit to a ballet rehearsal at Lincoln Center, organizing the ultimate "proposal moment," or coordinating a private, after-hours trunk show at Bergdorf Goodman.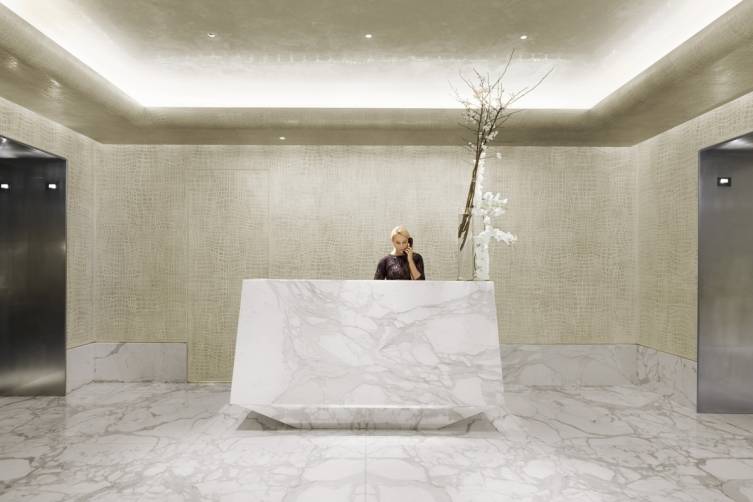 We're just two blocks from Central Park, so I urge our guests to take time to enjoy the park. We can help arrange for a wonderful "Petrossian Picnic," for instance. The Quin has teamed with Petrossian, a legendary purveyor of caviar and gourmet delicacies in New York and Paris for nearly 100 years, to create a signature picnic that's hand delivered to guests in an iso-thermic Petrossian picnic carry bag, and which includes a cozy L.L. Bean picnic blanket to enjoy in the park and take home. 
With our location across the street from Carnegie Hall and just blocks from Lincoln Center, our guests are often taking in the latest performances at those iconic venues, as well. On the arts front, as one of many examples, we can arrange individually curated gallery tours from Lauren Kaplan Art Tours.
Rahim Kanani is the author of critically-acclaimed hotel management book and hospitality management book A Wealth of Insight: The World's Best Luxury Hoteliers on Leadership, Management and the Future of 5-Star Hospitality.
Subscribe to discover the best kept secrets in your city