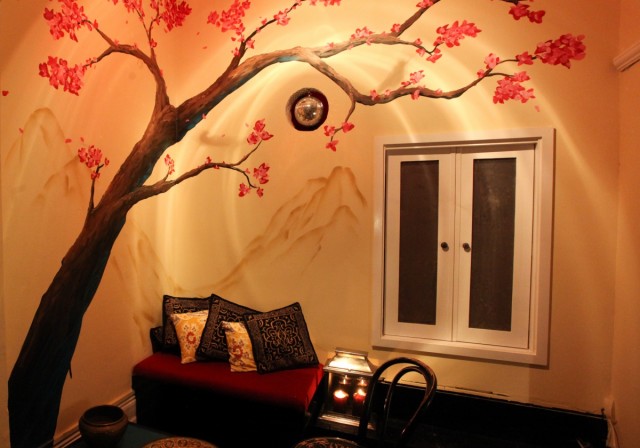 Opening this autumn on London''s iconic Notting Hill Gate, The Little Yellow Door, is an eclectic new pop-up bar based on a fictional flatshare between friends from all walks of life.
Five friendly "flatmates" will be welcoming locals and non-locals into their cosy West London home, where they will host weekly dinner and drinks parties for those in the know. Regular visitors to The Little Yellow Door will receive a key to the door so they can come and leave at their own will, and if they bring in a quirky bottle of something from their own home they'll even get a personalised mug, and have it filled up with a very special punch every time they swing by, free of charge of course.
The Little Yellow Door will also be the first hospitality venue to take bookings by the world's most popular messaging service, WhatsApp, offering guests the ultimate personal touch when booking.
Rumour has it these guys are continuously searching for a new flatmate to bring inspiration into their house, which is filled with an eclectic mix-match of colourful, quirky possessions, belonging to the residents. Drinks may be served in jars, blenders, and teapots, with the odd eggcup for shots. With a continuous stream of friends coming and going, we aren't even sure who lives here and who doesn't. The newcomers always seem to bring strange house warming gifts with them, meaning the flat is an ever-growing source of treasures that the residents may, or may not keep.
The menus are handwritten on magazines lying around the house and the furniture is as mismatched as the flatmates. The experimental drinks list is influenced by the flatmates' favourite TV shows. There are innovative cocktails such as My Name Is Earl, an Earl Grey infused gin, citrus, egg white and sugar short drink served in a tea cup and saucer with biscuits on the side, and sprinkled with earl grey leaves, or Suits, a Manhattan on ice with a dash of absinthe. They will also serve up excellent sharers, including The Towering Inferno, which is set alight and served in a blender, packed with ice, and topped with jelly babies and scooped out lemon halves filled with overproof rum.
Every Friday, the culinary half of The Little Yellow Door, the acclaimed, The Wandering Chef, will invite guests to enjoy their innovative dishes as they serve up the ultimate dinner party for the flatmates and their guests. Founders, Jamie and Lalie aim to create unique and immersive dining experiences, submerging their customers in the fruits of their imagination. The dinner menu will change on a quarterly basis and be influenced by the nationality of the latest flatmate to move into The Little Yellow Door.
On Saturdays and Thursdays the focus will be on hosting the best house party in the neighbourhood where they will serve mouth-watering bar snacks inspired by the different types of people you might stumble across at social gatherings. Expect tasty munchies such as The Fridge Raider, created for those unable to resist Sunday Roast Leftovers with Roast Chicken Wings, Potatoes Stuffing Sausages, Bread Sauce, Gravy and a Horseradish & Coleman's Mayonnaise for Dipping. They will also have an option for the health fanatics, called The Yoga Bunny, a selection of dips such as a Lentil Hummus with Sumac, Mint Pesto and Toasted Pine Nuts, or Squashed Avocado with Pink Pickled Onions, Cured Tomatoes and Sticky Chipotle. Suggested by their newest French flatmate, they will also serve up Cheese on Toast, like Roast Camembert with Egg Yolk, Porcini, Chestnut Mushroom & Truffle.
The authentic apartment-inspired bar will also have a hidden, private room, decorated as an old fashioned tree house, where guests can gather their closest friends for an intimate evening of good food and drinks.
The team behind TLYD have been involved in a range of acclaimed pop-up and club night concepts such as ROXX, Press Play and of course The Wandering Chef. Reflecting a variety of ages, backgrounds and nationalities, they have one thing in common- a simple desire to create the most inviting venue for all to enjoy eating, drinking and partying.
Kam, one of the flatmates says: ""Visiting The Little Yellow Door, you may arrive with three friends and leave with 10 …""

Subscribe to discover the best kept secrets in your city