Photos by Drew Altizer Photography
If the inaugural dinner at the ginormous $15.7 million Crystal Jade Jiang Nan restaurant at Four Embarcadero Center in San Francisco's Financial District is any indication, renowned restaurateur Gus Murad's venture with the Singapore-based Crystal Jade Culinary Concepts Holidings  will turn into the city's newest haute spot after it officially opens on Nov. 17. About 70 tastemakers gathered for interior designer Ken Fulk's private dinner on Nov. 12 and oohed and aahed over the 20,000 square foot eatery that packs panache and seeps sexiness.
As Fulk says, "You don't think of (Four Embarcadero Center) as where you're going to go have a sexy dinner but suddenly being on the Embarcadero, elevated a floor, being eye level with the Ferry Building and eye level with the (Bay) Bridge, it's all the more dramatic. It's very intense."
We couldn't agree more. Haute Living was on hand for the grand affair that drew Ip Yiu Tung, CEO of Crystal Jade Culinary Concepts Holdings, Cecilia Chiang, the 94-year-old doyenne of Asian cooking, David Chiu, Joy Venturini Bianchi, Eric Petsinger, Brenda Zarate, Rada Katz, Jorge Maumer, Dennis Leary, Claudia Ross, Susan Dunlevy and other boldface names who were graciously greeted by Murad's wife Bahya Oumlil-Murad, who wore a stunning Vera Wang dress.
The select few were among the first to sit down to a meal at the stylish eatery that seduces you upon arrival. Guests enter through large wooden doors and stroll down a long, dramatic, dimly-lit hallway where you can stop and gaze at the live, oversized crustaceans in tanks.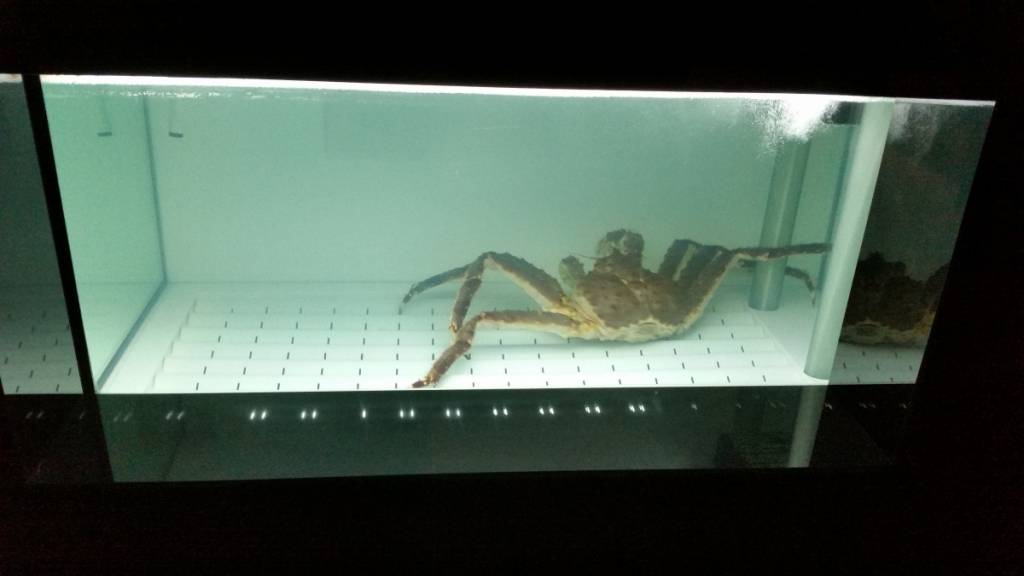 Photo Credit: Kelly E. Carter
Eventually you reach the hostess station, where a chic seating area awaits. Beyond the entry is the main dining area, Jiang Nan, that seats 308 diners amid 4,600 square feet, overlooks the Bay and faces the dazzling 4,000 square foot terrace that boasts a separate entrance and spectacular views of the Bay Bridge, Ferry Building and Embarcadero. The Jiang Nan Dining Room and Flower Rain Terrace are open for lunch Monday-Friday from 11 a.m.-3 p.m.; brunch on Saturday and Sunday from 10 a.m.-3 p.m.; and dinner Monday-Saturday 5 p.m.-11 p.m. and Sunday, 5 p.m.-10 p.m.
There are also two private dining rooms and the Liu Ling bar and lounge, inspired by China's historical figure-Liu Ling, who hailed from the Third kingdom's era (AD 220-280). Open from 11 a.m. to 11 p.m., Liu Ling comfortably accommodates 223 in the bar and adjoining lounge.
Fulk expertly created the interiors and exterior. San Francisco's iconic designer was inspired by the natural beauty of China's Jiang Nan region, which echoes the San Francisco restaurant's magnificent waterfront location on the Embarcadero. The expansive dining room is outfitted with river-washed stone floors and gray cerused oak. Naturally, Fulk added his signature dapper touches with British-Chinese exports, Chinoisserie wallpaper, English Regency furniture and brass accents throughout as a nod to the great multicultural tradition of San Francisco. The impressive bar evokes an English Gentleman's Club with deep mahogany walls, rich marble and brass detailing, topped with a canopy of royal silk mimicking a great Chinese sailing vessel. Dramatic art adorns the walls. Outdoors, the terrace is understated, allowing the remarkable view to steal the show.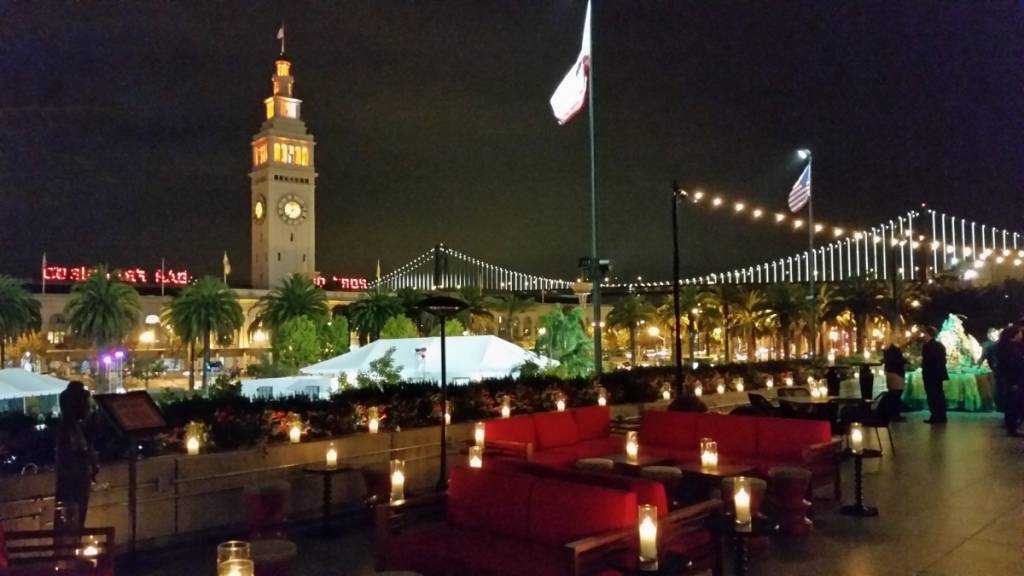 Photo Credit: Kelly E. Carter
The culinary offerings are just as satisfying as the setting.  Fulk's guests feasted on apple wood roasted suckling pig, baked Virginia ham and crispy beancurd, wild gulf prawns, New England fresh scallops, sautéed Angus beef cube, house made spinach bead curd, baked caramelized walnut tart and chilled fresh organic pomegranate jelly.
Top-notch ingredients (think sustainable seafood and free range chicken) are used—and never any chemicals, Murad said.
"The City (of San Francisco) has been extremely welcoming and we are dedicated to bringing authentic, quality Chinese food to contemporary audiences," Ip Yiu Tung said. "I look forward to doing the same for the Bay Area's demanding food palates."
Diners can expect authentic regional dishes from south of the Yangtze River. Jiangnan is home to four of the eight culinary traditions of China, which include Sichuan, Jiangsu, Hunan and Zhejiang cuisines. Crystal Jade Jiang Nan also will serve Cantonese roasted items and , on weekends, a dim sum brunch along with an a la carte menu. Dishes such as xiao long bao, spicy and sour seafood chowder "Sichuan" style and wood-oven roasted duck are on the menu, which is created collaboratively amongst a talented team of 35 culinary professionals.
Among other things, the impressive kitchen features separate rooms for bar-b-queing, dim sum, seafood, wok cooking and coffee/tea.
Photo Credit: Kelly E. Carter
r
Local business people and those passing through the Embarcadero Center will appreciate Singapore To-Go, a casual take away counter-offering array of Asian tastes served conveniently, from Cantonese cuisine to Singapore delights. Hours are Monday- Sunday, 11 a.m.-8 p.m. To place an order in advance, call 415-399-1386.
Crystal Jade Culinary Concepts Holding is a household name in Singapore, where it was founded in 1991, but is new to the States. This flagship restaurant marks its first outside of Asia, where the group operates 22 dining concepts ranging from fine dining eateries to bakeries in 21 cities. It was acquired in early 2014 by L Capital Asia, the Asian private equity fund sponsored by LVMH Moët Hennessey Louis Vuitton.
The ribbon cutting ceremony takes place tonight at 6 p.m. San Francisco Mayor Ed Lee is expected, along with 300 guests.
"I love what we did," Murad enthused. "It's been a long (time) coming. I'm so glad that San Francisco has healthy, high-end, beautifully done Chinese food—finally."
Like Haute Living San Francisco? Join our Facebook page or follow us on Twitter @HauteLivingMag. Want Haute Living San Francisco delivered to your inbox once a week? Sign up for our newsletter.
H
Subscribe to discover the best kept secrets in your city