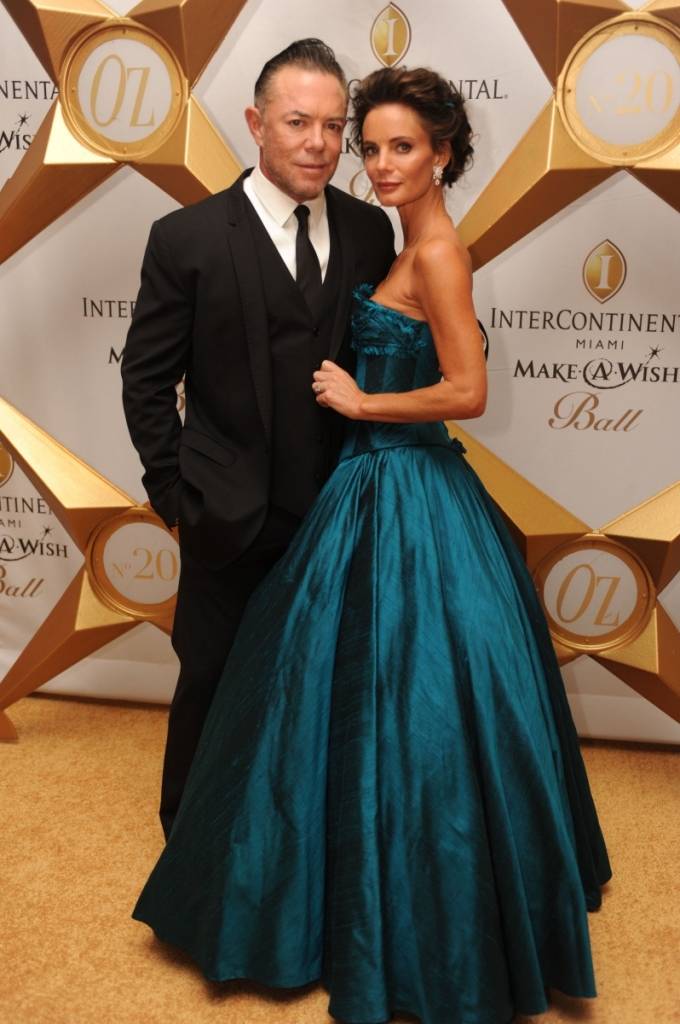 Every year the InterContinental Miami Make-A-Wish Ball tops itself, and this year, for their 20th Anniversary, they took the cake. The sold-out, ultra-glam event took an "Oz Reimagined" theme to new heights with beautiful settings turning the hotel into an other-worldly Oz complete with a live Dorothy, Tin Man and Lion.
The evening kicked off with a silent auction featuring 125 items including art, bags and jewels, a trip from sponsor Haute Living, and a pair of Oz-worthy emerald earrings. Guests were given special phones for bidding, making sign up sheets a thing of the past and bidding high-tech fun.
The cocktail reception was a veritable Who's Who of Miami with personalities like Ken Gorin, Lee Brian Schrager, Wayne Chaplin, Jill Martin, Kamal Hotchandani, Donald and Lisa Pliner and more. Aside from bubbly and top-shelf liquor like Patron, multiple stations of gourmet food including stone crab claws, oysters, wagyu burgers, and sushi tempted guests to indulge before dinner. After the great and powerful Oz beckoned guests into the main room to be seated, they traveled through a tornado in Kansas to arrive at glistening ballroom, outfitted with shimmering white table settings.
The evening's live auction emceed for the 4th year by actress Gabrielle Anwar, began with a dramatic moment between her and Gala Chairman Shareef Malnik—who also happens to be her fiancee. This year, Malnik played to voice of Oz who, instead of stepping out from behind a curtain, came up from underneath Anwar's voluminous dress.
This year, Anwar couldn't work the room fast enough, as blinking batons popped up throughout the gala with patrons patiently waiting their turn to make wishes. Benefactors Al and Nancy Malnik, Stanley and Gala Cohen, Harvey and Roberta Chaplin, Bob and Alysia Press and James L. Ferraro all granted more than 100 wishes to children with life-threatening diseases each.
After a successful auction and scrumptious three-course dinner, Diana Ross took to the stage wearing a red dress, looking fabulous and not sounding a day older than her disco days. Ross got everyone dancing with songs like "Baby Love" and "Ain't No Mountain High Enough," before younger attendees headed to act III : the InterContinental Miami Make-A-Wish Nightclub.
The nightclub was chaired by Shareef Malnik, with Michael Capponi as Vice-Chair, and presented by InList . The event was held on the hotel's mezzanine level after the gala into the wee hours. The event was co-produced by Maxwell Blandford and Clif Loftin, the disco-infused runway show was styled by Arel Ramos for Neiman Marcus Bal Harbour, with hair by Danny Jelaca Salon and makeup by O.P Studio. Progressive beats were provided by DJ Michelle Leshem and producer Sean Drake.
Al and Nancy Malnik - Photo credit Manny
Shareef Malnik & Gabrielle Anwar - Photo Credit World Red Eye
Norm Wedderburn, Shareef Malnik, Al Malnik, Robert Hill by Manny
Nick D'Annunzio & Tara Solomon - by WRE
Breda & Robert Hill - by WRE
Shareef Malnik, Brett Ratner, Wayne Chaplin - by Manny
Larsa Pippen, Scottie Pippen - by Manny
Kathleen Newton, Wayne Newton, Alvin and Nancy Malnik - by Manny
Cynthia Mavin & Wayne Boich - by Manny
Hadley Henriette, Sarah Mirmelli by Manny
Belkys Nerey, Richard Jay Alexander - by Manny
Marysol Patton & Scott Phelps by WRE
Danny Jelaca & Elaine Lancaster - by Manny
Diana Ross - by Manny
Sean Drake, Michelle Leshem, Danny Santiago - by Manny
photos by Manny Hernandez and World Red Eye
Subscribe to discover the best kept secrets in your city