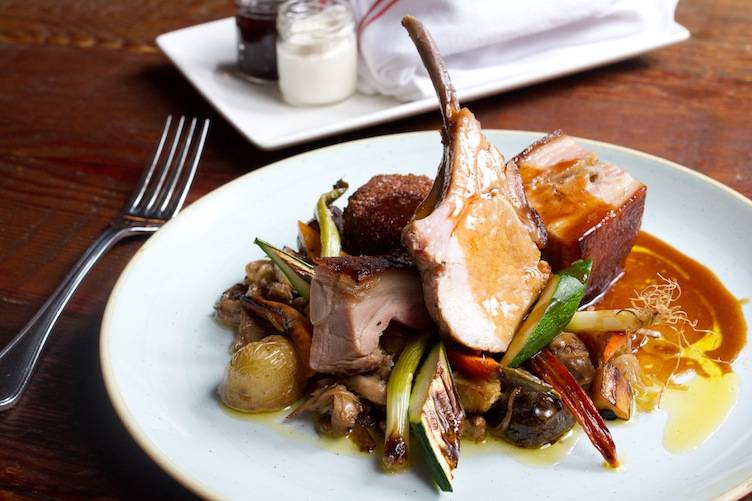 With a name like Swine, you'd expect porcine to rule at the 50 Eggs Southern outpost in the heart of Coral Gables, but in celebration of their two-year anniversary, Swine in Coral Gables is changing things up by introducing locally sourced ingredients, as well as lighter menu items to appease to patrons who want something delicious but not overly heavy.
"It's not that we're ever going to get away from the smoker or anything like that but we know there's more to Southern cuisine than more than smoked brisket," says 50 Eggs culinary director Clayton Miller. Smoked brisket might be their number one seller, but Swine's got more to offer than pork, although one of their new menu items does include a whole Heritage Breed Pig from Mary's Ranch in Hialeah.
"Everyone throws around the words whole hog, but very few people know how to really do it," says Miller. While most people use a smoker, he Miller breaks down the pig into all the different cuts it offers and on any given night serves three at a time. "You could be having leg, brisket and lamb, while I could be having pig shoulder, neck and belly. Being able to use every part of the animal is something we're really excited about doing." The lucky draw of pig parts comes served with local escabeche style veggies. "We know escabeche is Latin but it works very well with Southern cuisine but there's something very exciting about taking organic turnip, pearl onions and charred scallions and pickling them."
For those who wish to go kosher at Swine, there are plenty of options, from cast iron seared Atlantic salmon to buttermilk grilled marinated and grilled Atlantic swordfish and even wood-fired octopus. The latter is grilled after it comes out of the oven and given a Southern twist by way of a Georgia peach hummus, field shoots and sweet peppers. Like it raw? Swine has East Coast oysters on the rocks and with some housemade hot sauce and a watermelon mignonette for dipping and slurping.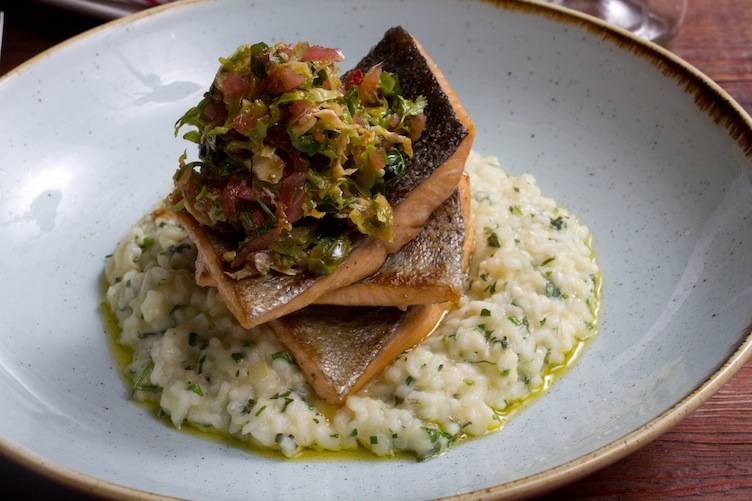 Sunburst trout is brought over from our upstairs neighbor, North Carolina, and served with creamy Carolina gold rice, lemon chopped herbs and brussel sprout slaw. "We want t use as much local as possible but doesn't mean we're going to stay within 50 square miles number. Our number one objective is using best products if we have to go a bit further we're going to do it. The trout is a prime example of that." Miller is no stranger to Southern cooking, having spent time in kitchens in Atlanta, Orlando and Washington DC before settling in the Magic City and with 50 Eggs. While he misses the South to a certain extent, he's definitely embracing the attributed South Florida has to offer. "The seasonality here is completely opposite. We're about to get into the full or growing season and have all this great produce coming from around here while everyone else hits the cold and fall harvest." Miller intends on fully using this to his advantage, stating the Swine menu is a breathing and living document.
"We're not settled with where were at right now and want to keep Swine moving forward in a positive direction. Although we just changed it certainly is not finished."
Subscribe to discover the best kept secrets in your city