San Francisco fashion is getting personal these days with bespoke offerings from Jimmy Choo, Christian Louboutin and Edie Parker. The custom services by those designers and pretty Persolé Chic Shades to keep you stylishly protected from the sun and rain are among the fashion items for men and women that we're loving these days. Read on for more information:
Persolé Chic Shades
Photo Credit: Courtesy Persole Chic Shades
Sun umbrellas never looked as good as they do now with Persolé Chic Shades, which have been spotted in the hands of Gwen Stefani and Jane Fonda and were a big hit at Oscar de la Renta's fashion show in Lake Tahoe when glamour girls tried not to wilt in the fierce heat. These snazzy shades don't just beat the heat but protect your skin.
Persolé's light and breathable Italian sateen polyester fabric, which feels like silk, is rated UPF 50+ (the highest protection available for fabric) blocking out 99.7% of UVA/UVB rays and heat. However, these stunning creations, Italian-crafted and Swarovski-encrusted, aren't just made for the sun. The fabric is waterproof so Persolé, a San Francisco-based company, doubles as a rain umbrella.
Persolé founder Lisa Marie Walsh, a striking redhead, has always been focused on taking care of her skin but, for years, had gone the traditional, albeit mundane, routes of slathered sunscreen, big hats or full-body cabana coverage. She was constantly on the hunt for other options. Voila! Inspiration struck the former international equities trader and interior designer one sunny, hot afternoon as she raced from a skin treatment at her dermatologist's office to her son's soccer game and realized – too late – that she had nothing to protect her newly-treated, sensitive face and neck from the sun.
"As fate would have it, I grabbed the only thing available," she says, "a weathered umbrella."
The positive response was immediate. Soon other soccer moms were sporting sideline sun umbrellas and Walsh knew she was onto something. While Persolé was designed with 30+ women in mind, Walsh says the response from 20-somethings has been a pleasant surprise. She now plans to expand the line to include lighthearted designs for younger women, and is launching Persolé's first line for men this holiday season.
Pick up yours at Wilkes Bashford, Wynn Hotels in Las Vegas and Macau, Hyatt Resorts, and select country clubs and dermatologist offices worldwide or online at persoleshade.com.
Jimmy Choo Made-to-Order Shoes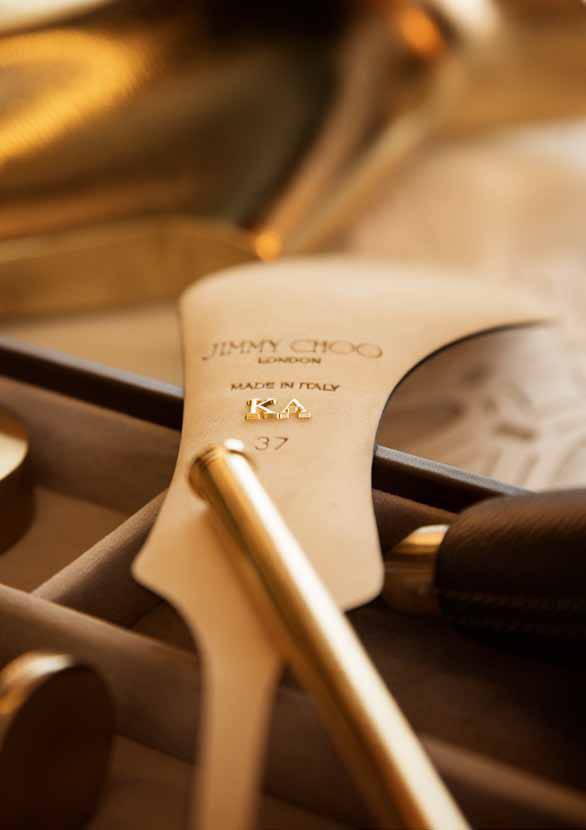 Photo Credit: Courtesy Jimmy Choo
Jimmy Choo's Creative Director Sandra Choi gives us another reason to kick up our heels with its recently-launched Made-to-Order service. The San Francisco flagship boutique at 166 Geary Street is one of the select stores globally to offer this service, which allows you to determine the height, color and texture of your shoes. For an extra personal touch, you can also personalize the soles of your shoes with monogram initials.
 Edie Parker Bespoke Clutch
Photo Credit: Drew Altizer Photography
From Maiden Lane to the polo grounds in Sonoma, Edie Parker clutches are popping up everywhere. Launched in 2010 by founder and designer Brett Heyman, Edie Parker is a collection of acrylic clutches and handbags. Inspired by the original handbags favored by showgirls and socialites during the 1950s and 1960s, these chic, wearable sculptures are objects of delight with retro soul. Crescent, rectangular or cube shaped, Edie Parker's sleek lines, creamy surfaces and gem-flaked textures glide timelessly onto today's fashion landscape. And like their mid-century predecessors, each bag is meticulously handcrafted in America.
Available at Wilkes Bashford on online at edie-parker.com, where you can get a bespoke bag with your name (or any text). Don't wait until the last minute to order though because this personalized clutch takes eight to 10 weeks to arrive.
Christian Louboutin Tattoo Parlor
Photo Credit: Drew Altizer Photography
Men and women can turn their tattoos into a one-of-a-kind shoe at the newly-opened Christian Louboutin boutique at 29 Maiden Lane. The boutique is just one of six in the world featuring a Tattoo Parlor. (Louboutin's men's boutiques in Paris, London, New York, Los Angeles and Chicago are the others). The concept was born from the designer's admiration for the art of tattooing and allows for customer's own tattoos to be interpreted as fine embroideries on a pair of shoes, creating a unique and personalized pair.
Book a private appointment with an in-house bespoke services expert, who will walk you through each step of the process. Choose from a range of fine men's styles, from the sporty Louis sneaker to the elegant Henri loafer. The Nigel, a new style, is introduced exclusively for this service. For women, four classic styles are offered. From the run- around-town Rollergirl flat and Louis sneaker to the elegant Belle Ankle boot and sky high Highness pump – together they cover a range of heel heights and styles satisfying the diverse tastes and preferences of the Louboutin woman.
The three-month wait may seem like a long time but keep in mind that your shoes will have traveled through the expert hands of artisans in Italy and India before finally reaching you.
Alexis Bittar Lucite Collection
Photo Credit: Courtesy Alexis Bittar
Oh how we love Alexis Bittar's lucite collection, which has popped up around the necks and wrists and on ears of Bay Area fashionistas.These hand carved and had painted creations look like pieces of art. This hinged cuff above features an asymmetrical center crusted with rich gold tone metalwork studded with moss agate doublets, blue labradorite doublets and crystals. Described as "One Of The Greatest Jewelry Designers Of The 21st Century", Alexis Bittar went from hawking his wares on the streets of New York to selling his eponymous jewelry collections in more than 34 countries around the globe. There's no need for you to go globe hopping. The sole Alexis Bittar boutique in northern California is at 1942 Fillmore Street.
Like Haute Living San Francisco? Join our Facebook page or follow us on Twitter @HauteLivingMag. Want Haute Living San Francisco delivered to your inbox once a week? Sign up for our newsletter.
Subscribe to discover the best kept secrets in your city