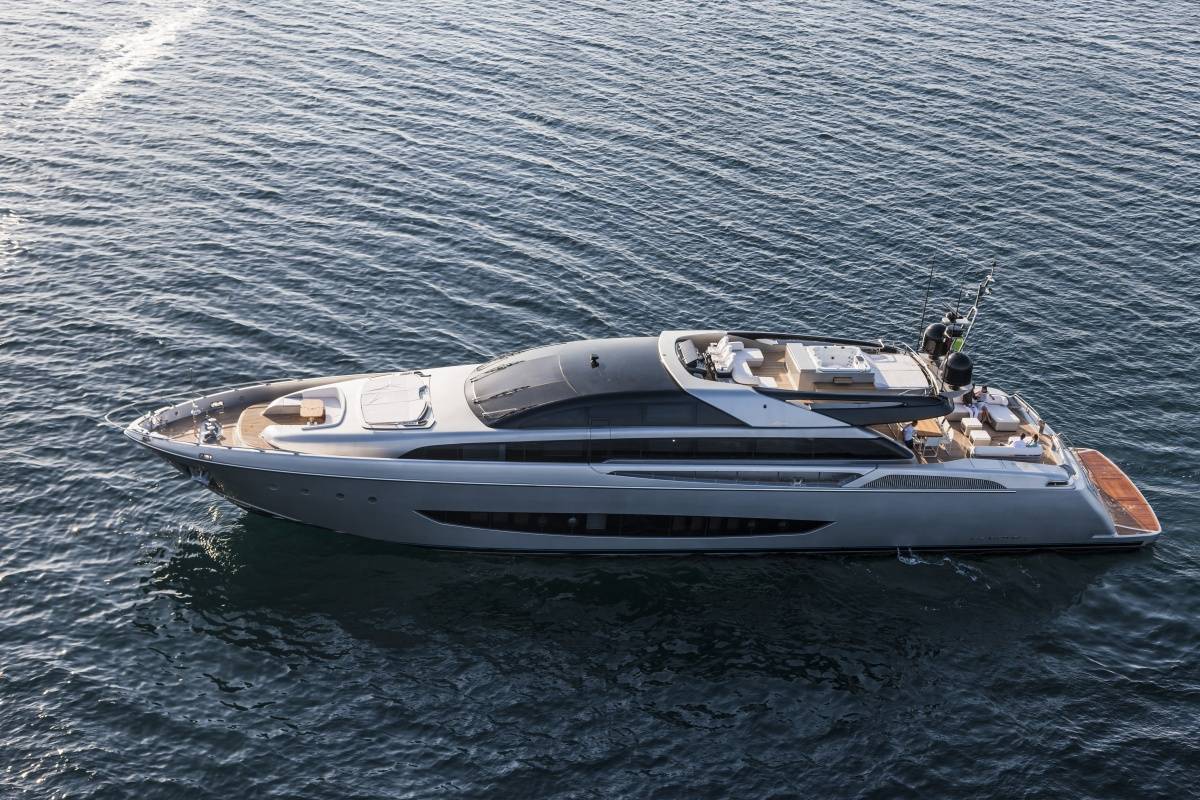 There appears to be two schools of thought concerning modern yacht design. The first school is emphasized by firms like Pastrovich Studios that strive to break down the barriers in conventional yacht ideas and innovate new, exciting, and previously unthinkable yacht designs. But there is another school of thought, one that emphasizes, well, bigger. Historical Italian yachting firm Riva, a subsidiary of the Ferretti Group, is certainly known for being of that first school of thought having come into the yachting consciousness with their legendary wooden motor yachts, icons of unforgettable times of the past. But Riva appears to have moved to that second school and the 122′ Mythos is the firm's biggest, most luxurious, and jaw-dropping project yet marking a new chapter in the brand's legendary history.
The 122′ Mythos is the firm's new flagship yacht carrying over 35 tons of aluminum construction, 37 meters of overall length, and 7.6 meters a beam. Some serious work went into this ship too. 50 people worked on it for 18 months, compiling 100,000 man/hours in overall construction time. This 122′ Mythos is now the preeminent yacht in a very impressive fleet consisting of 12 ships between 27 and 122 feet including open, coupe, and flybridge yachts.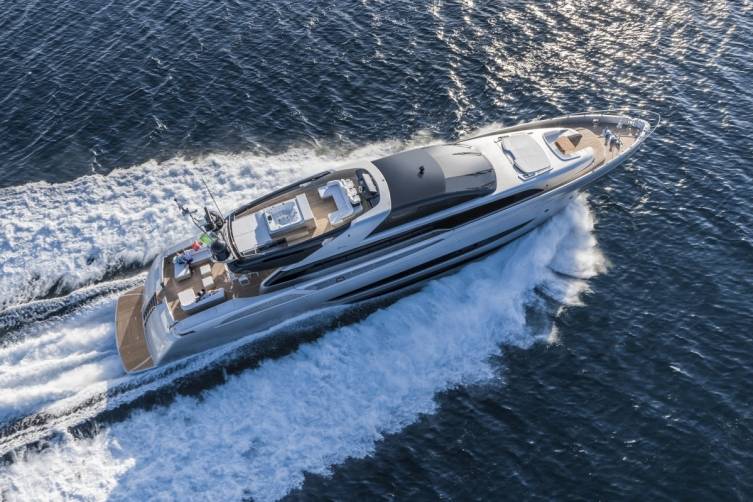 "The objective with the 122′ Mythos was preserving and promoting the unrivaled style of the most important yachting brand in existence while investing in innovation and technology in order to build a highly performing large sized boat offering the utmost yachting experience," says Ferretti Group CEO Alberto Gallassi, "That goal was achieved."
As with many yachting designs, the 122′ Mythos first drew inspiration from its storied company's past. The 86′ Domino was a long best seller of Rivas and its main design features were revamped for the 122′ Mythos, everything getting expanded and elongated.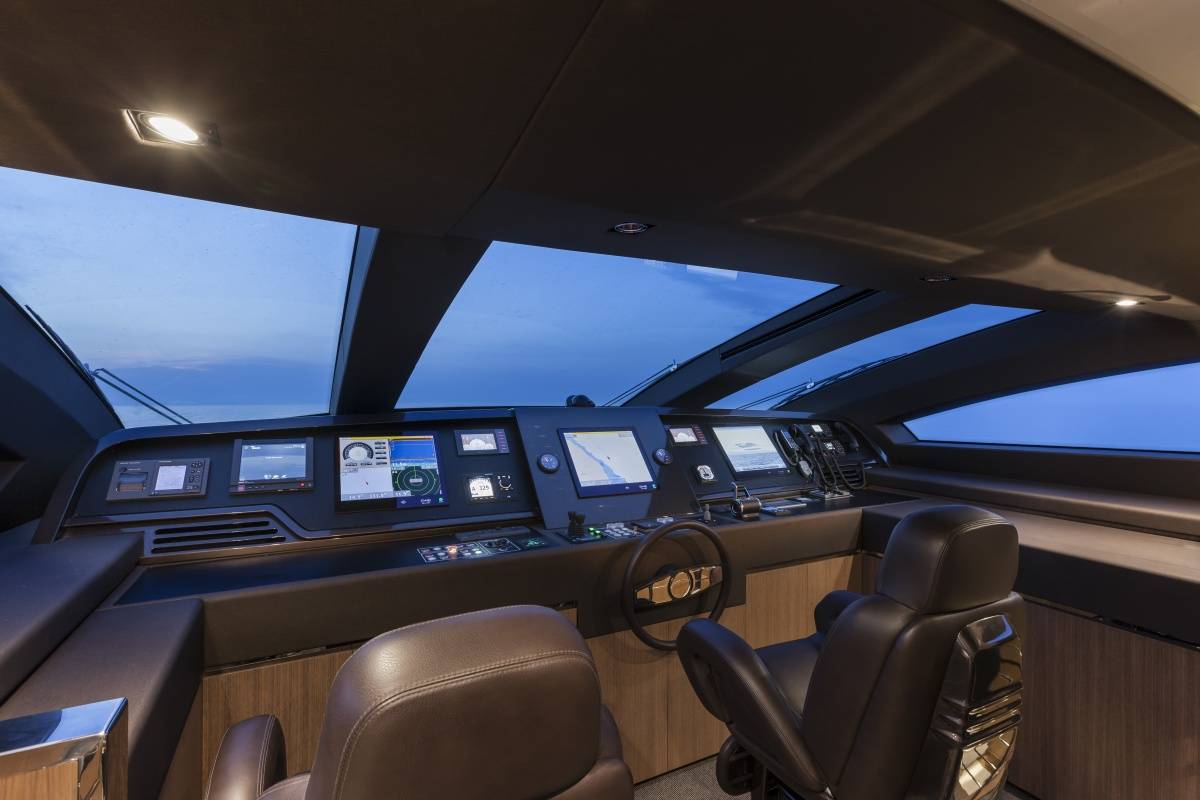 The final product initiated itself as a design collaboration between designer Mauro Micheli, a co-founder of Officina Italiana Design, and Advanced Yacht Technology, and Design, Ferretti Group's research style and product development center. The 122′ Mythos is according to Gallassi, "100 percent a Riva design," meaning painstaking attention to detail, immaculate lines, and traditional yet "evergreen" materials. These features give this yacht, like all Rivas designs, a timeless and classic appeal.
"Talking about a boat is always more difficult that designing it," says Gallassi, "The concept for the 122′ was conceived in 10 minutes. The time was devoted to its details. The 122′ Mythos stems from pure instinct."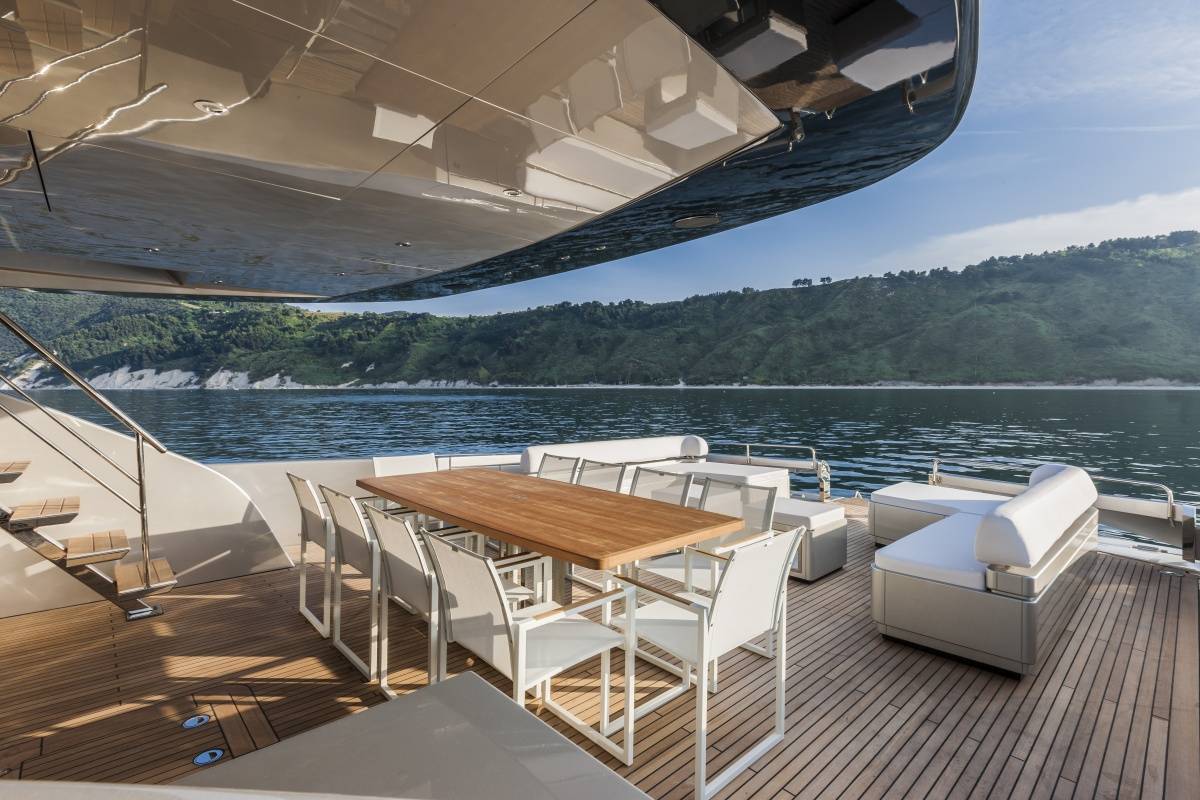 The ship is presented in "Regal Silver" color and the boat's outer presentation is gorgeous, "I saw [the 122′] and I am increasingly sure this is Riva's flagship which I believe to be absolutely worthy of this brand," says Micheli.
Requested by the unnamed owner, the first model has a three-cabin version for its luxurious spaciousness. The standard shipyard model has four cabins and there is also an option for a five cabin ship as well.
The main materials include a softer shade Calanetto Walnut and leather and chromium-plated steel. The salon and dining area was conceived as an open space and as expected comes fully loaded with luxe additions like a 55″ television that can be stored out of plain view in the ceiling and many designer flourishes like Bottega Conticelli carpeting and lamps by Oluce.
The stateroom is decorated with dark wood furniture and African leather details. Here is another television, 46" to be exact. All the VIP rooms are modeled after the stateroom.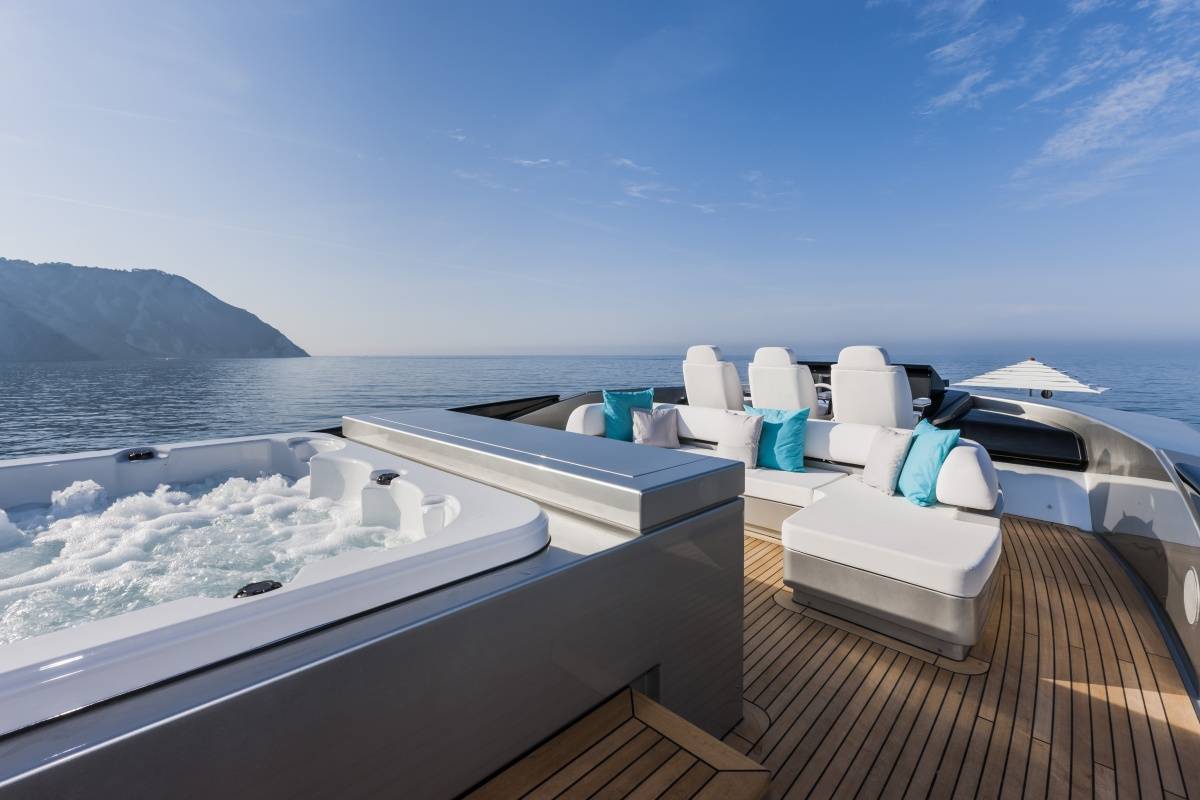 The 122′ Mythos Is The Biggest Yacht Riva Has Ever Designed
The outdoor areas are perhaps even more impressive than the interior allowing customers total comfort while cruising the high seas. The stern cockpit includes 2 large L-shaped sunpads, coffee tables, and a teak and steel dining table with seating for up to 10 people. From the cockpit access can be gained to the aft swimming platform, which separates the two garage doors.
The aluminum planning hull can reach top recorded speed of 28,51 and a cruising speed of 26 knots2, thanks to two MTU 12 V 4000 M 93L, 3510 mhp engines. This is a high-tech planning yacht ensuring great comfort and top performance in its class.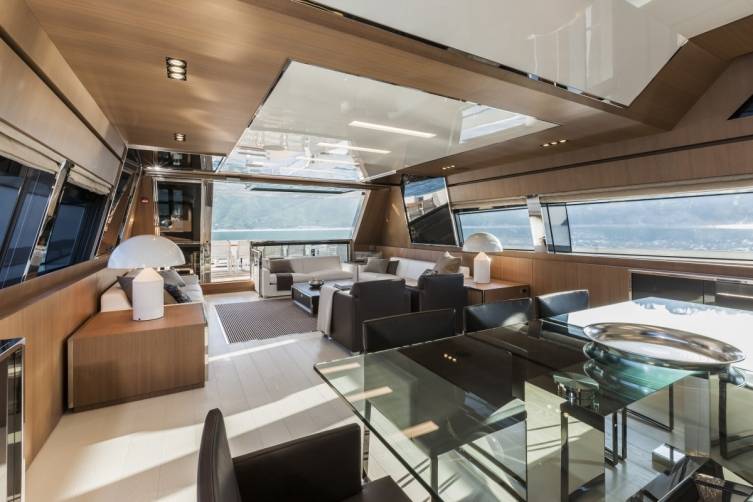 Despite the extravagance of the design, Rivas built this ship with utmost environmental concerns. Significant investments were made in new design solutions to meet international minimum standards of environmental harm but also contribute to the vessel's environmental protection performance.
So, the Rivas Mythos 122′ allows you the biggest, luxurious, and most extravagant yachting experience on earth but also won't instill any of that guilt that one might suffer in regards to emitting mass amounts of carbon dioxide into the ozone layer for the sake of riding around the ocean on an almost obscenely luxurious boat. One would suspect that a guilt free superyacht is something a billionaire would be throughly interested in investing in.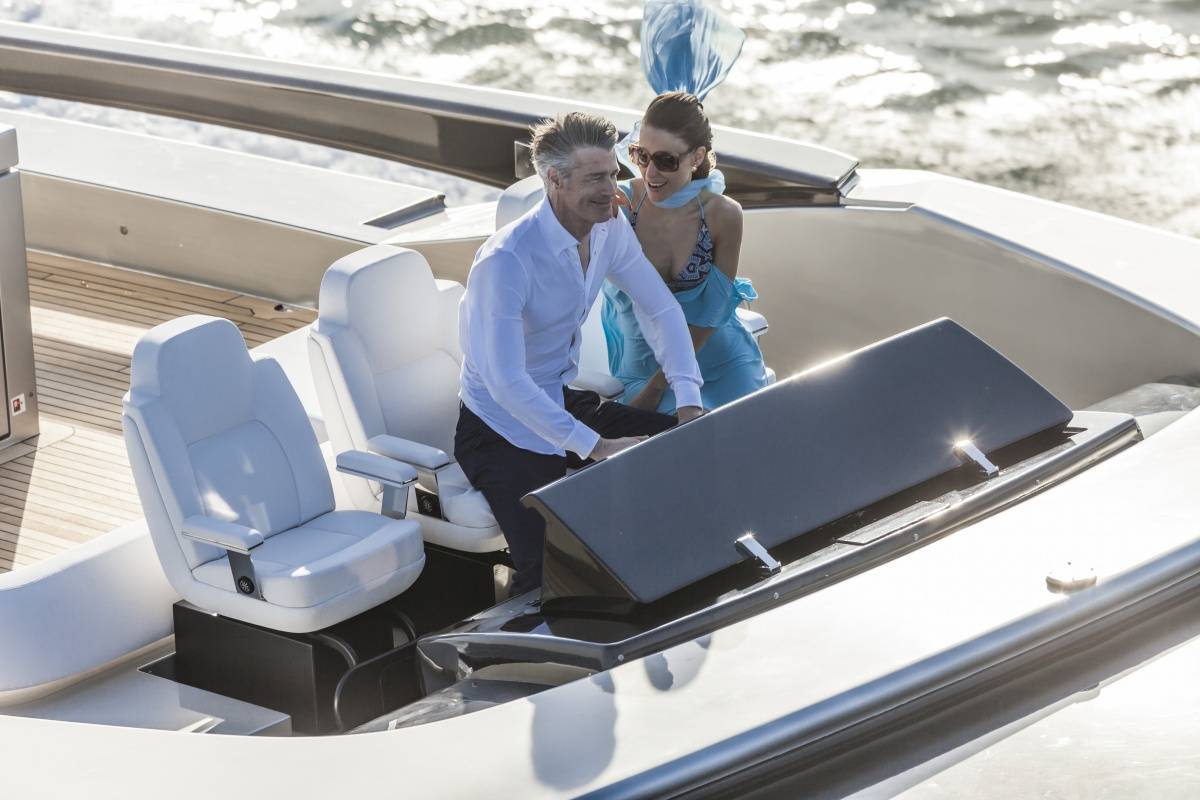 The 122′ Mythos is available for order now, "But of course it'll take some months for the building," says Ferretti press officer Andrea Biondi in an email.
Subscribe to discover the best kept secrets in your city