The Central Park Conservancy gathered 850 guests on June 11 at Bethesda Terrace for the annual Taste of Summer benefit. This festive celebration of Central Park's beauty and New York's exquisite cuisine featured delectable tastings prepared by the city's top restaurants, a luxurious silent auction, and upbeat dancing to the music by DJ Kiss. Attended by community leaders, philanthropists, and prominent New Yorkers, Taste of Summer raised $925,000 for the restoration and maintenance of Central Park.  The event was generously sponsored by Macquarie Group.
Marcus Samuelsson hosted The Taste Café, which featured dishes from Red Rooster Harlem and American Table Café and Bar at Lincoln Center, in addition to 35 other restaurants that participated in the sample tastings throughout the night. Guests even created their own cocktails using a selection of herbs, fruits, garnishes, and spirits at the Reyka Vodka Foraging Bar. William Grant & Sons, a family-owned and independent distiller, was the exclusive spirits partner at this year's Taste of Summer.
Hosts included Central Park Conservancy Trustees and Event Chairmen Kristy and Jonathan Korngold, Carol Sutton Lewis & William M. Lewis, Jr., Laurie and Jay Mandelbaum, Gillian & Sylvester Miniter, Jenny & John Paulson, Melissa Vail & Norman Selby. Host Committee members and guests included Kitty and Tom Kempner (Chairman, Board of Trustees, Central Park Conservancy), Doug Blonsky (President and CEO, Central Park Conservancy and Central Park Administrator), Suzie and Ainar Aijala, Charles Altchek, Sarah Arison, Alexandra Lebenthal and Jeremy Diamond, Melissa Seligmann Gokhvat and Eugene Gokhvat, Rebecca and Larry Grafstein, Anne Harrison, Yaz and Valentin Hernandez, Rachel and Ara Hovnanian, Cathy and Bill Ingram, Sharon and Bill Jacob, Veronica and Ray Kelly, Kamie and Rich Lightburn, Liz and Jeff Peek, Sandra Ripert, Alexandra and Alex Robertson, and Nanar and Tony Yoseloff.
Kristy and Jonathan Korngold
Andrea Fahnestock
Bethesda Fountain
Chantal McLaughlin, Alexis Clark
Christine Calzolano, Sandra Ripert, Angela Sculley
Dancing
DJ Kiss
Judy and John Angelo
Maine Sea Scallop Crudo from The Regency Bar & Grill
Marcus Samuelsson, Jay Mandelbaum
Rachel Hovnanian, Douglas Blonsky, Laurie Mandelbaum
SD26 Soft Egg Yolk Raviolo
Tom Kempner, Norman Selby
Valentin Hernandez, Yaz Hernandez, Felicia Taylor, Gillian Miniter, Serena Miniter
Alexandra Lebenthal, Jay Diamond
Anna Harrison, Anne Harrison, Katie Harrison
Arcade
Ashley and James Sharpe
Barbara Cirkva and John Schumacher
Bill Ford, Marigay McKee, Liz Peek, Jeff Peek
Carol Sutton Lewis, Thelma Golden and Marcus Samuelsson
Cathy and Bill Ingram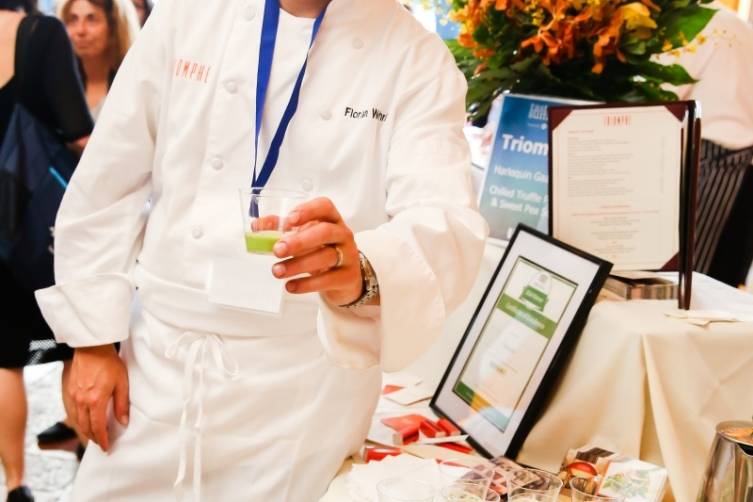 Chef Sampling Chilled Truffle Potato and Sweet Pea Soup
Elyse Newhouse, Kate Brennan
Eugene Gokhvat, Melissa Seligmann Gokhvat
Gillian and Sylvester Miniter
Jill and Barry Lafer
Kitty and Tom Kempner
Marcus Samuelsson, Tom Kempner, Gillian Miniter, Douglas Blonsky
Marcus Samuelsson
Reyka Vodka Foraging Bar
Rich Lightburn, Kamie Lightburn, Jeff Peek
Stephanie and Fred Shuman