After sabering off the start of Vegas Uncork'd week ion Thursday afternoon, chef Daniel Boulud headed to his new restaurant DB Brasserie located inside the Venetian, where master chefs gathered to celebrate the renowned chef's return to Las Vegas. The evening began with a reception in the bar and lounge before a ribbon cutting with chef Daniel Boulud,  Chairman and CEO of Las Vegas Sands Corp. Sheldon Adelson, Dr. Miriam Adelson and other hotel and restaurant executives ceremoniously opened the main dining room. Following the ribbon cutting, guests mingled and enjoyed champagne and Dalmore signature cocktails while tasting a selection of items from the DB Brasserie menu including signature dishes such as escargot spaetzle, Hamachi cru, grilled swordfish, Tunisian lamb duo and spiced lamb flatbread among other creations. An array of sweet treats including almond and strawberry tartelettes, mini versions of the pistachio-cherry sundae and warm madeleines all complimented the brasserie classics.
Guests were treated to a surprise when Buddy "The Cake Boss" Valastro, who also has Buddy V's Ristorante and Carlo's Bakery on the Venetian property, arrived in true Vegas style with a showgirl on each arm to present Daniel with a welcome "back" to Las Vegas cake.
Guests included chefs Thomas Keller, Jean-Georges Vongerichte, Nobu Matsuhisa, Paul Bartolotta, Francois Payard and Sam "Sammy D" Demarco, host of Travel Channel's "Chow Masters."
Click on the photos below to enlarge.
Like Haute Living Las Vegas? Join our Facebook page or follow us on Twitter. Want Haute Living Las Vegas delivered to your in box once a week? Sign up for our newsletter.
489313651BS001_Chef_Daniel_
Chef Daniel Boulud Celebrates His Return To Las Vegas With The Opening Of db Brasserie Inside The Venetian Las Vegas
489313651BS003_Chef_Daniel_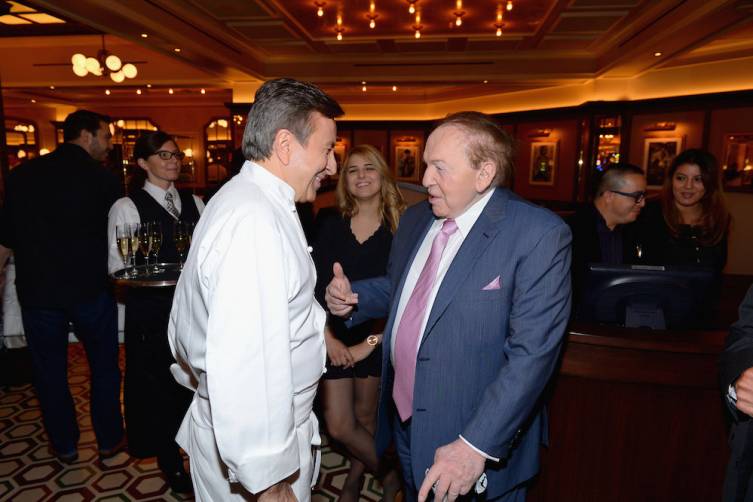 Chef Daniel Boulud Celebrates His Return To Las Vegas With The Opening Of db Brasserie Inside The Venetian Las Vegas
489313651BS005_Chef_Daniel_
Chef Daniel Boulud Celebrates His Return To Las Vegas With The Opening Of db Brasserie Inside The Venetian Las Vegas
489313651BS007_Chef_Daniel_
Chef Daniel Boulud Celebrates His Return To Las Vegas With The Opening Of db Brasserie Inside The Venetian Las Vegas
489313651BS009_Chef_Daniel_
489313651BS010_Chef_Daniel_
Chef Daniel Boulud Celebrates His Return To Las Vegas With The Opening Of db Brasserie Inside The Venetian Las Vegas
489313651BS012_Chef_Daniel_
489313651BS013_Chef_Daniel_
489313651BS014_Chef_Daniel_
489313651BS015_Chef_Daniel_
489313651BS016_Chef_Daniel_
489313651BS017_Chef_Daniel_
489313651BS018_Chef_Daniel_
489313651BS019_Chef_Daniel_
489313651BS020_Chef_Daniel_
489313651BS021_Chef_Daniel_
489313651BS022_Chef_Daniel_
489313651BS023_Chef_Daniel_
489313651BS024_Chef_Daniel_
489313651BS025_Chef_Daniel_
489313651BS026_Chef_Daniel_
Chef Daniel Boulud Celebrates His Return To Las Vegas With The Opening Of db Brasserie Inside The Venetian Las Vegas
Chef Daniel Boulud Celebrates His Return To Las Vegas With The Opening Of db Brasserie Inside The Venetian Las Vegas
Chef Daniel Boulud Celebrates His Return To Las Vegas With The Opening Of db Brasserie Inside The Venetian Las Vegas
Chef Daniel Boulud Celebrates His Return To Las Vegas With The Opening Of db Brasserie Inside The Venetian Las Vegas
Chef Daniel Boulud Celebrates His Return To Las Vegas With The Opening Of db Brasserie Inside The Venetian Las Vegas
489313651BS032_Chef_Daniel_
489313651BS033_Chef_Daniel_
489313651BS034_Chef_Daniel_
Chef Daniel Boulud Celebrates His Return To Las Vegas With The Opening Of db Brasserie Inside The Venetian Las Vegas
Chef Daniel Boulud Celebrates His Return To Las Vegas With The Opening Of db Brasserie Inside The Venetian Las Vegas
Chef Daniel Boulud Celebrates His Return To Las Vegas With The Opening Of db Brasserie Inside The Venetian Las Vegas
Chef Daniel Boulud Celebrates His Return To Las Vegas With The Opening Of db Brasserie Inside The Venetian Las Vegas
Chef Daniel Boulud Celebrates His Return To Las Vegas With The Opening Of db Brasserie Inside The Venetian Las Vegas
Chef Daniel Boulud Celebrates His Return To Las Vegas With The Opening Of db Brasserie Inside The Venetian Las Vegas
Chef Daniel Boulud Celebrates His Return To Las Vegas With The Opening Of db Brasserie Inside The Venetian Las Vegas
Chef Daniel Boulud Celebrates His Return To Las Vegas With The Opening Of db Brasserie Inside The Venetian Las Vegas
489313651BS043_Chef_Daniel_
Chef Daniel Boulud Celebrates His Return To Las Vegas With The Opening Of db Brasserie Inside The Venetian Las Vegas
Chef Daniel Boulud Celebrates His Return To Las Vegas With The Opening Of db Brasserie Inside The Venetian Las Vegas
489313651BS046_Chef_Daniel_
489313651BS047_Chef_Daniel_
489313651BS048_Chef_Daniel_
489313651BS049_Chef_Daniel_
Chef Daniel Boulud Celebrates His Return To Las Vegas With The Opening Of db Brasserie Inside The Venetian Las Vegas
489313651BS051_Chef_Daniel_
489313651BS052_Chef_Daniel_
489313651BS053_Chef_Daniel_
489313651BS054_Chef_Daniel_
489313651BS055_Chef_Daniel_
Chef Daniel Boulud Celebrates His Return To Las Vegas With The Opening Of db Brasserie Inside The Venetian Las Vegas
Chef Daniel Boulud Celebrates His Return To Las Vegas With The Opening Of db Brasserie Inside The Venetian Las Vegas
Chef Daniel Boulud Celebrates His Return To Las Vegas With The Opening Of db Brasserie Inside The Venetian Las Vegas
489313651BS059_Chef_Daniel_
489313651BS060_Chef_Daniel_
489313651BS061_Chef_Daniel_
489313651BS062_Chef_Daniel_
489313651BS063_Chef_Daniel_
489313651BS064_Chef_Daniel_
Chef Daniel Boulud Celebrates His Return To Las Vegas With The Opening Of db Brasserie Inside The Venetian Las Vegas
Chef Daniel Boulud Celebrates His Return To Las Vegas With The Opening Of db Brasserie Inside The Venetian Las Vegas
Chef Daniel Boulud Celebrates His Return To Las Vegas With The Opening Of db Brasserie Inside The Venetian Las Vegas
Chef Daniel Boulud Celebrates His Return To Las Vegas With The Opening Of db Brasserie Inside The Venetian Las Vegas
Chef Daniel Boulud Celebrates His Return To Las Vegas With The Opening Of db Brasserie Inside The Venetian Las Vegas
Chef Daniel Boulud Celebrates His Return To Las Vegas With The Opening Of db Brasserie Inside The Venetian Las Vegas
Chef Daniel Boulud Celebrates His Return To Las Vegas With The Opening Of db Brasserie Inside The Venetian Las Vegas
Chef Daniel Boulud Celebrates His Return To Las Vegas With The Opening Of db Brasserie Inside The Venetian Las Vegas
Chef Daniel Boulud Celebrates His Return To Las Vegas With The Opening Of db Brasserie Inside The Venetian Las Vegas
489313651BS074_Chef_Daniel_
489313651BS075_Chef_Daniel_
489313651BS076_Chef_Daniel_
489313651BS077_Chef_Daniel_
489313651BS078_Chef_Daniel_
489313651BS079_Chef_Daniel_
489313651BS080_Chef_Daniel_
489313651BS081_Chef_Daniel_
489313651BS082_Chef_Daniel_
489313651BS083_Chef_Daniel_
Chef Daniel Boulud Celebrates His Return To Las Vegas With The Opening Of db Brasserie Inside The Venetian Las Vegas
Chef Daniel Boulud Celebrates His Return To Las Vegas With The Opening Of db Brasserie Inside The Venetian Las Vegas
489313651BS086_Chef_Daniel_
Chef Daniel Boulud Celebrates His Return To Las Vegas With The Opening Of db Brasserie Inside The Venetian Las Vegas
Chef Daniel Boulud Celebrates His Return To Las Vegas With The Opening Of db Brasserie Inside The Venetian Las Vegas
489313651BS089_Chef_Daniel_
489313651BS090_Chef_Daniel_
489313651BS091_Chef_Daniel_
Chef Daniel Boulud Celebrates His Return To Las Vegas With The Opening Of db Brasserie Inside The Venetian Las Vegas
489313651BS093_Chef_Daniel_
489313651BS094_Chef_Daniel_
489313651BS095_Chef_Daniel_
Chef Daniel Boulud Celebrates His Return To Las Vegas With The Opening Of db Brasserie Inside The Venetian Las Vegas
489313651BS097_Chef_Daniel_
489313651BS098_Chef_Daniel_
Chef Daniel Boulud Celebrates His Return To Las Vegas With The Opening Of db Brasserie Inside The Venetian Las Vegas
489313651BS100_Chef_Daniel_
Chef Daniel Boulud Celebrates His Return To Las Vegas With The Opening Of db Brasserie Inside The Venetian Las Vegas
Chef Daniel Boulud Celebrates His Return To Las Vegas With The Opening Of db Brasserie Inside The Venetian Las Vegas
489313651BS103_Chef_Daniel_
489313651BS104_Chef_Daniel_
489313651BS105_Chef_Daniel_
489313651BS106_Chef_Daniel_
489313651BS107_Chef_Daniel_
Subscribe to discover the best kept secrets in your city