BMW Design Works has teamed up with Thales, a global innovator in in-flight connectivity and entertainment, in the creation of the Immersive Business Class Seat.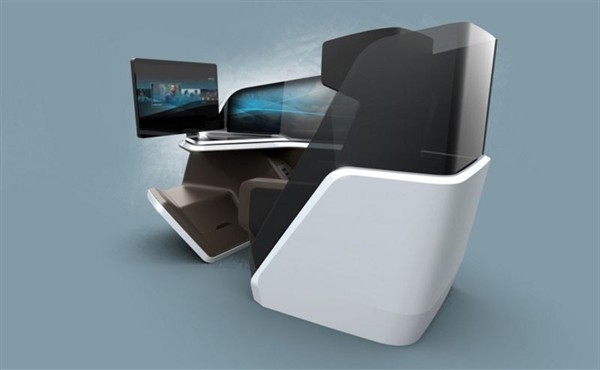 Among the plush seat's myriad features are integrated-touchpad controls, an ultra-high definition (UHD) main display screen, eye tracking capability, and an interactive virtual landscape panel, all of which were designed to function in concert with products already offered by Thales and third party companies (such as Thales' SmartPIMs, which allow passengers to connect their portable tech gadgets with the IFE system, and Smart Device Ignition Wireless Charging).
Developed in collaboration with BE Aerospace, the seat was revealed on the opening day of the 2014 Aircraft Interiors Expo in Hamburg, and rapidly went on to become a finalist for the Premium Class & VIP category at the 2014 Crystal Cabin Awards, the only international prize for aircraft cabin innovations.
The embodiment of in-flight luxury, this luxe smart throne marks a breakthrough in aircraft design, fusing awe-inspiring aesthetics with advanced technological capabilities to create a seamless, luxurious experience for travelers.