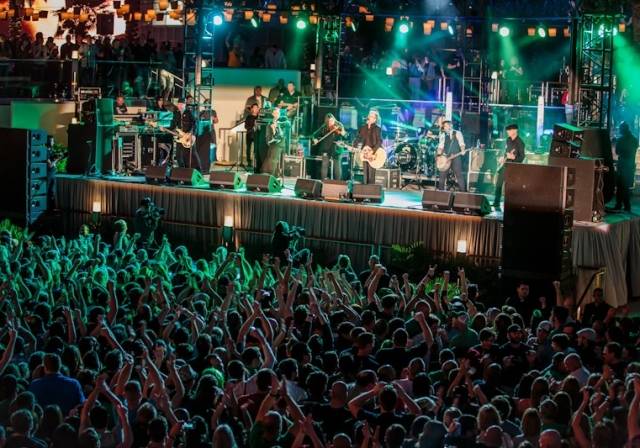 Celtic rockers Flogging Molly with special guest Ozomatli took to the mophie Stage at Boulevard Pool at the Cosmopolitan of Las Vegas on Saturday night to celebrate St. Patrick's Day, much to the delight of revelers.
The show opened with sounds from Ozomatli, who energized the festive crowed before Flogging Molly lit up the stage with their punk rock sounds and Celtic instruments. The boisterous band performed a raucous, adrenaline-filled set that got fans screaming along to hits such as "Revolution," "Every Dog Has Its Day" and "No More (Paddy's Lament)." The show took place as part of the band's 10th Annual Green 17 Tour.
Click on the photos below to enlarge.
Like Haute Living Las Vegas? Join our Facebook page or follow us on Twitter. Want Haute Living Las Vegas delivered to your in box once a week? Sign up for our newsletter.
3_15_14_b_flogging_molly_kabik-12
3_15_14_b_flogging_molly_kabik-20
3_15_14_b_flogging_molly_kabik-38
3_15_14_b_flogging_molly_kabik-43
3_15_14_c_flogging_molly_kabik-26
3_15_14_c_flogging_molly_kabik-47
3_15_14_c_flogging_molly_kabik-58
3_15_14_flogging_molly_kabik-7
3_15_14_flogging_molly_kabik-15
3_15_14_flogging_molly_kabik-19
3_15_14_flogging_molly_kabik-21
3_15_14_flogging_molly_kabik-41
3_15_14_flogging_molly_kabik-43
3_15_14_flogging_molly_kabik-44
3_15_14_flogging_molly_kabik-95
3_15_14_flogging_molly_kabik-100
3_15_14_flogging_molly_kabik-118
3_15_14_flogging_molly_kabik-137
3_15_14_flogging_molly_kabik-165
3_15_14_flogging_molly_kabik-200
3_15_14_flogging_molly_kabik-210
3_15_14_flogging_molly_kabik-240
3_15_14_flogging_molly_kabik-255
3_15_14_flogging_molly_kabik-284
3_15_14_flogging_molly_kabik-287
3_15_14_flogging_molly_kabik-290
3_15_14_flogging_molly_kabik-309
Subscribe to discover the best kept secrets in your city