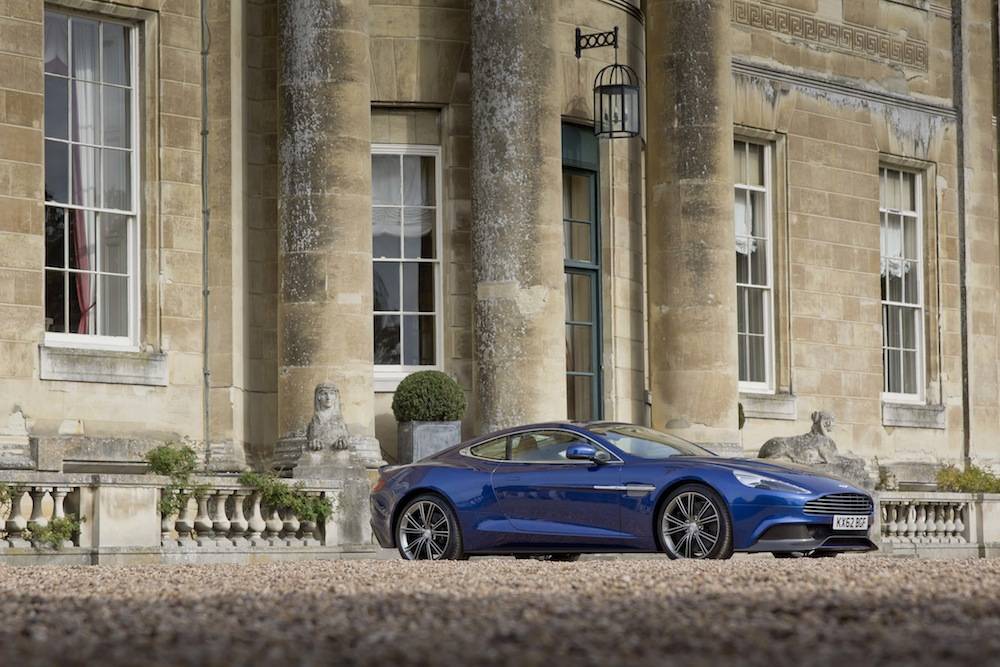 It is hand built in the United Kingdom through sophisticated craftsmanship and meticulous artisan techniques requiring 250 man hours to construct completely from the ground up. Its exoskeleton is framed from aluminum and carbon fiber for a competent, yet lightweight structure. Exemplary British fortitude equates to magnificent frontiers defining the exquisite nature of its tantalizing silhouette. A breath of life is initiated through the chronicles of 12-cylinder enhancement by way of tempered enthusiasm for motorsports performance within unwavering luxury conciliation. Ladies and gentlemen, welcome the re-invigorated 2014 Aston Martin Vanquish Super GT.
What may seem to be hyperbole to friendly automotive competition equates to truth and belief for connoisseurs of the finer things in life specifically related to the British auto industry. Where many supercars have ephemeral lifespans and limited production runs, Aston Martin keeps raising the bar with one awesome sports car after another. Thus, each has dual temperaments that cast off signals as sizzling as a forbidden romantic partner or as mysterious as a double agent entrapped in British espionage. And now that the Vanquish name has been restored to order, ultimately "vanquishing" the DBS into retirement, Aston Martin can begin its newfound future with the flagship of the family dictating orders.
Generating 565-horsepower and 457 lb.-ft. of torque from Aston Martin's naturally aspirated 6.0-liter V12 engine, the authoritative coupe sprints 0 mph to 60 mph in 4 seconds and has a top speed of 183 mph. Shifting is enabled by Aston Martin's rear-mid mounted 6-speed Touchtronic 2 automatic transmission with shifters mounted on the steering column.
Sitting astute with flair and poignancy, the Vanquish receives some styling cues from the DBS and the One-77. The remaining 75% parts are all new. Both the front and rear end are broad with bolstered wheel arches that house Pirelli P Zero tires. Sizeable ventilated carbon ceramic discs slow the Vanquish down with six-piston front and 4-piston rear calipers.
Sexy and succulent is an understatement when describing the lavish interior of the 2+2 Vanquish. For example, the resilient red and black full leather cabin and carbon fiber trim I experienced in the Skyfall Silver model was exemplary. Contrast stitching, Alcantara headlining and an embedded carbon fiber center stack was most impressive. Insert the glass key into the center positioned starter and the Vanquish comes to life like a grizzly fresh out of hibernation. Sounds like one as well since the exhaust system has too been borrowed from the One-77.
Your Aston Martin Vanquish is now available for $279,995. Of course personalization can be tailored made by altering colors, materials, and trims or one can choose from AM's itemized list of distinct features. Bespoke builds are the British way — it's in their nature.
For more on this Haute Auto, and others go to HauteAuto.com
Subscribe to discover the best kept secrets in your city