Images:  Neilson Barnard/Getty Images North America
On November 8, art enthusiasts enjoyed the Guggenheim International Gala event in celebration of Picasso Black and White.
Organized by Carmen Gimenez, the Guggenheim International Gala's black-and-white black tie event to celebrate Picasso Black and White took place on November 8. Honorary Chairs of the event include Almine and Bernard Ruiz-Picasso, Paloma Picasso Thévenet and Dr. Eric Thévenet, and Diana Widmaier-Picasso. Chairs include Christina Baker, Eleanor Acquavella Dejoux, Phyllis Mack, Denise Saul, and Jennifer Blei Stockman. Funds raised are in support of the Solomon R. Guggenheim Foundation and tickets began at $3000.
Guests included Director of Solomon R. Guggenheim Museum Richard Armstrong and Carmen Gimenez, Almine Ruiz-Picasso, Bernard Picasso, President of the Solomon R. Guggenheim Foundation Jennifer Stockman, Harry Sloan, Florence Sloan, Diana Widmaier Picasso, actress Anna Condo, Christina Baker, Ashley Baker, Roberta Amon, Archie Cox, Judy Cox,
At 7 p.m. guests enjoyed cocktails followed by dinner at 8 p.m. The chef for the evening was Seamus Mullen of Tertulia while wine was presented by William Hill Estate Winery.
The Solomon R. Guggenheim Museum is located at 1071 Fifth Avenue, New York, NY.
Guggenheim+International+Gala+t1hIFzTXhURl
Guggenheim+International+Gala+fwvHjhPHELTl
Guggenheim+International+Gala+lHe5QQ9UEi3l
Guggenheim+International+Gala+JYJJBa_eKRpl
Guggenheim+International+Gala+FBeIFWNXeJdl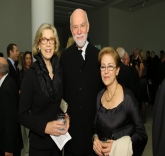 FEAtguggenjpeg
Guggenheim+International+Gala+iKLdfTg_XWDl
Guggenheim+International+Gala+ABvV6I3rf6dl
Guggenheim+International+Gala+JpC_FL8Veqrl
Like Haute Living New York? Join our Facebook page or follow us on Twitter @HauteLivingNY. Want Haute Living New York delivered to your in box once a week? Sign up for our newsletter.