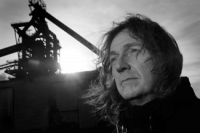 David Jamilly co-owns Theme Traders, a party planning, event management, props and prop hire company which has been running for over 20 years.
Theme Traders has worked on events for three of the five richest people in the world and its list of clients reads like an A-list of celebrities.
Considered a world expert on event management David conducts lectures on the subject as far afield as Australia and Singapore. He has recently written a book about parties and events entitled 'Party People' published by IndePenPress.
His philanthropic and charitable initiatives encompass many areas. David set up POD over 30 years ago, a charity which has since entertained over half a million children in hospital. This year David has co-founded Kindness Day UK, promoting kindness in all its forms and celebrated on the 13th November every year. He also recently attended the World Kindness Movement Conference in Sydney Australia as the UK representative amongst 22 member nations.
His recent appearance on C4's Secret Millionaire saw David helping the community of Redcar. David continues to support Redcar, visiting frequently, and acting as patron for worthy local enterprises.
David's endeavours throughout life have allowed him to travel all over the world and experience the best there is to offer.
–Interview by Marie Teather
Subscribe to discover the best kept secrets in your city