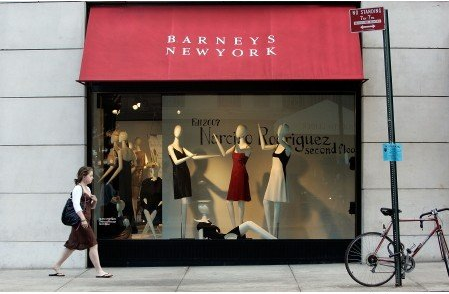 Luxury retailer Barneys New York has been taken over by Perry Capital in an effort to reduce their borrowings by $540 million without resorting to a bankruptcy. With the takeover in place, Barneys can focus on investing in rebounding their business while removing the debt load it was struggling under.
"It sounds like they are right-sizing the balance sheet," said Steven Dennis, a luxury consultant and founder of SageBerry Consulting LLC in Dallas. "It's a good time to invest in luxury since the market is bouncing back but it is still a pretty mature market."
Perry Capital has partnered with billionaire Ron Burkle's Yucaipa Cos. Investment firm and taken over majority control of Barneys from Istithmar World PJSC. The move will decrease Barneys' $540 million debt to $50 million.
Barneys Chief Executive Officer, Mark Lee, said "We've had strong operational performance. [The debt reduction] provides us with lost of runway [to further invest in the chain]".
Richard Perry, 57, head of Perry Capital and new chairman of the Barneys board, noted that Perry Capital will have three additional seats: Burkle, Lee and Istithmar
"This is a long-term investment for us. I think it is extraordinary what Mark has done," said Perry.
While the transaction appears to be a positive one for all parties, Dennis points out that now the questions is whether Barneys can broaden its customer base without becoming a Saks or a Neiman Marcus Group Inc..
"Barney's image is hipper and younger, and it has a very narrow range of prices because it doesn't' have an opening price point, not much accessible luxury," said Dennis.
Source: SF Gate
Like Haute Fashion Daily? Check out our new Facebook page
Subscribe to discover the best kept secrets in your city