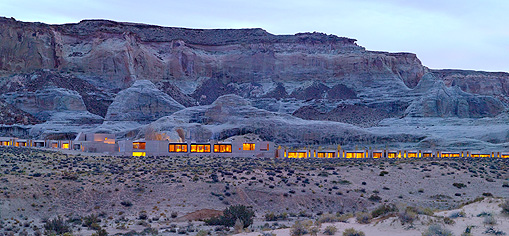 Tucked away in southern Utah, Amangiri Resort – or Peaceful Mountain in a local Native dialect – is located on 600 acres in the Canyon Point region, which is near the border to Arizona. The resort has a spectacular view of the Grand Staircase – Escalante National Monument, as well as views of mesa terrain where deep canyons are peaked with tower plateaus.
The resort offers three trails for Ferrata climbing. Ferrata climbing is a method of climbing that involves using belay and other safety equipment in order to scale the mesas for a stunning bird's eye view of the canyons and surrounding landscape.
Ferrata means 'Iron Road' in Italian, and is made of a series of cables and rungs that hikers use to climb steep routes. While no climbing experience is required for the ascent, it is strongly recommended that guests be experienced hikers, as the trails to get to the top of the mesa can be quite challenging.
The three trails at Amangiri include the Studhorse Trail, the Hoodoo Trail, and the Cave Peak trail. Beginners can climb the Studhorse and Hoodoo trails. Studhorse includes two different Ferrata runs, although one is intended only for intermediate or advanced climbers. The Cave Peak trail, which is the newest addition at Amangiri, is rated for advanced climbers only.
All of the trails take between 2 to 5 hours to climb. In order to be able to climb the airy and spectacular Cave Peak trail, guests must have experience on one of the other Ferrata trails located at Amangiri.
Subscribe to discover the best kept secrets in your city