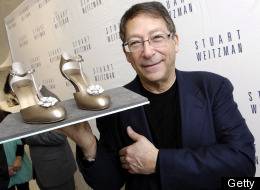 Famed designer to the stars Stuart Weitzman is bringing back an old classic with the re-launch of his one-of-a-kind jeweled shoes, the million dollar shoes from 2002.
Back in 2002, actress Laura Harring wore Weitzman's million dollar shoes to the Academy Awards for her Oscar-nominated film "Mulholland Drive". She had to be accompanied by three bodyguards due to the $1,090,000 price tag of the 464 Kwait pear and round-shaped diamond set shoes. To mark the 10-year anniversary of the shoes' debut, Weitzman is re-launching them with a whole new design, and price tag.
Known as the "Millionairess," the iconic sandals have been revamped with Swarovski crystals for the 2012 edition, including a crystal tear-drop on the straps and a price of $595.
Weitzman said of the decision to lower the price of the pumps, "With so many people struggling financially, and unemployment at 10 percent, I don't think it is appropriate. The actresses still want to go for glamour, but this year it will be more understated."
After Harring's appearance with the "Millionairess" in 2002, Weitzman went on to design more dazzling shoes for celebrities appearing on red carpets. Big name stars like Beyonce, Kate Winslet, Angelina Jolie, Eva Mendez and Carrie Underwood have all chosen Weitzman's shoes for Oscar appearances.
Source: Born Rich
Subscribe to discover the best kept secrets in your city