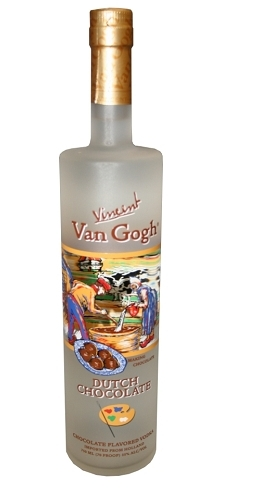 Valentine's Day has long been associated with chocolates and candies, But shakes things up this year- literally by creating a Van Gigh Rich Dar Chocolate Vodka cocktail for your lover.
Crafted in small batches by Master Distiller Tim Vos at the Royal Dirkzwager Distilleries in Schiedam, Holland, Van Gogh Rich Dark Chocolate Vodka actually tastes and smells exactly as the name suggests: like decadent, rich dark chocolate – perfect for this romantic holiday.  This sophisticated dark chocolate vodka has a complex, dark cocoa taste that is beautifully complemented by notes of coffee, chili pepper, caramel, and exotic spice.
Impress a loved one this February with the Dessert Fizz cocktail, created by The Cocktail Guru himself, Jonathan Pogash. This sensual concoction blends Van Gogh Dutch Chocolate vodka with fresh ingredients and is topped with Champagne – the ultimate toast for the evening's festivities!
Looking to stay warm this winter? Swap your regular cup of tea with the luxurious Dutch Tea, a divine tea cocktail created by the nation's first tea sommelier, James Labe. Made with Van Gogh Dutch Chocolate Vodka and freshly brewed Numi Chocolate Puerh tea, this drink offers familiar sweet flavors with a hint of spice from the velvety Puerh.
Check out the decedent recipes below
Created by The Cocktail Guru, Jonathan Pogash

1 1/2 oz. Van Gogh Dutch Chocolate Vodka
1 large strawberry, chopped
Handful of mint leaves
1 tsp. agave nectar
1/4 oz. fresh lemon juice
3 oz. sparkling wine or Champagne
Muddle the strawberry and mint with agave and lemon.  Add Van Gogh Dutch Chocolate and strain into chilled Champagne flute.  Top with the sparkling wine or Champagne. Garnish with a strawberry slice on the rim.
DUTCH TEA
Created by James Labe
4 oz. Numi Chocolate Puerh Tea
2 oz. Van Gogh Dutch Chocolate Vodka
1 oz. Heavy Cream
Sugar
Steep 1 Numi Chocolate Pu-erh tea bag at normal strength with freshly boiled water for 3 minutes, then remove bag. Add Vodka and stir. Whip cream with a little sugar and float on top. Dust with Powdered Cocoa to garnish.
Subscribe to discover the best kept secrets in your city