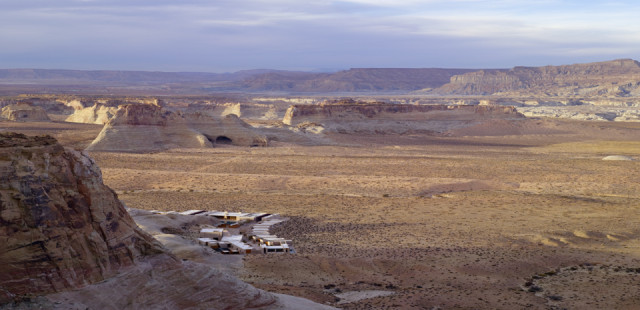 Lake Powell provides access to some of the most amazing scenery and geological formations on the Colorado Plateau, and you can enjoy the outdoors exclusively through Amangiri Resort.
Enjoy the colored waters aboard a highspeed motorboat touring the lake's 2,000 miles of shoreline, or enjoy some quiet beach time in one of the many hidden-away bays. For those who enjoy lake fishing, Lake Powell is an ideal location for catching small mouth, large mouth and striped bass. Lake Fishing on Lake Powell is launched from nearby Wahweap Marina which is approximately 15 minutes from Amangiri. A private tour offers the perfect getaway, beginning with private transportation from Amangiri to the base of the Glen Canyon Dam, followed by a guided boat trip.A laid-back stop on one of the river's sandy beaches allows guests to enjoy a picnic lunch beneath the cliffs. Guests emerge from the raft at historic Lees Ferry, which marks the beginning of the river's course into Grand Canyon National Park, and are later transported back to the resort by vehicle.
Amangiri has also created the perfect fly-fishing experience. An hour drive from Amangiri takes guests near Lees Ferry, where a professional guide with motorized boat are standing by for a run of the Colorado River. Powerboat excursions also launch from Wahweap Marina. Countless gravel bars, eddies and side channels hide Rainbow Trout (16-22 inches) in length. A day of fly-fishing comes with a picnic lunch, tackle, waders and flies, as well as an Arizona fishing license. Amangiri staff can also arrange for spin fishing tackle if guests prefer to fish with a friend or family member who is unfamiliar with fly casting. Enjoy a scenic float trip in rafts or traditional wooden dory boats; these excursions launch from the base of the Glen Canyon Dam.
Amangiri Resort welcomes you to the great outdoors of Southern Utah and the surrounding area.