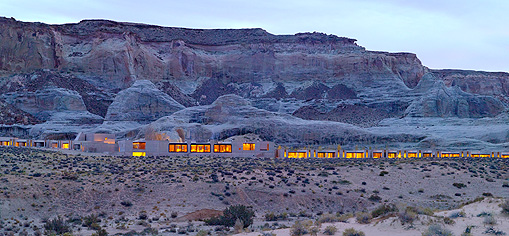 Meaning "peaceful mountain," Amangiri Resort in Canyon Point, Utah is a natural getaway. An amazing place to enjoy and experience the Four Corners region, the area in which Utah, Colorado, New Mexico and Arizona meet, the resort offers incredible landscapes, majestic views and a peaceful, earthy vibe.
The central pavilion of Amangiri Resort encircles the main swimming pool and features a living room, library, dining rooms and cellar. Choose from suites with mesa views, desert views, pool suites with private plunge pools and beyond. Get close to nature in the desert lounge, an open-air living room located away from the pavilion, perfect for relaxing with or without company.
Styled in a minimalist fashion, the resort lets the beauty of the vast landscape do all the charming. The resort is settled right in the center of the Grand Circle, an area comprised of the Grand Canyon, Grand Staircase, Monument Valley, Escalante, Bryce and Zion National Parks.
Two airlines just made it even easier to experience Amangiri Resort: Great Lakes Airlines is now offering a daily direct flight from Las Vegas to Page, which is a 25-minute drive from Amangiri. United Express introduced a Skywest flight, Sunday to Friday, from LA to St. George (a 2.5 hour drive from Amangiri).
Don't forget to take advantage of the Season of Adventure & Rejuvenation package, a winter special that includes daily meals, yoga classes, group hikes and spa treatments. The package special ends March 15, 2012. Experience Amangiri Resort, a member of the Haute Hotel Network, and find out why it was named the "Ultimate Escape" at the 2011 Tatler Travel Awards.