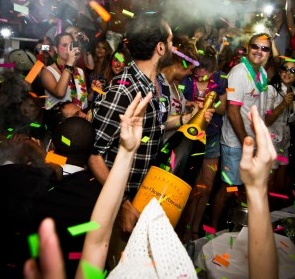 Boozy brunches may not be news, but it is about time we check in on the state of these champaign-soaked, see-and-be-seen daytime affairs in New York.  The tradition first hit the city in the early '90s when Le Bilboquet started offering a brunch party.  The concept spread and lounges like Merkato 55 and Bagatelle launched brunch parties in 2008.
No longer intimate affairs, these brunches are now offered from the most extravegant nightblubs in the city such as Lavo, Ajna, and PH-D.  So, as you're strolling around midtown or downtown and pass the exterior of one of these places—don't let the crisp fall air and the brightness of day fool you—there are fierce parties being rocked by beautiful people and magnums of Bertaud Belieu Rosé being popped on the inside.
Some highlights: Ajna throws a French-themed rager—complete with Champagne showers, blasts of fog, nutella stuffed croissants and dance tracks from the likes of Calvin Harris.  Lavo is influxed by the socialite and model types, fist heart pumping club tracks, and far more booze than brunch.  PH-D offers a Saturday day party in the happy hour time slot, graced by the beautiful and, more often than not, the famous.
Source: The New York Times
Like Haute Living New York? Join our Facebook page or follow us on Twitter @HauteLivingNY. Want Haute Living New York delivered to your in box once a week? Sign up for our newsletter.