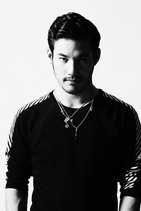 Known for his complexly seamed draping and impeccable body con tailoring, Joseph Altuzarra launched his own eponymous line in Spring of 2009 with much fanfare.  Whether it's Carine Rotfield (former French Vogue editrix), model Karolina Kurkova to reality star Kim Kardashian, women of all shapes and sizes adore this designer for his sleek, sexy and aggressive designs.
The ALTUZARRA identity lies somewhere between the legacy of French couture and New York's pulsating energy.  Joseph Altuzarra was born to a French-Basque father and Chinese-American mother and raised in Paris.  After graduating from high school, he attended the prestigious Swarthmore College in Philadelphia, where he completed a B.A. in art and art history.  On a whim, he sent in his resume to Marc Jacobs (and was accepted) and thus his fashion career began.
He was a freelance designer at Proenza Schouler and in October of 2006, Riccardo Tisci recruited him to become an design assistant to the house of Givenchy.  After gaining more experience, he showed his first namesake collection in the Spring 2009 NY Fashion Week. 
Joseph Altuzarra is making a personal appearance at Neiman Marcus San Francisco on Thursday, November 10th from 12:30PM until 1:30PM on the second floor at his section dedication to his designs.  Come meet the man whose designs will elongate your silhouette, caress your curve and make you feel like a sexy, powerful woman.
Neiman Marcus
150 Stockton Street 
San Francisco, CA 94108
(415) 362-3900