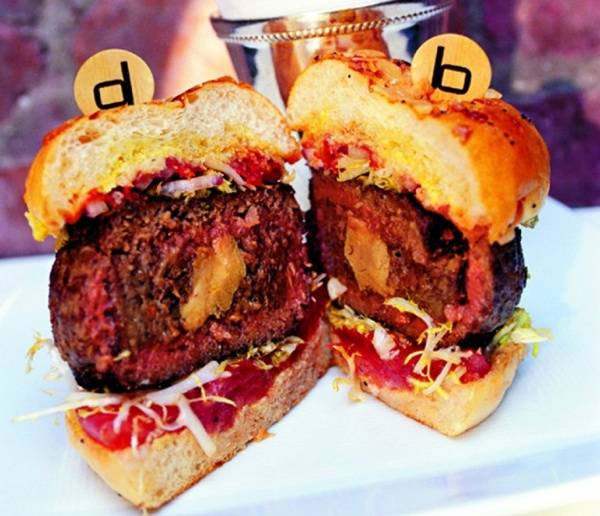 Chef Daniel Boulud's db bistro is a 120-seat dining room feels immediately inviting upon entering. Wedge wood-carved furniture, metal bead curtains, and red rubbed plaster walls are all offset by the warmth of amber colored glass, fabric-wrapped ceiling panels, and olive toned velveteen upholstery. This casts a bit of much needed levity to the space via playful creativity without compromising the seriousness of the patriarchal roots that its family tree commands.
The seasonal menus here are prepared and beautifully plated by Chef Laurent Kalkotour  and highlight the quality of fine ingredients used. Kalkotour brings inventive signature dishes to the table, such as ceviche of diver sea scallops and the legendary DB burger made of freshly ground sirloin and generously stuffed with red wine braised short ribs and foie gras, all piled sky high on a home-made toasted parmesan bun. You can upzie this to their "Royale" version, which is complete with decadent, shaved black truffle when they are in season (December-March) or add a bountiful side of pommes frites. At the end of the meal, Pastry Chef Ashley Church offers delicious confectionary treats such as the hazelnut marjolaine gateaux with frangelico cream, milk chocolate, coffee mousse, devils food cake and coffee ice cream
And, their freshly brewed coffee comes accompanied by a generous basket of house made madeleines.
For traditionalists, feel free to dine by the book here, adding a selection of fromage, such as Brie de Meaux, Roaring Forties Blue and Humboldt Fog goat cheese, casting just the right touch.
db Bistro Moderne is located at 55 West 44th St., New York, 212.391.2400; www.danielnyc.com/dbbistro
Subscribe to discover the best kept secrets in your city