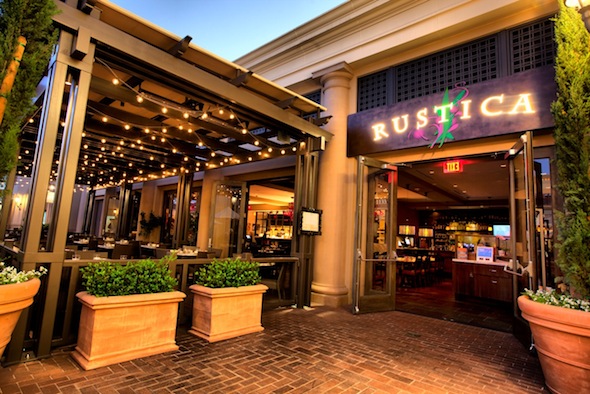 As you turn your calendar and you're switching your closet to linen and lace instead of wool and cashmere, Rustica at Fashion Island is making their menu a little lighter to reflect the changing seasons, too. While your favorites from the restaurant aren't going anywhere, with all the new additions, you might just find a new regular to order next time you're sitting pretty on their patio.
"This is a great time of year to really showcase the season's offerings and get creative with dishes. My spring menu uses the freshest vegetables to ensure that we are serving the best tasting, most flavorful dishes," says Chef Ren, who also adds that all the menu items at Rustica focus on regional cuisine and a commitment to quality, and the finest ingredients and produce. "I like knowing where my produce and meats come from – just try my carrots from the unique family-run Weiser Farms, my free-range chicken from Mary's and my seasonal veggies from Kenter Farms."
Diners agree — as you might know — the restaurant's packed patio is a popular gathering place whether you're refueling mid-shopping trip or meeting your best friends after work. Their Nicoise salad has become legendary in Orange County and many of their menu items have garnered rave reviews from local publications. A favorite among wine enthusiasts, the restaurant has become a gathering spot for everyone across Orange County.
The new menu items include:
Char-Grilled Baby Octopus
Citrus Oil, Saffron Aioli
Vegetarian Carrot and Ginger Soup
Weiser Farm Carrots, Chive Crème Fraiche, Crispy Ginger
Pan Seared Hudson Valley Foie Gras
Homemade Doughnuts, Pineapple Chutney
Baby Gem Lettuce
Shaved Raw Asparagus, Toasted Pistachios, White Balsamic Vinaigrette
Homemade English Pea Ravioli
Morel Cream, Mascarpone Cheese, Crispy Smoked Pork
Downtown Brown Ale Braised Short Ribs
Onion Mashed Potato, Natural Sauce
Crispy Skin Filet of Branzino
Artichoke Barigoule, Baby Round Carrots
Oven Roasted Pork Porterhouse 16oz
Israeli Couscous, Dried Apricots, Bacon Marmalade
"21" Spiced 16oz Bone-In Rib Eye
Red Wine Sauce, Potato, Wild Mushrooms
In addition to the new  spring menu, the restaurant will be offering half-off any wine by the glass or bottle on Monday and Tuesday nights from 4 p.m. to close
Rustica is located at 1133 Newport Center Dr., at Fashion Island in Newport Beach. For more information or to make reservations, call the restaurant directly at 949.706.8282 or visit their official web site at www.rusticafashionisland.com.
Like Haute Living Orange County? Join our Facebook page or follow us on Twitter @HauteLivingOC. Want Haute Living Orange County delivered to your inbox once a week? Sign up for our newsletter.