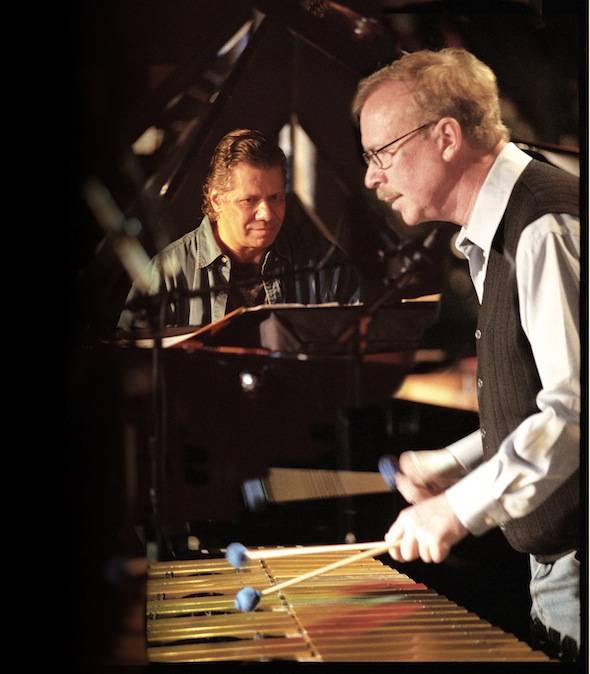 It takes two for a duet, and when those two parts come together just right, you'll get nothing but sweet sweet music. On Mar. 4, the Segerstrom Center for the Arts's Jazz Series is bringing together Chick Corea and Gary Burton, the Grammy Award-winning piano and vibraphone duo for a night of perfect pairings.
Corea and Burton paired for the first time in 1972 with Crystal Silence, which has been called "one of the seminal recordings of that decade" by NPR. While a piano and a vibraphone might not sound like the most logical pairing, when they play together, Jazztimes claims, "There's a kind of logic and magic that happens when Corea and Burton duo."
For their special one-night only concert, the Grammy-winning duo will explore standards featuring new arrangements by Corea, who has been called one of the most prolific composers of the 20th century. On the forefront of jazz (and many other musical genres), his work with Burton has gained not only award wins but a legion of loyal fans. Fans of jazz and fans of music in general have lauded the duo's works. The night's program is sure to have something for fans of every type of music, so if you're not feeling one song or tapping your toe to another, you can be sure that the next tune will be something right up your alley.
The Segerstrom Center for the Arts is located at 600 Town Center Dr., in Costa Mesa. For more information or to purchase tickets to Chick Corea and Gary Burton, call the center's box office at 714.556.2787 or visit their official web site at www.scfta.org.
Like Haute Living Orange County? Join our Facebook page or follow us on Twitter @HauteLivingOC. Want Haute Living Orange County delivered to your inbox once a week? Sign up for our newsletter.