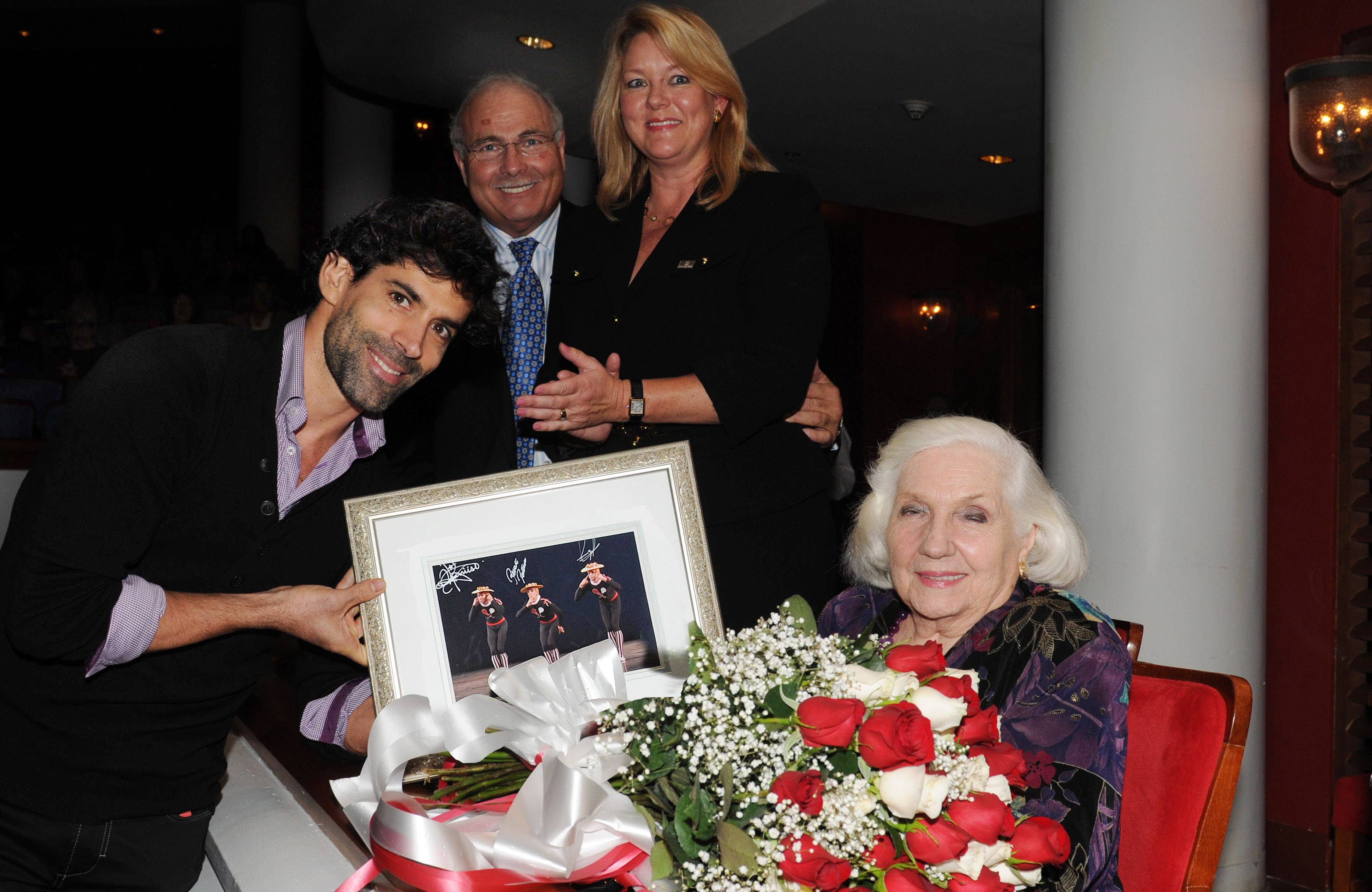 On Friday, November 12,  Miami City Ballet (MCB) honored its "Fairest Fan," Rose Miniaci, during the opening of its 25th Anniversary Season at the Broward Center for the Performing Arts for generously underwriting the Program I Company Premiere of Jerome Robbins' Fanfare.
As a passionate fan of the arts and a benefactor of numerous children's causes, it is no surprise that Miniaci would choose to underwrite the Company Premiere of Fanfare – a bright and witty take on Benjamin Britten's "The Young Persons Guide to the Orchestra" – where each instrument in the orchestra is represented by the dancers. Fanfare was specially chosen to open Miami City Ballet's 25th Anniversary Season at the Broward Center to welcome back, after a two-year hiatus, Miami City Ballet's live Opus One Orchestra under the baton of Maestro Gary Sheldon.
"Rose Miniaci's continued support and generosity has made a great impact on Miami City Ballet, touching the lives of dancers, musicians, artists and the patrons who are able to experience a variety of exceptional ballet performances, such as Fanfare," said Mark Cole, General Manager, Miami City Ballet.
Miniaci's benevolent ways have also touched other organizations across South Florida including, Symphony of the Americas, St. Anthony's and Florida Grand Opera among many others. Additionally, her annual scholarships help students of all ages excel in education and the arts, and her annual SEAS luncheon encourages young people to pursue career paths that fulfill their artistic passion.
Following a pre-performance reception with Miami City Ballet's Artist Circle members and friends, patrons took their seats in the Au-Rene Theater, where Miniaci received tribute bouquets and a standing ovation before the start of Fanfare. The evening also included George Balanchine'sBugaku and Theme and Variations.
After the performance, Artist's Circle members were treated to an après performance reception in the Mezzanine lobby of the theater, hosted by Miniaci's children, Albert and Dominick, where guests enjoyed coffee and sweets, and got a chance to personally congratulate and thank Villella and Miniaci. Other notable guests that evening included Meike Miniaci, Harriet and Henry Pownall, Dan and Karen Curran, Joseph and Arlene Castellano, Dee Koehler, Jim Vogelman, Chris Stanley, Joe Proto, Evelyn Gaudio, Evelyn McKinsey, Bob Avian and Peter Pileski.
Tickets are now on sale for all performances at www.miamicityballet.org or call 305.929.7010. The historic silver anniversary season ends with a gala in celebration of the company's biggest premiere yet: John Cranko's full-evening version of Romeo and Juliet, at the Adrienne Arsht Center on Friday, March 25, 2011. For gala information, visit www.miamicityballet.org/miamigala.php. Romeo and Juliet will also be performed  at the Kravis Center in West Palm Beach April 1 through 3, 2011 and Broward Center April 29 through May 1, 2011. To learn more about Miami City Ballet's 25th Anniversary Season, and get to know the dancers, check out their blog at www.miamicityballet.org/blog.
Subscribe to discover the best kept secrets in your city